PETRONAS CEO: Industry Needs to Advocate for Benefits of Gas
|
Wednesday, March 08, 2017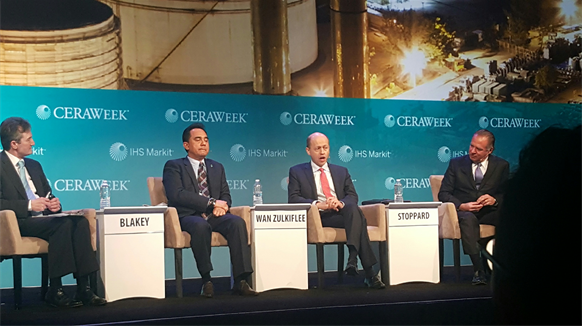 Pictured (l-r) are Simon Blakey, senior associate, IHS Energy; Datuk Wan Zulkiflee Wan Ariffin, PETRONAS CEO; Michael Stoppard, chief strategist for global gas, IHS Energy; and Charif Souki, chairman, Tellurian.
Gas was the talk of the day Wednesday at the CERAWeek by IHS Markit conference on appropriately, "Gas Day." Global demand for gas is expected to increase in the future. Still, the advantages of gas aren't fully understood by everyone and it's the industry's responsibility to communicate those advantages to the public.
"The increase in demand of natural gas and the volume of natural gas requires probably $1 trillion in investments," said Charif Souki of Tellurian chairman and former Cheniere CEO. "We're automatically involved in the advocacy at all levels. Internationally and domestically we have to continue to encourage the right decisions and the right policies where we produce … we've got to talk to people … on a global basis, we have to establish faith, credibility and trust that as a producer, we will be here and we understand the issues of the market."
Datuk Wan Zulkiflee Wan Ariffin, PETRONAS CEO, said he sees coal as the biggest threat to gas in his company.
"I think the biggest threat for the Far East, for Southeast Asia, is still in regards to competition with coal. There are many advantages of gas, but I think as an industry, we really have to orchestrate our advocacy efforts better," he said. "At face value, coal is more competitive. So for governments in the region, there's always this hitting the sweet spot with a choice of coal versus gas. The window of opportunity once a decision has been made to plan coal plants – it really shuts down the opportunity for gas. We find that are we spending a lot of time with the national oil companies in the region to educate the government in regards to the benefits of gas for the longer term."
Souki shared that he often speaks with people who say they want cheaper gas prices.
"I'd like to have cheaper gas, too. But there's a reality in what it costs to produce it, what it costs to liquefy it and what it costs to transport it," said Souki. "Most people are very satisfied with the return on investment. There are no winners and losers. This is a very short-term way of looking at things. At the end of the day, we're all either winners or losers together."
Michael Stoppard, chief strategist for global gas at IHS Energy, suggested that the upstream sector needs to help to stimulate demand by engaging the downstream. The question would then be whether or not the returns on investment would be attractive enough for companies to cooperate.
"You have to look at the returns on the full value chain. That's the logic," Stoppard said. "If a company just focuses on the highest value part of the chain, then they're not going to necessarily get to where they want to be. I think you can already see a number of major players making significant downstream investment decisions that are not being based on standalone economics, but on thinking of returns through the value chain."
Generated by readers, the comments included herein do not reflect the views and opinions of Rigzone. All comments are subject to editorial review. Off-topic, inappropriate or insulting comments will be removed.