ConocoPhillips CEO Talks Talent Shortage and Learning in the Downturn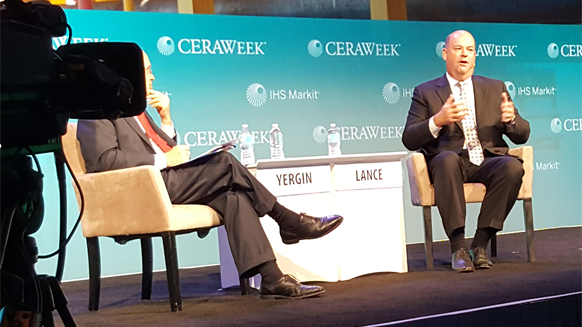 ConocoPhillips' CEO Ryan Lance addresses the oil and gas industry's impending talent shortage during Houston's CERAWeek by IHS Markit conference.
The oil and gas industry has been plagued with the looming question of whether or not it'll have enough workforce as E&P (exploration and production) activity picks back up. Many believe the talent will not be available. There's another viewpoint of the industry as well – that with automation and technology, the industry won't need that much talent.
ConocoPhillips CEO Ryan Lance subscribes to both views.
"They're probably both a little bit right," Lance said Tuesday during the CERAWeek by IHS Markit conference in Houston. "Our industry is pretty fortunate in that it's high-paying here in North America and around the world as well. I think we will naturally attract people who we need to run the business, but [the number of employees it takes to manage a rig] is coming down. We're running our fields with less people so that's a reality as well."
Though the industry is significantly in better shape than a year ago, as many conference speakers noted, how companies manage through the lower part of the cycles is important.
"You have to be prepared for what you do at the bottom end of the cycles," Lance said. "They're going to get longer and they're going to get more frequent because of the cycle times with the unconventional revolution in the U.S."
While the Permian has been a hot spot for acreage acquisition recently, Lance believes there are definitely opportunities outside of the Permian. He said ConocoPhillips is focusing a lot of its capital today in the Eagle Ford.
"The interesting thing about these unconventionals is, let's take the Eagle Ford for example, people might have drilled that up very fast in the last two to three years and they had to because they were measured on multiples of growth and had to grow very quickly," he said. "They probably regret it because they learned so much more about how to complete these wells more efficiently today than even what we knew two or three years ago."
Lance said the learning curve still exists today.
"We're learning a lot more getting efficient. We're still accumulating knowledge about the Eagle Ford going forward," he said. "I think that's why big data and analytics – which come from outside our industry – are working its way into our industry."
Generated by readers, the comments included herein do not reflect the views and opinions of Rigzone. All comments are subject to editorial review. Off-topic, inappropriate or insulting comments will be removed.