Chesapeake CEO: Downturn Challenges Helped Oil, Gas Companies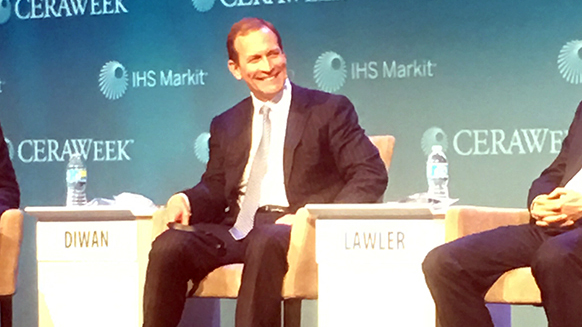 Doug Lawler, chief at shale gas forerunner Chesapeake Corp., tells CERAWeek audience the commodity price downturn forced independent upstream companies to become stronger.
The dramatic price downturn that bankrupted more than 100 exploration and production (E&P) companies forced those the rest to become stronger, according to Chesapeake Corp. CEO Doug Lawler.
"It's definitely been a challenging time for the independent sector and Chesapeake in particular," Lawler told a CERAWeek by IHS Markit audience in Houston on Monday. "But looking back, it's actually best thing that could've happened to us."
Lawler explained the downturn put things into perspective for independent oil and gas companies. They needed to make material improvements in balance sheets and capital efficiency, he said during a panel discussing investment during uncertain times. A dismal prospect actually prepared those companies that survived to thrive in the future.
"When you look at the U.S., I don't believe you should ever underestimate the creativity of oil and gas. [The industry] will find the most efficient way to develop those assets," Lawler said.
Two years ago, oil and gas companies were operating largely in a defensive mode. They needed capital that banks were hesitant to provide, and balance sheets were under water.
But today, things have turned around, said Osmar Abib Jr., managing director and global head of oil and gas at Credit Suisse.
"We have a record backlog of [initial public offerings] on upstream and services," Abib said during the panel.
Lawler pointed to the traction gained in the Haynesville, a play that some analysts say is one to watch in 2017.
"It was largely written off by industry two to three years ago, but it has reemerged stronger than ever," Lawler said.
Chesapeake, which is heavily invested in the Haynesville, has produced assets there as well as made money through divestitures.
Generated by readers, the comments included herein do not reflect the views and opinions of Rigzone. All comments are subject to editorial review. Off-topic, inappropriate or insulting comments will be removed.
RELATED COMPANIES
Company: Chesapeake Energy Corporation
more info