US Oil Industry Becomes Refiner to World as Exports Boom
by Bloomberg
|
Javier Blas & Laura Blewitt
|
Monday, March 06, 2017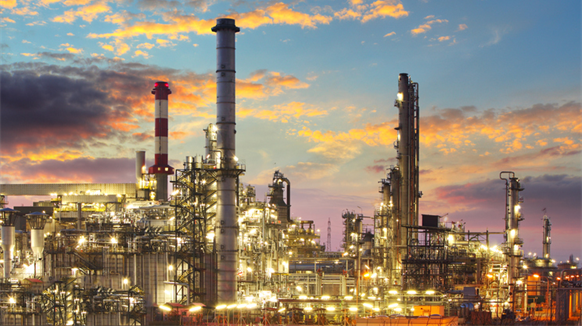 The US refining industry has shifted its game over the last five years, taking advantage of gaps left by struggling refiners in Latin America, Africa and Asia.
(Bloomberg) -- When PBF Energy Inc. scooped up a refinery from Exxon Mobil Corp. on the Mississippi River in 2015, it wasted no time sprucing up the plant with an eye toward quickly resuming lucrative fuel exports.
Within three months, PBF was ready to load its first tanker for shipment abroad. By late last year, the New Jersey-based company was exporting 22,000 barrels a day of fuel, or 16 percent of that refinery's output. Now, it wants to boost that to almost 25 percent.
PBF isn't alone in this push. From major producers such as Chevron Corp. to specialized refiners including Valero Energy Corp., the U.S. refining industry has shifted its game over the last five years, taking advantage of gaps left by struggling refiners in Latin America, Africa and Asia. Along the way, it's transforming what had long been a largely domestic business into a new global venture.
"U.S. refiners are now the refiners for the world," said Ivan Sandrea, head of Sierra Oil & Gas, which is planning to build infrastructure to import U.S. fuels into Mexico.
U.S. companies last year exported a record 3 million barrels a day of refined products, more than double the 1.3 million barrels a day shipped a decade ago, according to data from the Energy Information Administration. Gasoline led the surge, with exports hitting an all-time high of almost 1 million barrels a day in December, up ten-fold from a decade ago.
On top of the export boom, U.S. refiners are enjoying fresh supplies of relatively cheap and high quality crude from the Permian, the Bakken and other shale basins. The combination is spurring oil companies to invest in new capacity, particularly along the Gulf of Mexico coast. Oil refiners are set to discuss their investment plans this week at the annual CERAWeek, an industry conference where every year thousands of executives, bankers and officials gather in Houston.
The export boom, together with surging domestic shale oil output, has redrawn the global energy map. The U.S. a decade ago reported annual net imports of crude and refined products of 12.4 million barrels a day. Last year, it received a net 4.8 million barrels a day, the lowest since 1985. In late 2016, the U.S. exported more crude and refined products to Latin America than it imported from the region -- a first.
The industry is embracing the new overseas fuel markets.
Take Exxon. When it updated investors on its strategy last week, it showed a chart of its integrated business. Over a map of Texas, photographs of oil pump-jacks, pipelines, refiners and, ultimately, tankers with arrows pointing toward Europe, South America and Asia displayed the importance of the export market.
Mexico's Example
Mexico is emblematic of the shifting landscape. The Latin American country relied on U.S. gasoline last year for nearly 50 percent of its total consumption as refineries operated by state-owned oil giant Petroleos Mexicanos (Pemex) malfunctioned. In December, Mexico imported a record high of 1.2 million barrels a day of U.S. fuels, particularly gasoline.
While Mexico is an example of the strong overseas demand for U.S. fuels, it also represents the danger American refiners face longer term. Mexican fuel demand isn't booming, which means U.S. refiners are merely filling a gap left by domestic inefficiency.
If Mexico's own refining plants make some recoveries, the U.S. business there could end as quickly as it started.
"You've got to be careful about what you describe as demand," said Thomas Olney, an analyst at Facts Global Energy, a consultancy. "In effect it's just that domestic production has been struggling," he said.
The same holds true for countries from Brazil to Nigeria, where U.S. refiners are taking advantage of a lack of enough local refining capacity to meet domestic fuel needs. Ixchel Castro, a Latin American oil-market expert at consultant Wood Mackenzie Ltd., said U.S. gasoline exports to Mexico could drop by 15 percent in 2017 if Pemex re-start its refineries.
1
2
View Full Article
Generated by readers, the comments included herein do not reflect the views and opinions of Rigzone. All comments are subject to editorial review. Off-topic, inappropriate or insulting comments will be removed.