BP Says Peak Oil Demand May Occur Post-2050, Plans to Increase Production
|
Wednesday, March 01, 2017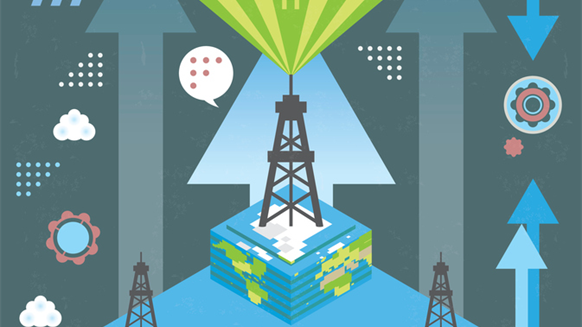 Peak oil could still be a while away yet, according to BP's latest Energy Outlook.
In the wake of the expected growth trends set out by its energy outlook, BP plc revealed in its latest strategy update that it anticipates production to increase by an average of 5 percent per year from 2016 to 2021.
BP Group production, which includes BP's share of production from Rosneft, is expected to be around 4 million barrels of oil equivalent per day (boepd) by 2021, the energy major said in a Feb. 28 company statement.
According to BP:
six projects began production in 2016
seven projects are scheduled to come online in 2017
nine projects are expected to come on-stream between 2018 to 2021
The projects coming online in 2016 and 2017 are said to be on track to deliver 500,000 boepd in new production capacity by the end of this year. Production ramping up from new upstream projects is expected to deliver a material improvement in BP's operating cash flow through the second half of 2017, BP said.
"While always maintaining our discipline on costs and capital, BP is now getting back to growth – today, over the medium term and over the very long term," BP Chief Executive Bob Dudley said in a company statement.
Oil Demand May Not Begin to Fall Until Second Half of Century
Oil demand may not begin to fall until the second half of the century, according to BP plc's Energy Outlook, which was released at the end of January.
"If, for example, global GDP growth turns out stronger than a simple extrapolation would imply, or road vehicle efficiency improves less quickly, plausible scenarios suggest oil demand may not begin to fall until the second half of the century," BP said in its 2017 Energy Outlook.
The oil major did admit however that other scenarios were possible, stating that a "simple extrapolation" of trends would suggest that oil demand may start to decline during the mid-2040s.
"But it might peak much sooner or later," the report said.
BP's Energy Outlook primarily considers a base case outlining the "most likely" path for global energy markets over the next 20 years, based on assumptions and judgements about future changes in policy, technology and the economy.
According to the report, demand for oil and other liquids is expected to increase throughout the outlook, growing from around 95 million barrels per day (MMbpd) in 2015 to 110 MMbpd by 2035.
"Transport demand accounts for around two thirds of that growth but … the stimulus from transport gradually fades," Spencer Dale, BP's group chief economist, said in the report.
"As a result, the overall growth of oil demand slows – from annual increases of around 1 million barrels a day in the first part of the outlook to closer to 0.4 [million] by the end. A consequence of the slowing impetus from transport demand is that the non-combusted use of oil particularly within the petrochemicals sector takes over as the main driver of growth by 2030," he added.
An anticipated increase in electric cars is also expected to dampen the growth in oil demand but the scale of that offset is projected to be relatively modest.
1
2
View Full Article
Generated by readers, the comments included herein do not reflect the views and opinions of Rigzone. All comments are subject to editorial review. Off-topic, inappropriate or insulting comments will be removed.