US Crude Oil Production Boost On Collision Course With OPEC Cuts
by Deon Daugherty
|
Rigzone Staff
|
Wednesday, March 01, 2017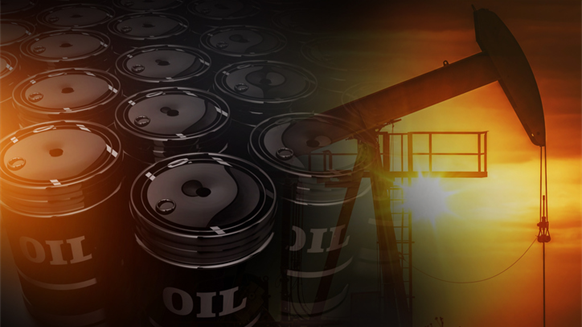 Subdued production in 2017 may give way to crude production boost of 1 million barrels per day by 2018 as US exploration and production companies reveal plans to spend more cash.
Armed with $50-plus oil prices, exploration and production (E&P) companies aren't wasting any time.
As the fourth quarter 2016 earnings season comes to a close, a key trend to emerge is that U.S. E&Ps are planning to spend more than analysts expected this year.
Capital spending (CAPEX) tracking at 8 percent higher than consensus estimates, according to information from Wells Fargo (WF). That reflects capital budgets today that are 53 percent higher than 2016 levels.
And that extra cash could generate as much as 1 million more barrels of oil per day next year, analysts at Simmons & Company International, said.
For its part, OPEC has suggested the United States should consider its own production cuts – not increases. In November, the organization pledged cuts to help rebalance the market; soon afterward, several non-OPEC nations – including Russia – followed suit.
Oil prices react daily to U.S. drilling activity, losing ground when domestic increases overshadow OPEC and non-OPEC cuts, who are on track to meet reduction goals. Member nations of the Organization of the Petroleum Exporting Countries and their non-OPEC counterparts agreed last year to remove almost 1.8 million barrels per day (MMbpd) from the market beginning last month. To date, they have met 1.5 MMbpd of the goal.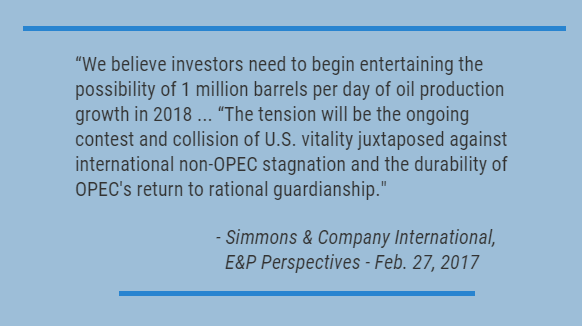 In the United States, about 40 E&Ps and large integrated companies that Simmons covers account for roughly 50 percent of current domestic production; of those companies, more than 70 percent have released guidance that suggests production growth in the mid-single digits this year and low double-digits in 2018, Simmons said.
"We believe investors need to begin entertaining the possibility of 1 million barrels per day of oil production growth in 2018," the analysts wrote.
Coming into 2017, those estimates were closer to 700,000 barrels per day (bpd) and the higher volumes were expected in 2019 – not a year early.
"The tension will be the ongoing contest and collision of U.S. vitality juxtaposed against international non-OPEC stagnation and the durability of OPEC's return to rational guardianship," Simmons said. "We continue to be impressed by an industry that has driven the cost curve dramatically lower from a few years ago and is now capable of delivering double digit oil production growth in a lower commodity environment."
But that equates to a production outlook at that is "good for the companies; not as good for the macro," the analysts said.
Not everyone is convinced.
Analysts at R.W. Baird & Co. said exploration and production companies are leaning in with an optimistic outlook on crude this year, but investors remain wary.
1
2
View Full Article
Generated by readers, the comments included herein do not reflect the views and opinions of Rigzone. All comments are subject to editorial review. Off-topic, inappropriate or insulting comments will be removed.
RELATED COMPANIES