Texas Energy Museum Serves as Piece of History, Educational Resource
by Valerie Jones
|
Rigzone Staff
|
Thursday, March 16, 2017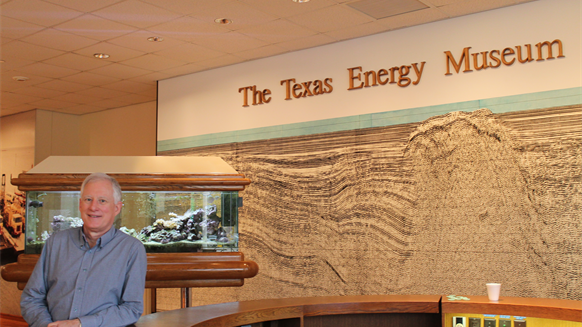 Beaumont, Texas is home to a museum that tells the history of Texas oil.
Nestled in downtown Beaumont – an industrial city in southeast Houston known for its refineries – lies the Texas Energy Museum. The nearby city of Houston has long been considered the energy hub of the world, but Texas as a whole has a long and rich history in oil. And parts of that history can be found in the state's museums focused on energy exploration, production and refining.
Ryan Smith, the Texas Energy Museum's executive director since 1992, sat down with Rigzone to talk about the museum, the most popular exhibit and which questions he hears most from visitors to the museum.
"Our basic focus as a museum is to collect, preserve and interpret … our subject is petroleum," said Smith. "We look at exhibits dealing with the history of petroleum, such as the Spindletop story, which is a big part of our history and the reason [the museum] is here in Beaumont. We also look at historical technology and the history of drilling."
Smith said the museum, which is funded by a mix of donations from companies in and outside of the petroleum industry, grants and individuals, spent close to $1 million on an exhibit about refining.
"We thought that was a weakness with a lot of petroleum museums in Texas. We all do a great job of talking about drilling," he said. "One weakness in our interpretation was refining. And that's what we're most known for in Beaumont – refining and the petrochemical industry."
The museum works with local school districts to bring in students to learn about career opportunities in energy. Often times, engineers from nearby companies come speak to the kids.
"Middle school and high school kids have a lot of questions about careers," Smith said. "Some high schoolers don't know the questions to ask because they haven't been exposed to many of the careers. Until someone exposes these kids to the career opportunities available to them, they won't have much knowledge of it unless a parent or grandparent works in the industry."
Students aren't the only visitors to the museum. Senior travelers and retirees often stop in, as do families.
"We get a lot of questions about fracking … and we have a small exhibit about early fracking," he said. "I like to present things as historical technology moving forward. It wasn't like things just came about; they've progressed."
Visitors also ask about solar and alternate power sources and what the industry is doing about it.
"Textbooks don't do a very good job of talking about fuels," Smith said. "With some of our eighth-grade visitors, we'll pose questions so they can begin to think in the vein of solving problems in energy. I tell them they are the group that will be solving these problems in the future."
Smith stressed the importance of kids in the area having an understanding of the industry. That's the main reason the museum hosts events throughout the year to get younger kids interested in science.
"The favorite exhibit by far would be the talking robots whose faces move … we have three of them who talk about different parts of the industry," Smith said. "They're popular because they look real and people love the idea of the characters, who tell the story in first person."
In addition to drawing in visitors to the city of Beaumont, the museum is looked at as a real educational resource. Many of the schools it works with have predominantly minority students.
1
2
View Full Article
Generated by readers, the comments included herein do not reflect the views and opinions of Rigzone. All comments are subject to editorial review. Off-topic, inappropriate or insulting comments will be removed.