Bhagwan Dryden Reaches Milestone in Safety Case Regime
Bhagwan Marine
|
Tuesday, February 21, 2017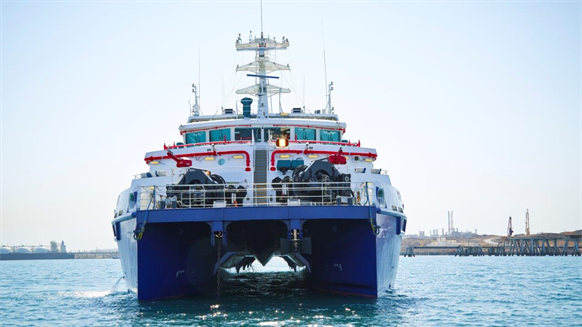 Bhagwan Marine receives notification from NOPSEMA of acceptance of the Safety Case submitted for the Bhagwan Dryden.
Another milestone achievement for Bhagwan Marine was reached in late December 2016 after receiving notification from NOPSEMA of acceptance of the Safety Case submitted for the Bhagwan Dryden. The Safety Case includes hydrocarbon work scope activities under the Safety Case regime addressing all potential risks associated with operating adjacent to offshore facilities. The safety features and risk mitigation capabilities in operating alongside a facility are considered new benchmarks addressing credible risks resulting from an unplanned hydrocarbon release which pose a threat to both the facility and to Bhagwan Dryden. This is a unique point of difference from conventional vessels that presents an additional layer of safety.
Bhagwan offers unique vessel-subsea solutions to the Australian Oil & Gas, Resources, Civil Construction and Defense industries. Recent IMR work scopes completed with ENI (Woollybutt and Blacktip), Quadrant Energy and Vermilion, as well as ongoing scopes for Chevron and Samsung/Inpex, see them providing an ideal, efficient and flexible combination of assets and services fully delivering on client expectations.
These work scopes are also demonstrating the flexibility and usefulness of the company's marquee vessel, the Bhagwan Dryden, a 57M Survey, ROV & Air Dive Support Vessel, which is the world's first hybrid diesel/electric vessel to hold both NOPSEMA and DMP accepted Safety Cases.
In delivering these scopes Bhagwan's Subsea Team have provided a variety of technical services such as 3D Data Capturing, Multi-beam Survey, Side Scan Sonar, CP surveys and Trailing Wire CP, Retrofit CP systems, ROV Inspection, Diving Services, Pipeline Stabilisation, Engineering support and Magnetic Particle Inspection (MPI), Ultrasonic and Alternating Current Field Measurement (ACFM) inspections.
Generated by readers, the comments included herein do not reflect the views and opinions of Rigzone. All comments are subject to editorial review. Off-topic, inappropriate or insulting comments will be removed.