More Than 440,000 Global Oil, Gas Jobs Lost During Downturn
|
Friday, February 17, 2017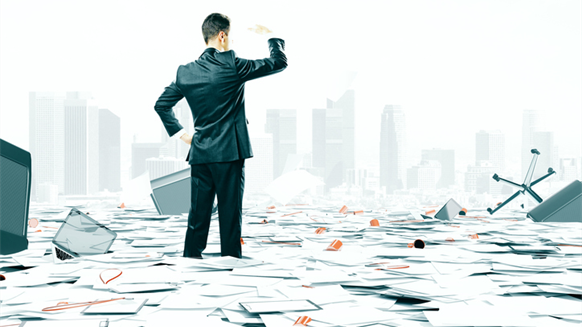 A report from Houston-based consulting firm Graves & Co. shows that the industry has suffered more than 440,000 jobs lost since the beginning of the most recent downturn.
The recent years of depressed oil prices and industry uncertainty have been the source of strict CAPEX (capital expenditures) cuts for oil and gas companies worldwide. Layoffs came in droves, much to the detriment of the industry's workforce.
As of Feb. 10, 2017, the total number of oil and gas layoffs around the globe is 441,371, according to data compiled by Houston-based consulting firm Graves & Co.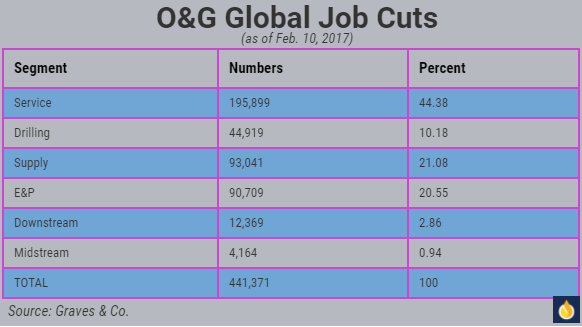 In a Feb. 15 report, John Graves, president of Graves & Co., noted the reduced pace of industry job cuts over the past few months … still, additional cuts may be announced.
"There has been no recovery in offshore and international oil and gas activity with the price of crude in the $50 range … for companies with significant exposure offshore and internationally, the downturn in the oil and gas industry is not over, and job cuts may continue," Graves stated in the report.
Of the more than 440,000 layoffs, Graves estimates 178,466 (40 percent) are in the United States; 124,000 (28 percent) are published UK North Sea job losses; and 46,000 (10 percent) are published Canadian job losses.
"A recovery in one area doesn't translate into a recovery everywhere because of varying economics and differing 'break-even' commodity price thresholds," said Graves. "Our job count numbers are conservative. Private companies play a major role in the oil and gas industry, and with the exception of WARN Act notices, generally do not announce layoffs."
Generated by readers, the comments included herein do not reflect the views and opinions of Rigzone. All comments are subject to editorial review. Off-topic, inappropriate or insulting comments will be removed.