Artificial Intelligence Tool Shines Light on Oil Storage Market
|
Thursday, February 09, 2017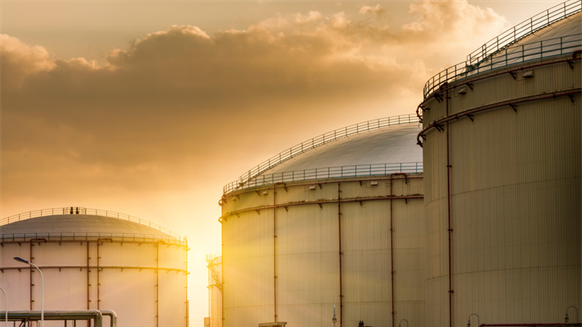 A form of AI technology is being used to provide greater transparency in the oil market by detecting unknown oil storage tanks.
The tracking of global oil supplies is definitely an issue, Cohen said. For some countries, supply estimates are made based on tanker tracking and indigenous consumption. The supply figure is implied from the other two variables, for which some countries have poor data quality. Other countries do report a supply figure usually based on an aggregate of companies, or some just report a number without any detail.
"These are also prone to misinformation and are sometimes not retroactively reviewed in case some companies did not report in the survey," Cohen stated. "Even with those agencies that do track tankers, one only knows if the AIS [automatic identification system] beacon is on, and sometimes those are shut off," said Cohen. "Sometimes the tankers that carry oil products, rather than just crude, which makes the correlation between the number of tankers and crude exports break down."
Greater federal regulation and reporting rules over aspects of oil market infrastructure, including marine tankers, is needed, Tyler Slocum, a member of the Commodity Futures Trading Commission's Energy and Environmental Markets Advisory Committee and director of the energy program at Public Citizen, Inc., told Rigzone.
"While there are several, quite expensive, proprietary databases and satellite tracking firms that provide deep-pocketed access to all shipping info, including some elements of the Chinese market, there is very little public domain data available," Slocum said. "And even the proprietary databases don't have universal access to all shipping info, including some elements of the Chinese market."
Greater Accuracy, Speed Benefits of AI Technology
Orbital Insight expects the number of satellites to increase as providers such as DigitalGlobe launch inexpensive, next generation satellies, which will boost the available supply of low, medium, and high-resolution images the company uses. A few years ago, one to two dozen of these satellites orbited the earth. By the end of 2017, O'Brien forecasts that number to grow to over 150 or 175. In 2018, O'Brien expects that number to double or triple.
Besides accuracy, O'Brien said the company's technology, available through subscription service, allows not only better decisionmaking, but faster decisionmaking. While the U.S. Energy Information Administration (EIA) will remain the gold standard for oil tracking, the agency's voluntary survey-based process to track oil supplies takes five days. By comparison, Orbital Insight can gather information on supply in 60 minutes. The speed of gathering data can provide an advantage to people trading in the oil futures market as a compliment or hedge to EIA numbers.
The company's initial rollout of its oil products is focused on floating roof oil tankers, the most common way to store oil. Orbital Insight is initially focusing on land storage tanks, but Lohn said the technology does have the capability to help track oil supplies in offshore tankers in port or at sea. Lohn said the company will work with partners to determine of supply on an offshore tanker is oil or another product.
Determining the location of a cargo ship is possible, but determining exactly what's on the ship is a more complicated matter, Sandy Fielden, director of research for commodities and energy at Morningstar, told Rigzone. Doing so requires obtaining information not only on whether a tanker is carrying crude or crude products, but what type of crude and crude products are on board. This information about what is loaded on an offshore tanker cannot be gleaned by looking at satellite imagery, but by obtaining information from brokers, shipping agents or customers.
"Satellite technology can tell you a lot, but not everything," Fielden stated.
Lohn admitted that data processing is intensive, and not perfect. To ensure analyses are correct, Orbital Insight also has employees examine data and filter out objects such as water towers, which look like oil storage tanks.
Financial services and government customers are two of the markets on which Orbital Insight focuses. The company is also expanding into infrastructure and asset monitoring, as energy flows into this area as well, O'Brien said. For example, a refinery owner might want to find new sources of oil for its facility. The company's customer roster includes some of the world's major oil companies, refiners, and service providers.
1
2
View Full Article
Generated by readers, the comments included herein do not reflect the views and opinions of Rigzone. All comments are subject to editorial review. Off-topic, inappropriate or insulting comments will be removed.