Artificial Intelligence Tool Shines Light on Oil Storage Market
|
Thursday, February 09, 2017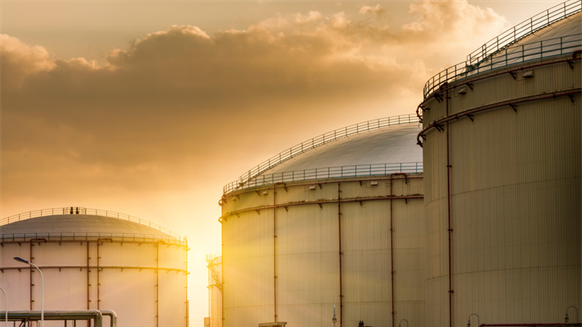 A form of AI technology is being used to provide greater transparency in the oil market by detecting unknown oil storage tanks.
A form of artificial intelligence (AI) is now being utilized to make the global oil market more transparent.
Using a form of AI called convolutional neural networks (CNN), Palo Alto, Calif.-based Orbital Insight can detect oil storage tankers previously unknown to existing data sources. The company gathers imagery from a number of satellite partners, then utilizes cloud computing to analyze images and identify not only oil storage tankers, but traffic activity in retail store parking lots, global water reserves and agriculture. It is also used to map poverty on a regional basis.
Tracking oil storage tanks allows for greater understanding of the global supply chain. This understanding, in turn, enables better decision-making, Kevin O'Brien, chief business officer at geospatial Big Data company Orbital Insight, told Rigzone.
Last year, the company rolled out backtest data for its China Oil Storage and U.S. Oil Storage products. Once it finishes processing data for the entire world, it will roll out additional products based on customer feedback, including Europe, the Middle East, Russia, Brazil, India, Venezuela, Angola, Nigeria and Iran. Products for countries such as Iran, where little to known data exists on oil storage supplies, are particularly in demand, Jason Lohn, head of core engineering at Orbital Insight, said.
Founder's Vision: Monitoring Entire World on Near-Time Basis
The company's technology was developed by Dr. James Crawford, who at one time headed up robotics research at NASA's Ames Research Center in Sunnyvale, Calif. After leaving NASA, he ran Google's books division, where AI was used to image more than 20 million books. Watching the growth in the space industry, Crawford was pleased to see the massive increase in the number of satellites being launched. However, he knew that nobody could process the massive pipeline of imagery that would flow from these satellites to earth. So he launched Orbital Insight to meet this need.
Crawford's vision was to find a way "of looking at the entire planet on a near-time basis for the first time ever, then use AI to interpret changes or identification of different types of objects on the planet," Kevin O'Brien, chief business officer at Orbital Insight, told Rigzone in an interview. The idea was to help people globally make better decisions, whether they were technologists, government entities, non-government organizations, charities or business professionals.
Neural networks are designed to operate the way the human brain operates, Shriram Ramanathan, senior analyst at Lux Research, told Rigzone. This type of AI has been around since the 1950s, but only in recent years have computers become fast enough to run such simulations on a large scale.
"A human brain won't recognize a car when it sees it for the first time; however, with repeated exposure, the brain gets trained and learns to identify cars. Likewise, neural networks are trained using training images and subsequently learn to recognize images," Ramanathan explained.
While neural networks look at the entire image, convolutional neural networks only look at small parts of the image at any given time, Ramanathan said. When identifying a car, a human brain just focuses on major features such as the outline of the car and not details such as the color of the mirror or door handle.
"Likewise, by focusing on small parts of the image at any given time, CNNs emphasize important features such as outlines and edges. This also makes these networks computationally more efficient compared to traditional neural networks. In general, artificial intelligence algorithms such as these are increasingly becoming important in predictive maintenance as well as operational intelligence in the oil and gas space," Ramanathan told Rigzone.
China Results Highlight Problem of Global Oil Tracking
Orbital Insight initially focused on testing its oil tracking product in the United States, then China. The United States is generally accepted as the most transparent in terms of information on oil inventory tanks and offshore tanks, Barclays' analyst Michael D. Cohen told Rigzone. Other countries such as China take longer to release information, provide data in an opaque format, or are not necessarily trusted by the marketplace.
The results of examining China's onshore storage tanks was stunning, Lohn said. Existing estimates said approximately 500 onshore floating roof oil storage tanks existed in China. Instead, Orbital Insight found 2,100.
"Analysts have long suspected that the oil supply numbers China's government published underestimated the actual amount in storage," Lohn said.
Instead of the 200 to 300 million barrels that the Chinese government has reported, Orbital Insight's findings put that number in the 500 to 600 million barrel range.
1
2
View Full Article
Generated by readers, the comments included herein do not reflect the views and opinions of Rigzone. All comments are subject to editorial review. Off-topic, inappropriate or insulting comments will be removed.