Former Exxon CEO Tillerson Confirmed as US Secretary of State
by Bloomberg
|
Nick Wadhams
|
Wednesday, February 01, 2017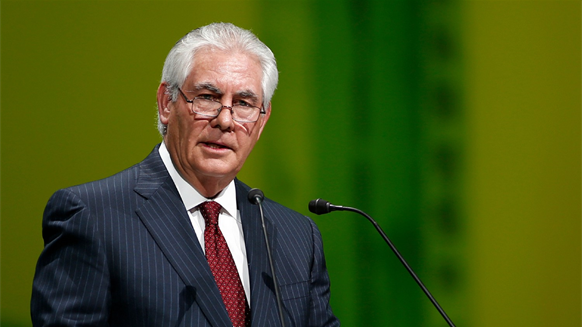 Rex Tillerson won Senate confirmation as secretary of state after lawmakers split mostly along party lines on US President Trump's choice of an oilman with no government experience.
(Bloomberg) -- Rex Tillerson, the former Exxon Mobil Corp. chief, won Senate confirmation as secretary of state after lawmakers split mostly along party lines on U.S. President Donald Trump's choice of an oilman with no government experience but a career negotiating billions of dollars of energy deals worldwide.
On a vote of 56-43 Wednesday, Republicans overcame a demand by Democrats to delay the confirmation until Tillerson provided his views on the executive order Trump signed restricting entry to the U.S. from seven predominantly Muslim nations. One of Tillerson's first challenges as the top U.S. diplomat will be dealing with the fallout from the order, which has brought condemnation from governments around the world.
Republican senators echoed Trump's conviction that Tillerson's role as chairman and chief of executive officer of Exxon, the world's largest energy company by market value, gave him the connections and skills needed to promote U.S. interests abroad. Democrats countered that his 41 years at Exxon left him with a narrow worldview and built-in conflicts of interest.
"I'm confident as secretary of state he will protect the interests of the American people just as he protected the interests of Exxon Mobil shareholders as their CEO," Tom Cotton, an Arkansas Republican, said during hours of floor debate in the Senate before the vote.
Putin Friendship
Democrats zeroed in especially on whether Tillerson would stand up to Russian President Vladimir Putin, who awarded him the country's Order of Friendship in 2013. Tillerson and Putin negotiated a $1 billion exploration project that's been frozen since the U.S. imposed sanctions on Russia after it seized Crimea the following year.
"How can the American people be sure that Mr. Tillerson will be objective when he participates in matters relating to sanctions on Russia or in any matter relating to Exxon," Senator Edward Markey of Massachusetts said in the floor debate Tuesday. "Mr. Tillerson is looking at the world through oil-coated glasses. He may have gotten rid of Exxon's stock, but he hasn't gotten rid of Exxon's mindset."
Tillerson's diplomatic challenge will be to explain to world leaders Trump's provocative tweets and comments upending decades of foreign-policy conventional wisdom -- from his optimism about reaching deals with Putin to his threats to impose tariffs on goods from China, and from questioning the relevance of the NATO alliance to warning of a trade war with Mexico.
After his predecessor John Kerry's constant global travels, it's unclear whether Tillerson will seek to personally negotiate new deals with counterparts abroad and what leeway he will be given by the White House. The president, who lunched with Tillerson on Wednesday, has said he may send his son-in-law Jared Kushner to negotiate peace between Israel and its Palestinian neighbors.
Tillerson, 64, who has been receiving periodic briefings at the State Department in recent days, will take up leadership of an institution that's been roiled by Trump's foreign policy pronouncements and especially by his executive order on immigration. On Tuesday, more than 900 department employees submitted a so-called dissent memo criticizing the order, saying it would diminish good will toward Americans and didn't represent American ideals.
'They Can Go'
After a draft of the memo emerged, White House spokesman Sean Spicer said Monday that State Department employees who couldn't carry out Trump's order should "either get with the program or they can go."
But Trump's choice of Tillerson in December was greeted with relief by many in the State Department after his transition team had floated candidates including combative former New York Mayor Rudy Giuliani and John Bolton, the former U.S. ambassador to the UN who has taken a hawkish view on foreign relations and wants to tear up the Iran nuclear deal.
During his confirmation hearing last month, Tillerson said he was optimistic that Trump was open to hearing his views. "My sense is we're going to have all the views presented on the table, and everyone will be given the opportunity to express those, and the president will decide," Tillerson said.
To contact the reporter on this story: Nick Wadhams in Washington at nwadhams@bloomberg.net To contact the editors responsible for this story: Bill Faries at wfaries@bloomberg.net Larry Liebert
Generated by readers, the comments included herein do not reflect the views and opinions of Rigzone. All comments are subject to editorial review. Off-topic, inappropriate or insulting comments will be removed.
RELATED COMPANIES