Louisiana's Port Fourchon May Add LNG Tenant
by Matthew V. Veazey
|
Rigzone Staff
|
Wednesday, February 01, 2017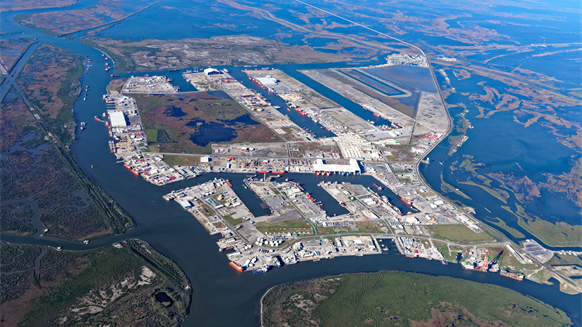 Mid-scale LNG terminal at coastal land base would provide fuel for offshore vessels, serve Caribbean market.
Many Gulf of Mexico oil and gas workers know Port Fourchon as a Louisiana land base where offshore hitches begin and end. The intermodal transportation hub, operated by the Greater Lafourche Port Commission (GLPC), could also become home to a mid-scale liquefied natural gas (LNG) production and export facility.
"While it is still very early in the planning and regulatory process, we are excited to be able to tell the community and our tenants about this potential opportunity to continue to keep Port Fourchon at the very cutting edge of the oil and gas services industry," Chett Chiasson, GLPC's executive director, stated in a press release Tuesday announcing tenant Energy World USA's proposed development of an $800 million LNG facility at the port.
"We feel that this is a great addition to the suite of vessel services that are offered by our tenants and greatly enhances our capability and versatility as the premier services hub for the oil and gas industry," continued Chiasson. "We have been working with Energy World since April 2016 when they first approached us about this proposed facility, and we are happy to be able to share these latest developments with the community.
The proposed facility would ultimately be capable of producing up to 2 million tons per year of LNG for export, and it would operate a separate smaller-scale liquefaction plant to provide LNG for next-generation LNG-powered offshore supply vessels, according to GLPC. Energy World USA, a unit of Hong Kong-based Energy World International Ltd. (EWI), would build the project on up to 150 acres of currently undeveloped port-owned property.
"The Energy World family of companies has over 20 years' experience in the safe production, storage, transportation and delivery of LNG to its customers in Australia, Indonesia and the Philippines, and we are looking forward to bringing this expertise to Port Fourchon," noted Kevin Blount, Energy World USA's president.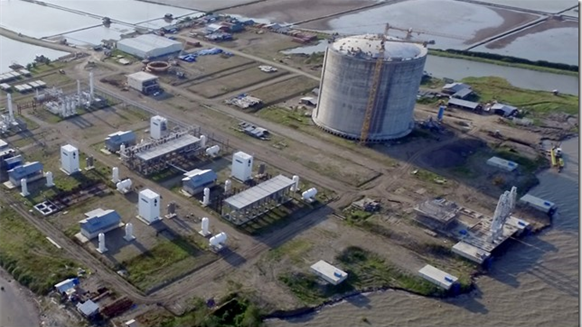 Rendering of Energy World USA's proposed mid-scale LNG facility at Port Fourchon. SOURCE: Greater Lafourche Port Commission
"The LNG produced at Port Fourchon will initially be exported to our own gas-fired power plants right across the Asia-Pacific region and also be sold into U.S. domestic markets for marine applications, added Stewart Elliott, Energy World Corp.'s chairman and CEO. "Eventually, we hope to export to Jamaica and the wider Caribbean where Energy World is separately proposing to develop a LNG hub terminal and gas-fired power plants consistent with our goal of delivering clean and affordable electricity to developing countries on a global platform."
The project would add a needed economic boost to the coastal Louisiana parish in which Port Fourchon is based, according to a local official.
"With as much as our workers and residents have been hurting lately, this project could be a great opportunity for our local economy, bringing hundreds of jobs during the construction phase, and dozens of good-paying permanent jobs once they are up and running, which will result in Lafourche Parish being able to hang on to our young families and workers," stated Lafourche Parish President Jimmy Cantrelle.
GLPC said that it will "in the coming weeks" launch a Waterway Suitability Assessment with the U.S. Coast Guard. In addition to helping to ensure that operation of the LNG facility would not adversely affect current and future port activities, the document would support Energy World's forthcoming application to the Federal Energy Regulatory Commission for project approval, the port authority explained.
GLPC also stated that it is working with the Louisiana Department of Economic Development to identify potential business and tax incentives to support local construction of the facility.
Energy World's Port Fourchon proposal is the latest in a string of smaller-scale LNG projects envisioned for the Louisiana Gulf Coast. Other proposed export projects include Venture Global's Calcasieu Pass and Plaquemines facilities, G2 LNG in Cameron Parish and Driftwood LNG and Magnolia LNG in Calcasieu Parish.
Generated by readers, the comments included herein do not reflect the views and opinions of Rigzone. All comments are subject to editorial review. Off-topic, inappropriate or insulting comments will be removed.