Louisiana Group: Expedite Coastal Restoration, Too
by Matthew V. Veazey
|
Rigzone Staff
|
Thursday, January 26, 2017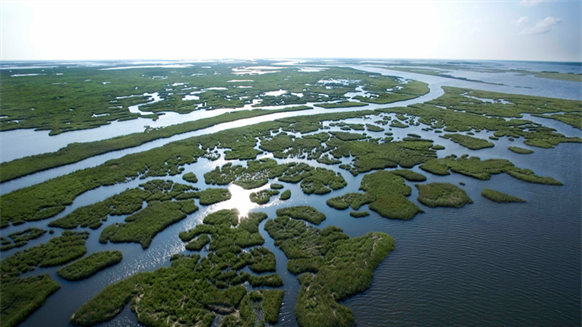 Trump's infrastructure executive order signals positive step toward implementing wetlands restoration projects sooner, protecting coastal pipelines, says New Orleans-based organization.
Earlier this week, President Trump signed an executive order instructing the Executive Branch to expedite environmental reviews and approvals for high-priority infrastructure projects. That action by the President could be good news for Louisiana's energy industry as well as efforts to combat wetlands erosion throughout the southern part of the state, according to a New Orleans-based environmental organization.
"The announcement yesterday by the Trump Administration citing a number of shovel ready infrastructure programs for federal funding signals a beginning of recognition that coastal energy pipeline and river infrastructure may be a part of the funding mix," stated Val Marmilion, managing director of The America's WETLAND Foundation (AWF), in a press release the organization issued Wednesday. "A case can easily be made that funding for restoration of eroding wetlands in Louisiana has direct impact in protecting $100 billion of energy and navigation infrastructure critical to national security and economic stability."
Marmilion told Rigzone that pipeline companies have a vested interest in efforts to rebuild Louisiana's coastal wetlands. In fact, AWF counts oil and gas companies among its sponsors. Although Trump's infrastructure executive order does not specifically refer to coastal wetland restoration, the AWF official contends including it among future infrastructure initiatives would make sense.
"One of the largest networks of pipelines in the world rests under the eroding wetlands in Coastal Louisiana," Marmilion explained. "Millions of dollars are being spent annually by companies to secure the pipelines endangered as the protective covering washes away and exposes the pipelines to more extreme conditions."
Marmilion said that AWF will continue to argue that a stable environment where pipelines are sited – aided by streamlined permitting for coastal restoration programs – benefits future pipeline projects and lowers operations and maintenance costs.
"In Coastal Louisiana, there is a synergy between built and natural infrastructure and, where there are not current projects reported, we will work with industry and coastal states to include natural coastal infrastructure in the Administration's infrastructure plans," he said.
In conjunction with its call for increased federal urgency in reviewing coastal energy infrastructure and wetland restoration projects, AWF is allying with like-minded groups outside Louisiana. The foundation is working alongside U.S. Northeast-based non-governmental organizations to form a "national coastal infrastructure coalition" that will promote and develop policy to include coastal infrastructure and secure funding for new infrastructure initiatives, Marmilion said.
On a state government level, Louisiana is pursuing other steps to restore wetlands. The Louisiana Coastal Protection and Restoration Authority (CPRA) has unveiled a comprehensive master plan to guide the state's efforts to stem widespread coastal erosion.
"Generally, the new plan offers a glimpse into more serious challenges with advanced land loss than earlier predicted and a stronger push to move major projects from planning into implementation as billions of dollars will soon begin flowing for project start-ups in Louisiana," concluded Marmilion.
Generated by readers, the comments included herein do not reflect the views and opinions of Rigzone. All comments are subject to editorial review. Off-topic, inappropriate or insulting comments will be removed.