DNV GL: Oil to Hit Almost $58 Per Barrel by Year-End
by Andreas Exarheas
|
Rigzone Staff
|
Thursday, January 26, 2017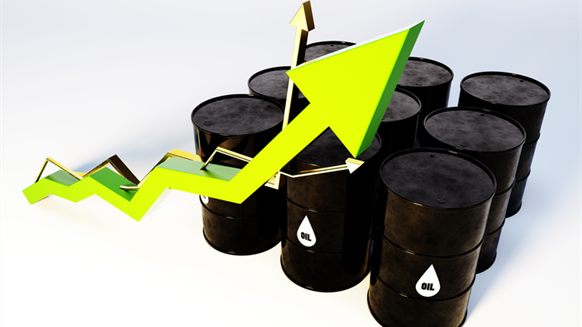 The price of oil will hit almost $58 per barrel by the end of 2017, according to DNV GL forecasts.
The price of oil will hit almost $58 per barrel by the end of 2017, according to forecasts by senior oil and gas professionals in a new research study by energy advisor DNV GL.
When asked to predict the price of oil at the end of this year, respondents in the survey, which included 723 senior sector players, forecast an average of $57.8 per barrel.
The research outlined that confidence in oil and gas growth for the year ahead has stabilized (32 percent compared with 30 percent in January 2016) – in line with the price of oil. However, confidence in overall prospects for individual companies is down to 44 percent from 50 percent last year.
Oil and gas professionals expect investments to continue across the value chain in 2017, though at a lower level than last year as the percentage of respondents expecting to maintain or increase capital expenditure has dropped from 43 to 39 percent.
"Despite the drawn-out recovery, investments are still being planned across the value chain. In 2017 we will see broadening of business portfolios and consolidations for growth as a way of reorganizing for the future," Elisabeth Tørstad, CEO of DNV GL – Oil & Gas, said.
A third of respondents (33 percent) said their organizations will be increasing M&A activity in the next 12 months (up 10 percent) and more than three-quarters of respondents (78 percent) expect increased industry consolidation in 2017.
Eighty-five percent of those surveyed have cost management as a top or high priority for 2017 and a majority (63 percent) see their current cost-efficiency measures as marking a permanent shift towards a leaner way of working.
Organizational restructuring (37 percent), reducing operating expenditure (35 percent), and improving efficiency from existing assets (29 percent) are the top three priorities for cost control in 2017, according to the survey.
Workforce Reduction, Business Diversification in Oil, Gas
The focus on workforce reduction as a cost cutting measure has dropped by six percentage points on last year, down from 31 to 25 percent. However, 55 percent still say that overall headcount is expected to decrease in 2017 compared to 51 percent in 2016.
Commenting on employment within the oil and gas sector in 2017, DNV GL – Oil & Gas' Hari Vamadevan, senior VP, suggested that certain areas within the industry still had much to offer.
"The industry supports around 330,000 jobs across the UK and still has much to offer as the North Sea basin matures, coupled by the fact that there are still fairly large projects due to come online in the next few years," Vamadevan told Rigzone.
Vamadevan also suggested that those working within oil and gas have the potential to transfer to other industries.
"The skills of those working in oil and gas are transferable ... it is not a rigid discipline. We see many go into the utilities and transport sectors," he said.
The research also outlined that almost half (49 percent) of senior oil and gas professionals expect their businesses to diversify into, or invest more in, opportunities outside of oil and gas.
1
2
View Full Article
Generated by readers, the comments included herein do not reflect the views and opinions of Rigzone. All comments are subject to editorial review. Off-topic, inappropriate or insulting comments will be removed.
RELATED COMPANIES