Rigzone Survey: Women Most Value Integrity in Oil, Gas Employers
by Valerie Jones
|
Rigzone Staff
|
Tuesday, January 24, 2017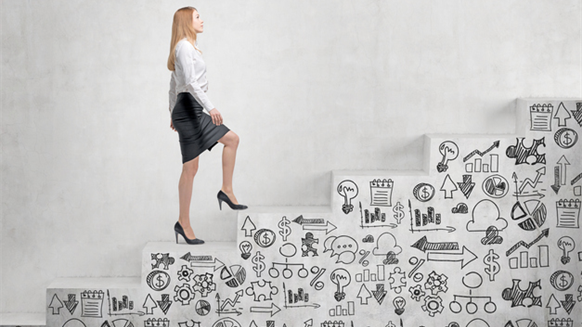 Rigzone's Ideal Employer Survey finds that integrity is the most important attribute in a company, according to female respondents.
In searching for an ideal oil and gas employer, women are most concerned with companies that manage their business with integrity, Rigzone's Ideal Employer Survey finds.
The global survey explored the ideal oil and gas companies among women as well as which attributes were most important to women.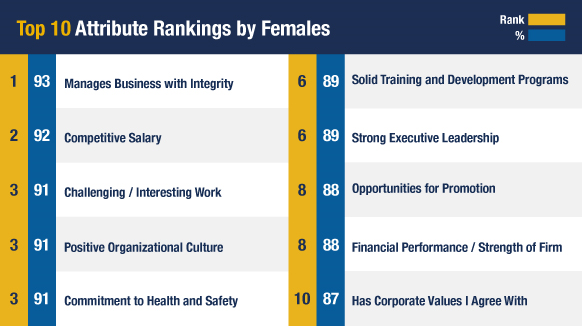 To view a full list of "Attributes Rankings by Females", click here.
"With integrity, you expect companies to be fair and equitable, pay competitively and give people equitable opportunities," Paula Waggoner-Aguilar, president of The Energy CFO, told Rigzone.
Waggoner-Aguilar began in the energy industry in the early 1990s working for Dresser Industries, which was later acquired by Halliburton Co. While she now heads up her own company, she said there's a few employers she would consider working for full-time if the opportunity presented itself. This is what makes those companies attractive to her:
Legends in the industry, innovative independents, disruptors
People who you will learn from, who will challenge you with amazing opportunities and push you harder than you thought possible
Risk mavens – learning firsthand their approach to taking on risks, managing them, learning from their failures and the hardest part: getting up and going at it again
Leaders who care about their tribe, are fair with folks, empower their people and take risks in their talent
Paula Waggoner-Aguilar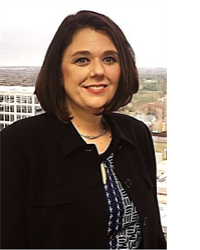 President, The Energy CFO
Having worked in different sectors of the industry – from upstream to downstream – Waggoner-Aguilar has seen the progression of women in the industry.
"When people say 'we need more women [in the industry],' I wonder what success looks like to them," Waggoner-Aguilar said, noting the progress she's seen over the last 20 years, with more women in the industry and at all ranks.
"We're seeing more women start their own businesses," she said. "When you look at the industry and look at the legends and listen to the stories … the guys who went out and did their own thing, put their own capital in and made a fortune … I think the real success is when we start seeing stories like that about women. And we have. I think coming out of this downturn, we'll begin to see more."
Oil, Gas Companies Embrace Diversity
Oil and gas companies have worked very hard throughout the years to develop workforces that match the diversity found in the world. And that includes attracting and retaining women.
Schlumberger Ltd., which ranked sixth as the top company among women, has focused on this for decades.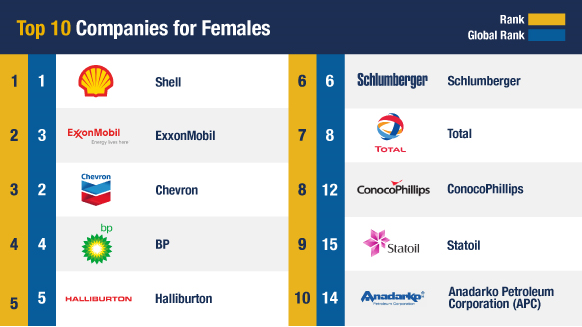 "Schlumberger has been working to address gender balance within our workforce since 1994, when the company set an overall target of having women comprise 15 percent of our workforce by 2015," Susan Rosenbaum, director of discipline career management and knowledge management for Schlumberger, told Rigzone. "We reached this milestone ahead of schedule in 2011. In 2015, we renewed our commitment to gender diversity by setting a new target of having women comprise 25 percent of our workforce at all levels of the organization by 2020."
Susan Rosenbaum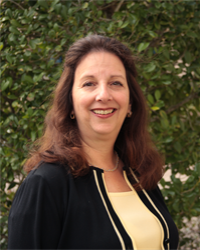 Director, Discipline Career Management and Knowledge Management, Schlumberger
Rosenbaum said the company engages in initiatives and supports events and programs to help attract and retain women.
"For example, in 2016, we worked with top universities and the Society of Women Engineers to organize a volunteer challenge with students to support community organizations," she said.
In addition, Connect Women, an internal global networking community run by and for women in Schlumberger was established in 2007. The network enables women and men around the globe to ask questions about and provide guidance on topics relevant to professionals, such as career planning, maintaining a work-life balance and gender balance. It also helps the company better understand specific issues affecting women.
Statoil ASA, which ranked ninth in the survey, exhibits diversity in its company at all ranks.
1
2
View Full Article
Generated by readers, the comments included herein do not reflect the views and opinions of Rigzone. All comments are subject to editorial review. Off-topic, inappropriate or insulting comments will be removed.