Statoil Tests Methane Emissions Technology in Eagle Ford
by Karen Boman
|
Rigzone Staff
|
Thursday, January 19, 2017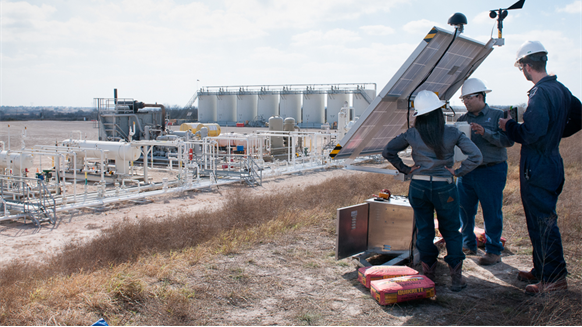 Statoil is conducting field tests of an IoT methane emissions technology.
Statoil ASA is now field testing in its Eagle Ford operations an Internet of Things (IoT) device that continuously monitors methane emissions.
The IoT device, which leverages cloud-based analytics, was designed and deployed through the Methane Detectors Challenge – a partnership between the Environmental Defense Fund (EDF), Statoil and other oil and gas companies, U.S.-based technology developers and other experts.
The initiative could mark a stepchange in how the shale oil and gas industry monitors fugitive emissions in the future, Andrea Machado, senior researcher with Statoil's shale oil and gas research and development (R&D) team, said in a Jan. 18 EDF press statement.
The Methane Detectors Challenge was established to find an IoT solution – a smoke alarm for methane – that would allow operators a more efficient way to detect methane, Aileen Nowlan, EDF's manager of the Methane Detectors Challenge, told Rigzone in an interview.
Today, approximately 25 percent of global warming is driven by methane emissions from multiple sources, including oil and gas development. In the United States, methane is emitted across the oil and gas supply chain, from local utility lines under city streets to wellheads, at a rate of more than 9.8 million metric tons per year, according to the release.
"Methane is a hidden risk all around the country," Nowlan said. "Fixing the methane problem is the same as shutting a third of the world's coal-fired power plants." Technology developed through the challenge offers a win-win solution to reduce natural gas waste and improve air quality.
For its Eagle Ford operations, Statoil purchased and developed low-cost laser technology from Quanta3, a Longmont, Colo.-based start-up founded to participate in the challenge. Dr. Dirk Richter, founder of Quanta3, was previously involved in developing sensors for NASA for deployment on the Mars Rover and the monitoring of active volcanos.
Statoil will evaluate Quanta3's technology under different conditions with the goal of detecting leaks at production sites. During 2017, Statoil will deploy the technology across various onshore facilities to further qualify the technology.
"Statoil aims to be recognized as the most carbon efficient oil and gas producer," Desikan Sundararajan, senior researcher on Statoil's shale oil and gas R&D team, said in the release. "The introduction of cost-effective, innovative methane detection technologies like those developed through the Methane Detectors Challenge can support our ongoing initiatives in this area."
The introduction of methane detection technology can create lasting value in the communities where Statoil works and has a global effect. Sensors providing real-time data on ambient facility level emissions will permit Statoil to act upon this information in a timely manner, Sundararajan stated.
EDF decided to take a lesson from Silicon Valley in terms of open innovation, working with oil and gas operators from the beginning to design a solution for a methane detection device, which had to be solar-powered and work remotely. EDF also solicited applications worldwide from entrepreneurs not focused on the oil and gas space, Nowlan said.
The speed at which the device went from idea to lab testing to field development "is a really a testament to the commitment and engagement of the technology entrepreneurs and Statoil as a partner," Nowlan said. "In some cases, it can take 15 years for a technology to be developed and deployed; in this case, it took four years."
Besides Statoil, Royal Dutch Shell plc, Anadarko Petroleum Corp., and Noble Energy Corp. also have participated in the challenge, Nowlan said.
EDF believes that continuous methane emission monitoring will be one where upstream oil and gas companies will focus spending on digital technology, Nowlan said. To achieve greater efficiency, productivity and safety, oil and gas companies are exploring the possibilities that digital technology holds for oil and gas operations.
Oil and gas companies are also exploring emerging technologies such as IoT and machine learning to reduce methane emissions from their production operations. This is partly due to larger global discussions regarding climate change, reducing the environmental footprint of oil and gas activity, and legislation passed by the Obama administration to reduce methane emissions from U.S. oil and gas operations.
Generated by readers, the comments included herein do not reflect the views and opinions of Rigzone. All comments are subject to editorial review. Off-topic, inappropriate or insulting comments will be removed.