ExxonMobil Strikes More Oil Offshore Guyana
by Karen Boman
|
Rigzone Staff
|
Thursday, January 12, 2017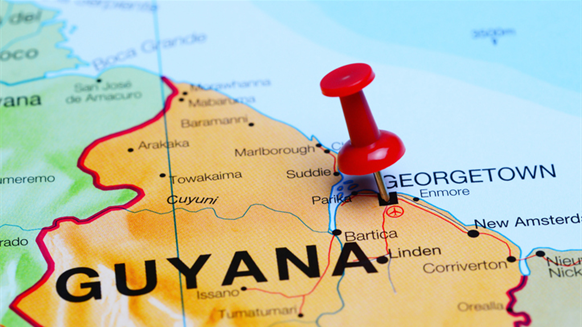 ExxonMobil makes a new oil discovery and finds additional resources for its Liza field offshore Guyana.
Exxon Mobil Corp. reported Thursday it had further established offshore Guyana as a significant exploration province with a new oil discovery and successful appraisal drilling at its Liza field.
The Payara-1 discovery encountered over 95 feet (29 meter) of high-quality, oil-bearing sandstone reservoirs. Payara-1 was drilled in a new reservoir and marks the second oil discovery ExxonMobil has made at the 6.6 million acre (26,800 square kilometer) Stabroek Block, the company said in a Jan. 12 press statement.
Located about 10 miles northwest of ExxonMobil's 2015 Liza discovery, Payara-1 was drilled to 18,080 feet (5,512 meters) in 6,660 feet (2,030 meters) of water, ExxonMobil said in a Jan. 12 press statement. ExxonMobil started drilling Payara-1 on Nov. 12, reaching initial total depth Dec. 2.
The company is drilling two additional sidetracks at Payara to quickly evaluate the discovery; a well test is underway to further evaluate the well results, ExxonMobil said.
Appraisal drilling at Liza-3 also identified an additional, high quality, deeper reservoir directly below the Liza field, which is estimated to contain 100 to 150 million oil equivalent barrels. ExxonMobil said it was evaluating the additional resource for development in conjunction with the Liza discovery. The Liza field is estimated to yield the equivalent of 800 million to 1.4 billion barrels of crude.
ExxonMobil drilled by the Payara-1 well and conducted the Liza appraisal drilling using the Stena Carron (UDW drillship), according to Rigzone's Riglogix database.
These recent exploration successes are examples of the company's technological capabilities in ultra-deepwater environments, which will enable effective development of the resource for the benefit of the people of Guyana and ExxonMobil shareholders, Steve Greenlee, president of ExxonMobil Exploration Company, in the release.
After drilling a dry hole at the Skipjack prospect in September, Payara and Liza-3 reconfirmed the high potential of the Cretaceous play in Guyana's deepwater, Matt Blomberth, head of Latin America Upstream Research at Wood Mackenzie, said in a Jan. 13 press statement. Payara-1's proximity to Liza will enable economies of scale for the area's development.
The Guyanese government's approval of a $500 million oil and gas service hub on Crab Island will give added impetus, Blomberth said. However, lack of offshore infrastructure or nearby gas market means that the partners will face high costs to dispose of natural gas that cannot be reinjected or flared. Wood Mackenzie estimates wellhead gas volumes of 2.1 to 2.5 trillion cubic feet between Liza and Payara.
ExxonMobil affiliate Esso Exploration and Production Guyana Limited is operator of Stabroek with 45 percent interest. Hess Guyana Exploration Ltd. holds 30 percent interest and CNOOC Nexen Petroleum Guyana Limited holds 25 percent interest.
Last month, Esso Exploration and Production Guyana Limited awarded contracts to SBM Offshore for a floating production, storage and offloading (FPSO) vessel, a key step in moving the Liz field towards first production, ExxonMobil said in a Dec. 20, 2016 press statement. The contracts call for SBM Offshore to perform front-end engineering and design for the FPSO and, subject to a final investment decision on the project this year, will construct, install and operate the vessel.
Wood Mackenzie estimates that an 180,000 barrels per day FPSO at Liza would produce at near capacity until 2030. The firm also assumes a second FPSO will be needed at Payara. Assuming a long-term Brent oil price of $65/barrel, Payara's net present value 10 reserves could range from $426 million to $1.6 billion. This estimate is based on low case model scenario of 300 million barrels of oil equivalent (MMboe) to a 100,000 barrels per day-FPSO, and a high case scenario assuming reserves of 500 MMboe produced by a 150,000 barrels per day-FPSO.
Generated by readers, the comments included herein do not reflect the views and opinions of Rigzone. All comments are subject to editorial review. Off-topic, inappropriate or insulting comments will be removed.
RELATED COMPANIES