Cruise Line Exec: LNG Represents the Future
by Matthew V. Veazey
|
Rigzone Staff
|
Wednesday, January 11, 2017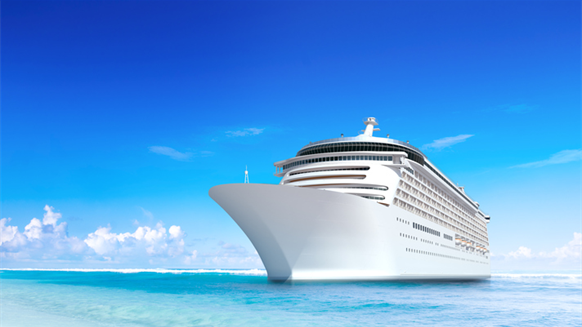 Carnival opting for LNG instead of marine diesel oil.
One example is the supply of LNG to the world's first LNG Hybrid Barge that we developed in coordination with Becker Marine Systems in Hamburg, Germany. In 2015, this barge was used to supply LNG generated electricity to AIDAsol from our AIDA Cruises brand, making it the first cruise ship in the world to be supplied with power from an LNG barge of this kind.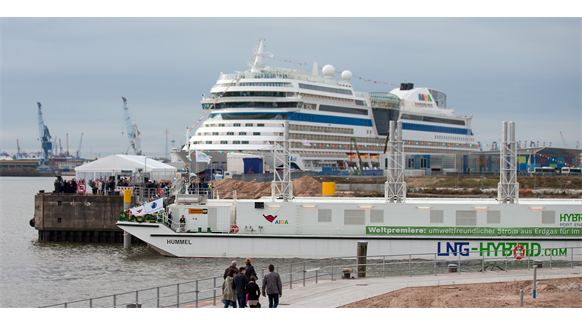 The LNG Hybrid Barge provides LNG-generated electricity to the AIDAsol cruise ship in port in Hamburg, Germany. Photo source: Carnival Corp.
AIDAprima, the latest and most environmentally-friendly ship from AIDA Cruises, is the first cruise ship to use LNG in port and is currently in operation in the North Sea, calling at five different ports between Hamburg, Germany, and Southampton, England. The ship has one dual-fuel engine, but because there is not currently storage onboard for LNG to be used while at sea, our team has helped secure LNG at each of the ports on which it calls.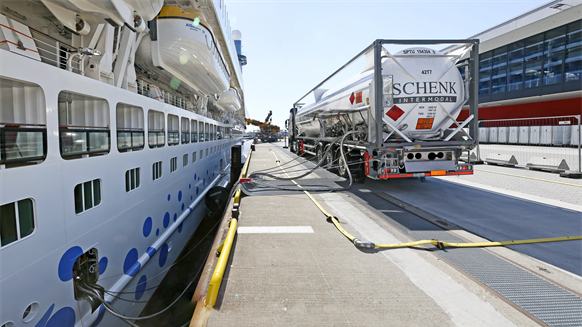 The AIDAprima receives a supply of LNG at port in Hamburg. Photo source: Carnival Corp.
Simultaneously, we are working to develop the infrastructure on our ships to accommodate LNG fueling both in port and at sea – an advancement that will be incorporated on our new fully LNG-powered ships entering service beginning in 2019. These new vessels will be equipped with dual-fuel powered engines in case supply of LNG is not available.
LNG is natural gas that is turned into liquid by cooling it to -260 degrees Fahrenheit, which shrinks its volume by a factor of 600 and allows for ease and safety of storage and transportation. When it is liquefied, it has a density that is about half that of conventional fuels, and therefore requires a larger tank volume than conventional fuel – typically about 1.8 times more space. As a result, we are working with shipyards to optimize the design of the ships to best utilize space in engine rooms to accommodate this storage.
The fuel will be stored in type C tanks located in their own hold spaces, and the engine room spaces will be inherently safe with double-wall pipes used for gas lines and gas control valves located in their own safe spaces. In our new vessels, we will be designing them to be able to operate for 14 days between refueling with a combined volume of approximately 3,600 cubic meters of LNG stored onboard.
Rigzone: Other operators of oceangoing vessels outside the cruise ship industry – for instance, cargo ships, supply vessels, ferries – have turned to LNG. What has Carnival learned from their experiences, and how is your situation unique from a fuel-switching standpoint?
Strang: When it comes to LNG implementation, we are taking a partnership approach on all sides – from learning key takeaways from those to who are experienced in the sector to working with other groups to educate them on the safety and benefits of LNG. We joined the Society for Gas as a Marine Fuel (SGMF) and the cross-industry coalition SEA\LNG. It is important for us to look around the sector and find groups that can help us develop and understand the challenges and opportunities of LNG, not just as a cruise company, but in broader terms.
We learned that it is important for us to work together to develop industry-wide standards so we can move forward with a unified approach as we work to make the use of LNG as a marine fuel a global reality. We also have learned that collaboration with regulators, ports and LNG providers is essential as we work to expand the supply chain and infrastructure.
Rigzone: Looking beyond the recent Carnival-Shell announcement, what longer-term effects do you think adopting LNG will have on the broader cruise industry? Might any of these benefits even become evident among the customers aboard your ships?
Strang: To us, LNG is the future. As organizations continue to enact safety regulations and codes demanding cleaner emissions, it is crucial for the cruise industry to adapt and build cruise ships that use cleaner fuel. In building LNG-powered cruise ships, the cruise industry will abide by increasing regulatory demands, and reducing air emission overall impact on the environment.
Additionally, we know that the transition to LNG is no simple task, and the demands – technical and otherwise – associated with its implementation make it something of a milestone both for Carnival Corporation and the wider cruise industry. Our hope is that by moving forward with LNG and helping to establish it as a trusted power source and develop the infrastructure needed to use it, we will make it more readily available and more of a viable option -- not only our fleet, but the industry as a whole.
1
2
3
View Full Article
Generated by readers, the comments included herein do not reflect the views and opinions of Rigzone. All comments are subject to editorial review. Off-topic, inappropriate or insulting comments will be removed.