The RZ Interview - Russia's Former Energy Boss: Dialogue Profits US, Russia
|
Wednesday, December 28, 2016
Igor Yusufov - Russian Energy Minister during Putin's first term - on oil production quotas, Russian caution and what retired ExxonMobil Chief Rex Tillerson can do for foreign relations.
Fifteen years ago, President Vladimir Putin appointed career energy expert Igor Yusufov to Minister of Energy for the Russian Federation. It was an eventful time in oil and gas around the world.
Tucked inside the three years of Yusufov's term, George W. Bush refused to sign the Kyoto Protocol on climate change. Russia agreed to cut its own crude oil production. And ExxonMobil Corp. earned a record-setting $25.3 billion in profits.
Through it all, relations between the United States and Russia waxed and waned, often with the news of the day. Within the whirling dervish of controversy stirred by President-elect Donald Trump's imminent inauguration, there remains much at stake for the energy industry of both nations.
During a question and answer session that concluded as the Electoral College confirmed Donald Trump's election as the 45th U.S. president, Yusufov said – via email and through a translator – there is hope for a renewed bilateral energy dialogue. As he explained, both nations have a lot to gain, and Rex Tillerson – who retired this month as ExxonMobil CEO – can smooth the path as Donald Trump's Secretary of State.
To be sure, depressed oil prices of the last 18 months have created a catalyst for oil producers to come together. With the apparent blessing of the Russian president, OPEC has offered a targeted production cut of 1.5 million barrels of oil per day and non-OPEC countries – led by Russia – have pledged to participate. Trump has displayed a willingness to renew ties with the country. But if all of that potential for positive sounds like a scene setting up for a Russian-novel style downfall, Yusufov strikes a more steadfast tone.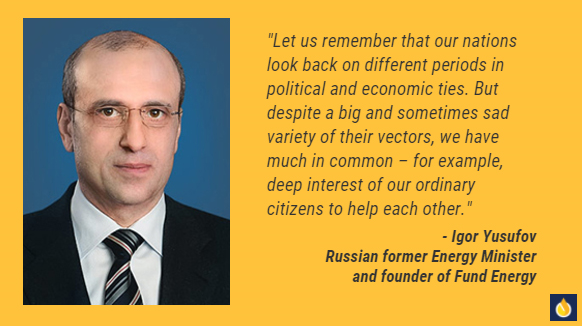 "Let us remember the proverb: where there is the will, there's a way," Yusufov said during The Rigzone Interview.
Rigzone: Why is Russia pledging to make a significant cut to its own production? If the cuts are intended to be made on a voluntary basis by private Russian producers – how will the Russian government monitor and manage compliance?
Igor Yusufov: In fact, Russia has been always rather cautious in joining solidarity cuts of oil production together with other OPEC and non-OPEC countries. The reason is obvious: due to cold winters and partially to a still low energy efficiency, we have to burn a remarkable amount of extracted oil and gas to obtain warmth and power. Being the leading producer, Russia uses internally about 60 percent of extracted oil and even a bigger percent of natural gas. This is one of the reasons why our country is sensitive about such cuts. Both private companies and public companies participate in them, and the government takes the monitoring function.

Rigzone: What is Russia's goal in agreeing to cut its production? Is there a specific oil price the country needs to achieve?
Yusufov: The main reason is the maintenance of stability on international oil markets. And besides, let us remember the phraseology we began to use in 2001: that oil prices have to be just and take into account the interest of both producers and consumers. This is exactly the aim of our policy.
The Russian energy ministry initiated at that time a productive dialogue with OPEC as an organization where many key oil producers participate and the International Energy Agency, which represents the other side. The first ever cut of Russian oil production by 150,000 barrels per day during Q1 of 2002 was agreed together by OPEC and non-OPEC countries at the 117th conference of OPEC Oil Ministers in Vienna, Austria, in September of 2001.
It was widely remembered in connection with the recent cut adopted by OPEC and non-OPEC countries this December. The reduction comprises almost 560,000 barrels per day: Russia has pledged the biggest cut among the non-OPEC countries with 300,000 barrels a day.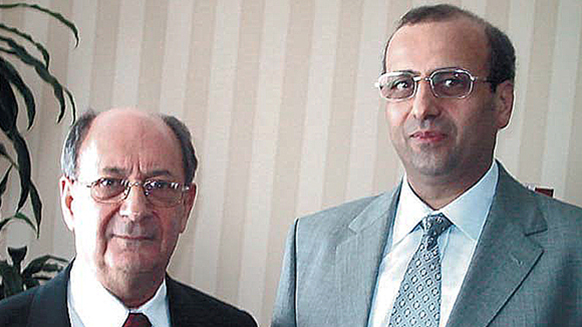 Russia agrees to its first production cut following a series of meetings with OPEC and other energy ministers in 2001 in Vienna. Representing Russia's oil interest, Yusufov meets with Dr. Alvaro Silva-Calderon, then the sitting OPEC Secretary General. Photo Credit: Alexey Turbin, Adviser, Fund Energy
The 2001 cut was brought about by intense diplomatic activities on the margins of the OPEC conference. We had meetings with Minister of Energy and Mines of Venezuela, Alvaro Silva Calderon; Minister of Energy and Mines of Algeria, Chakib Khelil; Oil Minister of Kuwait Adel Al Subaih and Saudi Minister of Petroleum and Mineral Resources Ali bin Ibrahim Al-Naimi. The immediate result of these intense talks – led practically around the clock – was the preservation of the OPEC oil price corridor of $22 to 28 per barrel, which we considered to reflect just oil prices.
As for the effectiveness of the present Russian negotiations with OPEC: Bloomberg has reported that they already brought into the state budget more than $6 billion [400 billion rubles]. Goldman Sachs has raised the oil price forecast to $55-59 for the 2Q of 2017. Let me note that the Russian state budget for 2017-2019 is based on the oil price of $40 per barrel. On Dec. 15, the average URALS [Russia's oil price benchmark] price was $51.41 per barrel.
Rigzone: Among many energy and banking analysts, there is significant skepticism that Russia will comply with the production cut targets – based on the perception that Russia hasn't always complied in the past. Is this a legitimate point and concern for the 2017 cuts?
Yusufov: First of all, I would not agree that Russian did not comply with oil production cut agreed in 2001 in Vienna. We were ready to provide every kind of evidence about the physical content of this cut. And one more thing: stories about Russian non-compliance were often invented by politically motivated press. I remember, for example, how my colleagues had so explain to one European journalist that the cut was related to the production and not the export of oil. Hopefully we achieved our educational goal.
Rigzone: How has President Vladimir Putin influenced this OPEC/non-OPEC agreement and the overall relationship?
Yusufov: As far as international oil prices are a matter of considerable importance for Russia, you could not imagine the international energy dialogue to be out of the attention of President Putin – I can assure you as former Presidential Special Representative of the Russian Federation for International Energy Cooperation.
So it was the head of the Russian state who signaled the readiness of Russia to join the mentioned oil production cuts. In October at the World Energy Congress in Istanbul, Mr. Putin said, "Russia is ready to join the measures to limit production and urges other exporters to do so."
Rigzone: How might a relationship between President-elect Trump and President Putin impact energy geopolicy?
Yusufov: I think that it is too early to conjecture about future U.S.-Russia relations and their geopolitical effect in the field of global energy. But let us remember the proverb: where there is the will, there's a way. Both our nations would profit from the active continuation of the energy dialogue, and I would be glad to convert the very positive experience of bilateral interaction we accumulated 15 years ago into concrete help in building new bridges between our countries.
Let us remember that our nations look back on different periods in political and economic ties. But despite a big and sometimes sad variety of their vectors, we have much in common – for example, deep interest of our ordinary citizens to help each other. And of course, the historic victory over Nazism remembered last year in connection with its 70th anniversary.
Rex Tillerson And Energy Geopolitics
Rigzone: How do you expect Rex Tillerson – as Secretary of State – to impact diplomacy in general, and specifically, between the United States and Russia? How might he influence the perception of the United States within Russia?
Yusufov: I have known Mr. Tillerson personally since April 2002, when we had our first meeting at the Russian Energy Ministry in Moscow. At that time he was senior executive vice-president of ExxonMobil. One of the burning issues we discussed was financial and technical details of the PSA [production sharing] agreements of ExxonMobil projects in Russia. Another important point was the state of the bilateral energy dialogue proclaimed by President Vladimir Putin and President George W. Bush. I would stress that Mr. Tillerson showed deep understanding both of professional matters and of Russia as an economic and cultural entity.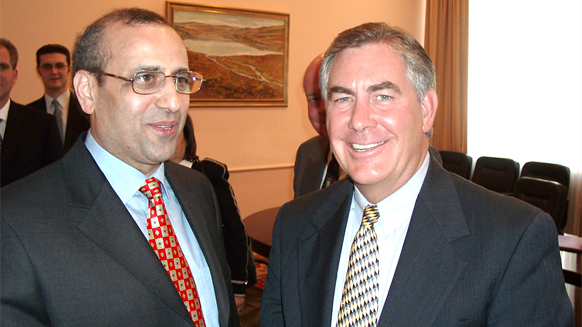 Yusufov meets Rex Tillerson, then senior executive vice president at ExxonMobil, for the first time in 2002 at the Russian Energy Ministry in Moscow. Photo Credit: Aleksey Turbin, Adviser, Fund Energy
It is often said about Russian citizens that patriotism is a very important trait of their character. I would add: we know to appreciate this quality in others. So in a personal regard, I noticed not only Mr. Tillerson's very special American charm – with every word and every gesture, our counterpart expressed pride for his American company, which is in fact, an international one. To my opinion, this is a thing many big business and political actors must learn from him.
Another important one of Mr. Tillerson's personal traits is surely his firmness in defending the business of his company. After 2014 [The U.S. and European Union imposed sanctions on Russia's energy sector], ExxonMobil did not break up the dialogue with Rosneft, the major Russian oil and gas company. They remained in the Sakhalin projects.
At the same time, it is obvious that it is not only a deep understanding of Russia that influenced the choice of Mr. Tillerson for the top position in the State Department. I would assume that this move can be explained by the extraordinary importance of international energy dialogue in which both the U.S. and Russia play key roles and which can now regain new force.
To my opinion, these personal traits and immense professional and diplomatic experience could be a reliable base for the success of the present ExxonMobil CEO in coming years. And, of course, they would determine the tenor of the U.S. perception in our country.
Rigzone: How has the U.S.-Russia relationship on energy evolved during your career? What are your expectations for the future relationship, especially with the Trump Administration?
Yusufov: Mr. Tillerson contributed greatly to the success of the first U.S.-Russia Commercial Energy Summit in Houston, Texas, and the second one we held in Saint-Petersburg, Russia. From the American side, it was organized by the departments of commerce and energy. Russian ministries of energy and economic development did the job from the other side with active support from the private sector of both nations. On both summits we met many times, and it was very pleasant to see this highly professional and agreeable person. The Russian-American Commercial Energy Summits convened in 2002 and 2003 were a success. It was there where the concept of interaction between the two energy superpowers was first formulated. Its essence is that Russia and the United States, at that time the largest producer and the largest consumer of oil and gas, can and must work closely together.
At that time, we signed an agreement on oil spills prevention, and the working groups on energy efficiency and international oil markets began their regular meetings.
Since 2000 when the energy dialogue between the United States and Russia was initiated, the world changed a lot politically and economically. But the energy component of international policies preserves its major importance. My expectation is that a certain deal of agreement in national energy policies pursued internally and internationally could be profitable for both energy superpowers, and highly qualified energy professionals like Mr. Tillerson could contribute to the creation of a safer world – from the point of view of politics and energy.
The Fund Energy Future
Rigzone: Please tell us about your investment fund. How much money has been invested, with which companies and in what kind of properties? Is there interest in expanding its reach to assets outside of Russia?
Yusufov: I founded in 2011 the Moscow-based Fund Energy, which now owns assets estimated at $2 billion. Cooperating, while accomplishing oil and gas projects with leading companies such as Halliburton, the Fund Energy possesses licenses for exploration and production of hydrocarbons on more than a dozen license blocks in the northeastern districts of Russia accounting for at least 230 million tons of oil and 500 billion cubic meters of gas.
In cooperation with a partner, the Fund produced since 2015 more the 1 million tons of oil in the framework of the Yargeo project on the Siberian Yarudeyskoye oil field. According to estimations, the Khotogo-Murbaysky field in northern Yakutia possesses 10 billion cubic meters of gas and at least 58 million cubic meters of helium. For the latter, the fund is preparing a special processing and marketing program.
From the very beginning, I was sure that Fund Energy would invest not only into hydrocarbons extraction. Our strategic goal is to create a medium-sized vertically integrated oil and gas company. But we are in active search of innovative projects from the field of communications and IT to enrich our business with new directions both in and outside the Russian Federation.