The RZ Interview - Russia's Former Energy Boss: Dialogue Profits US, Russia
|
Wednesday, December 28, 2016
Igor Yusufov - Russian Energy Minister during Putin's first term - on oil production quotas, Russian caution and what retired ExxonMobil Chief Rex Tillerson can do for foreign relations.
Fifteen years ago, President Vladimir Putin appointed career energy expert Igor Yusufov to Minister of Energy for the Russian Federation. It was an eventful time in oil and gas around the world.
Tucked inside the three years of Yusufov's term, George W. Bush refused to sign the Kyoto Protocol on climate change. Russia agreed to cut its own crude oil production. And ExxonMobil Corp. earned a record-setting $25.3 billion in profits.
Through it all, relations between the United States and Russia waxed and waned, often with the news of the day. Within the whirling dervish of controversy stirred by President-elect Donald Trump's imminent inauguration, there remains much at stake for the energy industry of both nations.
During a question and answer session that concluded as the Electoral College confirmed Donald Trump's election as the 45th U.S. president, Yusufov said – via email and through a translator – there is hope for a renewed bilateral energy dialogue. As he explained, both nations have a lot to gain, and Rex Tillerson – who retired this month as ExxonMobil CEO – can smooth the path as Donald Trump's Secretary of State.
To be sure, depressed oil prices of the last 18 months have created a catalyst for oil producers to come together. With the apparent blessing of the Russian president, OPEC has offered a targeted production cut of 1.5 million barrels of oil per day and non-OPEC countries – led by Russia – have pledged to participate. Trump has displayed a willingness to renew ties with the country. But if all of that potential for positive sounds like a scene setting up for a Russian-novel style downfall, Yusufov strikes a more steadfast tone.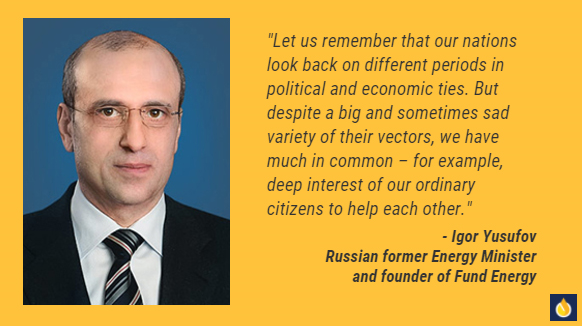 "Let us remember the proverb: where there is the will, there's a way," Yusufov said during The Rigzone Interview.
Rigzone: Why is Russia pledging to make a significant cut to its own production? If the cuts are intended to be made on a voluntary basis by private Russian producers – how will the Russian government monitor and manage compliance?
Igor Yusufov: In fact, Russia has been always rather cautious in joining solidarity cuts of oil production together with other OPEC and non-OPEC countries. The reason is obvious: due to cold winters and partially to a still low energy efficiency, we have to burn a remarkable amount of extracted oil and gas to obtain warmth and power. Being the leading producer, Russia uses internally about 60 percent of extracted oil and even a bigger percent of natural gas. This is one of the reasons why our country is sensitive about such cuts. Both private companies and public companies participate in them, and the government takes the monitoring function.

Rigzone: What is Russia's goal in agreeing to cut its production? Is there a specific oil price the country needs to achieve?
Yusufov: The main reason is the maintenance of stability on international oil markets. And besides, let us remember the phraseology we began to use in 2001: that oil prices have to be just and take into account the interest of both producers and consumers. This is exactly the aim of our policy.
The Russian energy ministry initiated at that time a productive dialogue with OPEC as an organization where many key oil producers participate and the International Energy Agency, which represents the other side. The first ever cut of Russian oil production by 150,000 barrels per day during Q1 of 2002 was agreed together by OPEC and non-OPEC countries at the 117th conference of OPEC Oil Ministers in Vienna, Austria, in September of 2001.
It was widely remembered in connection with the recent cut adopted by OPEC and non-OPEC countries this December. The reduction comprises almost 560,000 barrels per day: Russia has pledged the biggest cut among the non-OPEC countries with 300,000 barrels a day.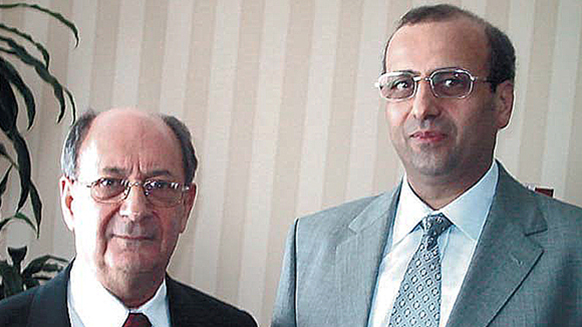 Russia agrees to its first production cut following a series of meetings with OPEC and other energy ministers in 2001 in Vienna. Representing Russia's oil interest, Yusufov meets with Dr. Alvaro Silva-Calderon, then the sitting OPEC Secretary General. Photo Credit: Alexey Turbin, Adviser, Fund Energy
The 2001 cut was brought about by intense diplomatic activities on the margins of the OPEC conference. We had meetings with Minister of Energy and Mines of Venezuela, Alvaro Silva Calderon; Minister of Energy and Mines of Algeria, Chakib Khelil; Oil Minister of Kuwait Adel Al Subaih and Saudi Minister of Petroleum and Mineral Resources Ali bin Ibrahim Al-Naimi. The immediate result of these intense talks – led practically around the clock – was the preservation of the OPEC oil price corridor of $22 to 28 per barrel, which we considered to reflect just oil prices.
1
2
3
View Full Article