Decommissioning Offers Potential Market for LiDAR Solution
by Karen Boman
|
Rigzone Staff
|
Thursday, December 22, 2016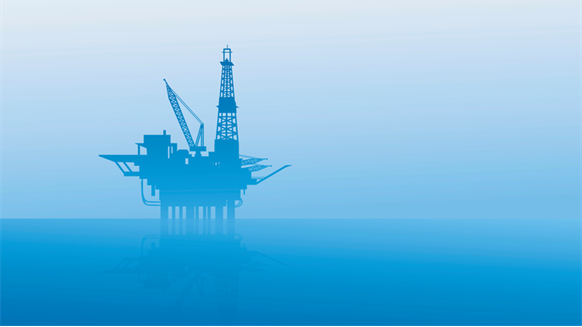 A new application of LiDAR technology could help the oil and gas industry address the growing number of offshore fields in need of decommissioning.
A well abandonment project conducted earlier this year offshore Australia successfully demonstrated the first application of Light Detection and Ranging (LiDAR) data for the 3D printing of subsea well parts, according to officials with 3D at Depth.
This technology solution could be used to address the growing number of offshore oil and gas fields in need of decommissioning, company officials told Rigzone.
Due to the rising number of offshore platforms, subsea wells and related assets, the market for oil and gas decommissioning projects is expected to grow by 540 percent from about $2.4 billion in 2015 to $13 billion per year by 2040, according to a report by IHSMarkit. North Sea decommissioning offshore Norway and the UK is expected to grow steadily over the next 10 years, according to Oil & Gas UK's Decommissioning Insight report.
LiDAR – a technology used to acquire 3D models of structures and natural features – has been used by oil and gas companies for the past 15 years for terrestrial and airborne surveying above topsides, said Carl Embry, managing director with 3D at Depth, in an interview with Rigzone. The company provides advanced subsea LiDAR systems and solutions for the maintenance and monitoring of underwater assets and resources.
3D at Depth – through a RPSEA [Research Partnership to Secure Energy for America] grant – was the first company to commercialize the technology for subsea use for offshore oil and gas, Embry said. The first few applications focused on metrologies and surveys.
Project Demonstrates Use of 3D Printing to Create Subsea Part
The technology not only could be used for decommissioning, but demonstrates how 3D printing, or additive manufacturing, can be used to create a subsea part. 3D at Depth's adaptation of this technology to create accurate spatial data in subsea part fabrication for 3D printing "offers a wide range of possibilities to reduce costs across intervention and Life of Field program," the company said in an Oct. 31 press statement.
The project's goal – for which 3D at Depth provided laser scanning services – was to survey the area around the subsea well for hazards and identify damage and information for the well cap, Neil Manning, chief business development officer for 3D at Depth, said in an interview with Rigzone. For the project, geo-intelligence and asset integrity solutions provider Fugro N.V. and 3D at Depth gathered 44 million data points from a well, then processed that data using point cloud processing tools to compute the spatial relationships, measurements and orientations of the seabed structures. This data was used to create a 3D print of the top of the well, which had a damaged stub, at full scale.
A full scale model was needed to design the appropriate 'hot tap' connector. Due to costs, a hybrid computer numeric control machining process, combined with a 3D print of the damaged part, was proposed as a solution. Because the complexity of the shape, the CAD [computer-aided design and drafting] model was developed manually, a common practice when modelling complex shapes from terrestrial laser scans, 3D at Depth reported in an Oct. 31 press release. The 'hot tap' connector was 3D printed with a fused deposition modelling technology using acrylonitrile butadiene styrene thermoplastic material.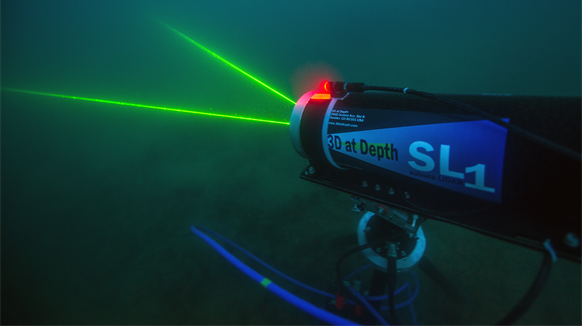 LiDAR technology has been adopted for use in a subsea well project.
One of the two remotely operated vehicles on board Fugro's multi-role intervention vessel, the "Rem Etive", was fitted with 3D at Depth's Subsea LiDAR laser. The laser was mounted on the crash bar of the Fugro FCV3000 WROV sending near real-time data to the operator on the vessel via a fiber optic multiplexor. Physical measurements were also taken by the Fugro ROV using different sizes of V-gauges and rulers. The physical and LiDAR measurements were then cross-referenced with the well's original drawing to pinpoint discrepancies in existing drawing dimensions.
Two approaches for the project: LiDAR and laser triangulation. In triangulation, a laser is shined on an object and exploits a camera to look for the location of the laser dot, Adam Lowry, managing director of 3D at Depth's Australia subsidiary, told Rigzone.
Depending on how far away the laser strikes a surface, the laser dot appears at different places in a camera's field of view. But a triangulation laser's range is limited by the physical geometry, and accuracy degrades exponentially with increasing distance from the laser. In the end, Fugro contracted 3D at Depth's subsea LiDAR technology because of the range limitations of the triangulation system.
1
2
3
View Full Article
Generated by readers, the comments included herein do not reflect the views and opinions of Rigzone. All comments are subject to editorial review. Off-topic, inappropriate or insulting comments will be removed.