Russia Applauds Trump Dream Team as ExxonMobil CEO Eyed for State
by Bloomberg
|
Ilya Arkhipov & Henry Meyer
|
Monday, December 12, 2016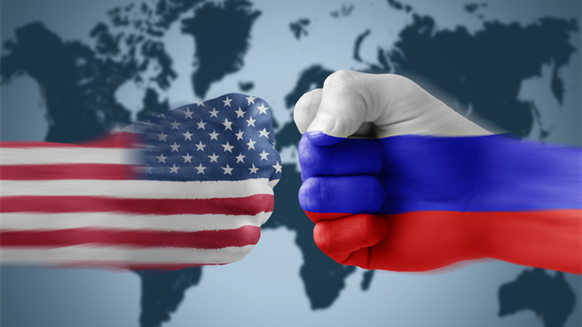 With two decades of deal-making in Russia's vital oil industry under his belt, Rex Tillerson is Vladimir Putin's kind of man.
(Bloomberg) -- With two decades of deal-making in Russia's vital oil industry under his belt, Rex Tillerson is Vladimir Putin's kind of man.
The Exxon Mobil Corp. chief is also in Donald Trump's sights for secretary of state, fueling optimism in Moscow that a longed-for thaw in relations is near.
If nominated and confirmed, Tillerson would join another supporter of closer cooperation with Russia at the top of America's policy-making apparatus, Michael Flynn, the president-elect's national security adviser. Add in Trump's nominee for defense secretary, retired General James Mattis, who's viewed in Moscow as more pragmatic than his predecessors, and the Kremlin couldn't ask for much more, according to Sergei Markov, a consultant to Putin's staff.
"This is a fantastic team," Markov said by phone from the Russian capital on Sunday. "These are people that Russia can do business with."
Russia is banking on better relations with the incoming Trump administration to help it end a stretch of international isolation and emerge from its longest recession in two decades. The downturn was triggered by a collapse in oil prices and made worse by the sanctions the U.S. and EU imposed over Putin's support for the insurgency in Ukraine and the annexation of Crimea.
'Dream Team'
For years, Putin has railed against the U.S. for criticizing him on issues like Ukraine and limits on democracy, which is 25 years old in Russia this year, and not battling terrorism together. Trump, who's pledged to work with Russia to defeat Islamic State in Syria and Iraq, represents the best chance Putin has had as president to forge a productive partnership with his Cold War foe.
While Tillerson's foreign policy positions are largely a mystery, he criticized the Russian sanctions in 2014 for being ineffective. On Sunday, Trump said the 64-year-old Exxon boss's experience overseeing operations in dozens of countries is just what the U.S. needs in negotiating with world leaders.
Flynn, who was paid to speak at an event for RT state television that Putin attended in Moscow last year, is vocal in his view that Islamic extremism is the greatest threat to the U.S. and advocates joining forces with Russia. Mattis is more hawkish on Putin, but he's also criticized President Barack Obama for not doing more to recruit allies to fight terrorist groups in the Middle East.
The three appointments taken together would constitute a "dream team" for U.S.-Russia relations, according to Carter Page, a former foreign policy adviser to Trump who's come under criticism himself for his ties to Russia.
"These future senior officials represent a veritable American siloviki," Page said, referring to the group of men around Putin with influence over the spy agencies and the military. "The chances of them meshing well is very high."
Hacking, Propaganda
Trump, who's doubted Obama administration claims that Putin tried to tilt the election for the billionaire through hacking and propaganda, has said he'd be more respectful of Russia's sphere of influence than Obama and consider lifting sanctions. A former senior National Security Council official predicted Trump would lift those penalties within weeks of taking office.
"Should Putin be pleased? Yes," said Cliff Kupchan, chairman of Eurasia Group, a New York-based political consultancy. "It beats the heck out of Obama going after him all day."
Popularity, Liability
But Tillerson's popularity in Moscow is being seen as a liability by a growing chorus of lawmakers in Washington.
Leading members of Congress, both Democrats and Republicans, have expressed alarm at the possibility of Tillerson, who has no experience in government, vaulting into a position that ranks fourth in line to the presidency.
1
2
View Full Article
Generated by readers, the comments included herein do not reflect the views and opinions of Rigzone. All comments are subject to editorial review. Off-topic, inappropriate or insulting comments will be removed.