Outlook: Oil, Gas Bankruptcy Fears to Linger Through 2017
by Deon Daugherty
|
Rigzone Staff
|
Wednesday, November 30, 2016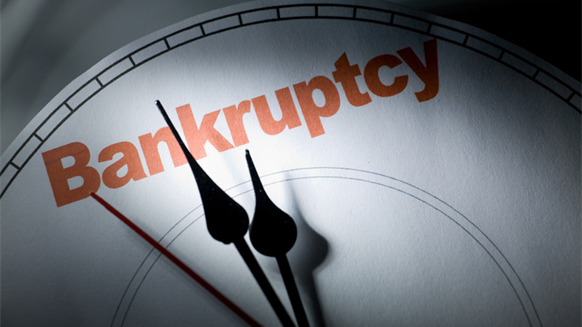 Despite a recent flurry of upstream companies emerging from bankruptcy, more filings are expected well into 2017, pushing the fallout from the downturn into a third year.
Editor's Note: This is the third in a series of outlook stories examining expectations for the oil and gas business in 2017.
As the oil and gas industry downturn cycles into 2017, dozens of exploration and production (E&P) companies remain vulnerable to market whims that threaten bankruptcy.
Since January 2015, more than 100 North American exploration and production (E&P) companies have filed for bankruptcy, according to the Haynes & Boone law firm. As of Oct. 19, those bankruptcies and other restructuring arrangements involved almost $70 billion in cumulative secured and unsecured debt.
Some estimates suggest the industry has only reached the half point in the downturn's bankruptcy filings. Bill Rhea, a consultant and bankruptcy lawyer in Texas, told CNBC the deluge of insolvency could continue for another 18 months.
"We could see as many filed bankruptcies from here on out as have (already) filed in the upstream sector," Rhea said.
Oil and gas bankruptcies will steadily continue in 2017 to wash through the debt overhang companies accrued by overleveraging during the buoyant shale years between 2011 and 2014, said Patrick Hughes, a partner at Haynes and Boone LLP.
"Recognition is setting in that supply exceeding demand will continue longer than expected – past 2017, barring any black swan or geopolitical event," Hughes said.
The "slope of hope" that prices had bottomed out and would rise is at risk of collapse as the market realizes "that time will not fix lower prices," Hughes said. By the middle of 2015, $70 per barrel oil had replaced the $100 price and this summer $50 became the former $70, but it's unlikely that $40 can be old $50.
What's more, Hughes said, the industry is largely a victim of its own competence. Industry and technological solutions to bring costs down have done incredible job of keeping wells productive longer and lowering drilling and completion costs – all of which puts downward pressure on prices.
Charles Boguslaski, a partner at Carl Marks Advisors, said upstream bankruptcy will continue to litter the downturn's path. Heading past the two-year mark, the downturn has changed the options that companies can access to stave off bankruptcy. Banks are more limited by federal regulations on the base borrowing redetermination process, and creative financing may dry up.
"You may not see the flood of everyone hitting all at once, but the weaker players with high debt loads or marginal debt loads will still be pressured," he said. "Typically, as the cycle wears on across the industry, you will see filings that could even extend out two years from today – it wouldn't surprise me – but it becomes less and less frequent and less and less headline-worthy."
Indeed, companies that have survived this long have some advantages, said Andrew Slaughter, executive director at the Deloitte Center for Energy Solutions. Those with strong ties with their financial backers, good cash flow from producing assets or a clean balance sheet historically hold up better.
"The length of the downturn has probably weeded out the weakest links already," he said.
Generated by readers, the comments included herein do not reflect the views and opinions of Rigzone. All comments are subject to editorial review. Off-topic, inappropriate or insulting comments will be removed.
MORE FROM THIS AUTHOR
Deon Daugherty
Senior Editor | Rigzone