BLOG: AFBE-UK Scotland Prepares Minority Students for Oil, Gas Jobs
by Valerie Jones
|
Rigzone Staff
|
Wednesday, November 23, 2016
An Aberdeen-based not-for-profit has success in encouraging minorities to pursue careers in engineering.
During a time when the oil and gas industry is continuing to suffer from prolonged low oil prices, one organization is committed to preparing graduates for the big turnaround.
Dr. Ollie Folayan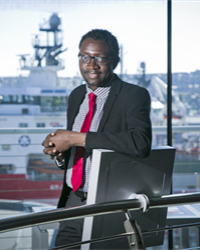 Chair, AFBE-UK Scotland
AFBE-UK Scotland is an Aberdeen-based not-for-profit that encourages young people, particularly those of black and minority ethnic backgrounds, to pursue careers in engineering. Its flagship program, Transition, includes events throughout the year, consisting of mock interviews CV reviews, assessment centers and speeches from industry professionals.
Dr. Ollie Folayan, AFBE-UK Scotland chair, set up the organization in 2011. All volunteers are people who work in the oil and gas industry.
"Our focus has always been on the talent pool, attracting them when they're young rather than focusing on people who are already in the industry," Folayan told Rigzone. "The idea is that by the simple act of going into a school and presenting what you do on a daily basis, whether it's a woman or someone of ethnic minority, it will send a message to any child who's listening, 'if they can do it, I can do it.'"
One such example came in March, one of Folayan's female colleagues spoke at a school about her job as an engineer.
"After hearing her speak, a nine-year-old girl walked up to her and said 'after listening to you, I know what I want to do when I grow up,'" said Folayan. "That's the objective. The saying is, 'it's not what's taught; it's what's caught.'"
A recent look into the organization's Transition program found that 97.5 percent of survey respondents reported they found guidance and knowledge given was helpful and 87 percent felt they were better prepared for interviews as a result of their attendance at events.
Folayan admitted it's been a bit difficult in the past couple of years getting student candidates interested in the program due to the global oil glut and fewer industry job opportunities.
Many are frustrated and feel like 'what's the point?' he said. All they hear is that oil and gas majors are not hiring any graduates and massive job loss announcements.
We're not dealing with "the big recruitment programs we had a couple of years ago. It's more so individual jobs. Our main message is to encourage people to stay persistent," said Folayan. "Though it's been a lot harder in the last couple of years to get students encouraged to come along, when they do come along, they get to hear from people who graduated in the 80s who went through exactly the same experience graduates coming out of the university are experiencing now."
Folayan said there have been some positive results in the program in 2015 and 2016.
"I'm not going to say that everyone who has come along this year has been able to find a job, but a few people have managed to get a job – even before completing the program, which is encouraging," he said. "We can show them, based on other people's experiences, it can be done. You may just have to try a bit harder and stay positive."
Generated by readers, the comments included herein do not reflect the views and opinions of Rigzone. All comments are subject to editorial review. Off-topic, inappropriate or insulting comments will be removed.
MORE FROM THIS AUTHOR
Valerie Jones
Senior Editor | Rigzone