Where Earthquakes Meet Oil, a Rare Business Opportunity Emerges
|
Monday, November 14, 2016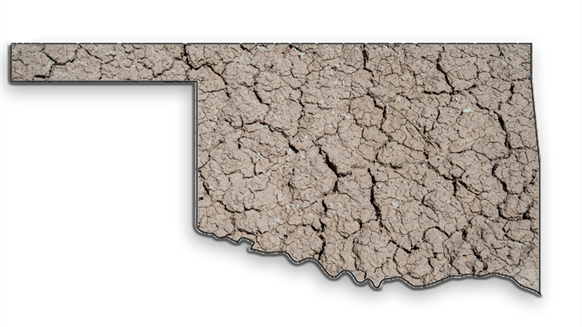 Brian Kalt's got a pretty funky plan to stop the surge in earthquakes in Oklahoma and save the state's reeling oil industry.
(Bloomberg) -- Brian Kalt's got a pretty funky plan to stop the surge in earthquakes in Oklahoma and save the state's reeling oil industry.
The key is to come up with an alternative to dumping drillers' waste water right back into the ground, so Kalt's little company will extract the salt particles, release the purified water into rivers and, then, to defray costs and make the scheme economically viable, sell the salt for use on snowy roads and in industrial machinery. (With a little more scrubbing, it could even be served on kitchen tables.) Kalt says he's already signed tentative deals with salt companies and is, naturally, excited about his innovation.
"This is the silver bullet," he says.
There are very few spots across America's vast oil patch right now that have a buzz to them, a sense that their business is hot or about to take off. The niche market for dirty-water disposal in Oklahoma -- measured at about $3 billion -- is definitely one of them.
Kalt forms part of a crush of entrepreneurs who are cooking up ways to fix Oklahoma's quake problem. There's an MIT grad who concocted a system that turns the salt slurry into a thick, and easier to dispose, brine; and an Oklahoma native who devised a process that allows drillers to put the water to use in other parts of their operations; even General Electric Co. is tinkering with an idea or two (though it wasn't willing to reveal much about what they might look like).
It's not clear that any of these solutions will work, and if they do, it's not clear that there's much money to be made in the business, but that's not stunting the enthusiasm any. The whole thing has a certain gold rush feel to it, said Bill Hermann, marketing director of Tulsa-based Produced Water Technologies LLC.
"Everybody thinks they're going to get rich and they're scheming up grand ideas on how to address the problem," Hermann said. He and his colleagues have ginned up yet another alternative: a system that would essentially trap the heat produced by oilfield equipment and use it to evaporate the water.
The stakes couldn't be higher for Oklahoma. Oil is king here. The industry is the state's largest source of tax revenue and employs one out of every seven workers. Daily output has doubled over the past five years to 421,000 barrels a day, placing the state fifth in national rankings.
518 Quakes
All of that could be at risk if Oklahomans don't get their earthquakes under control. The increase that's accompanied the jump in oil drilling is staggering. So far this year alone, there have been 518 quakes that registered 3.0 or higher in magnitude. From 2004 to 2008, right before the oil boom hit, there were a total of nine.
For years, industry executives contended there wasn't enough evidence to definitively determine the cause of the quakes. Only recently has that stance started shifting toward one of acknowledgment of their role. Among casual observers outside the industry, there's a common perception that it's the growth in hydraulic fracturing -- the process of blasting water, sand and chemicals in the ground to release trapped hydrocarbons -- that's causing the quakes. The problem is actually the water that's already in the ground and gushes out of wells along with the oil and gas.
In some parts of Oklahoma, the flow is enormous, with as many as 20 barrels of water accompanying each barrel of oil. (Seven-per-one would be a more typical ratio in other parts of the country.) It's dirty and it's loaded with salt, making safe disposal above ground expensive. So drillers have typically just funneled it down a mile-long tube into a vast open cavern in the Earth named the Arbuckle Formation. Some 2.1 billion barrels of water are being poured in this year, more than double the amount four years ago, Houston-based consulting firm CAP Resources estimates.
But here, again, Oklahoma's geological peculiarities cause trouble. The Arbuckle happens to sit just above a series of fault lines. The more water that's pumped in, experts say, the more these fault lines are stressed, triggering the seismic activity.
"I don't think I need to take disposal in the Arbuckle all the way to zero," said Michael Teague, Oklahoma's secretary of energy and environment. "I just can't keep it at the volumes it's at right now."
$1.50-a-Barrel
After initially just urging drillers to voluntarily enact disposal-well reductions, Teague's regulators got congressional approval to make them obligatory in August. The intensity of the quakes has, if anything, picked up, though. In September, the worst one yet -- a 5.8-magnitude tremor -- shook homes and buildings across the state for almost a minute. And then a 5.0-magnitude quake hit last week just outside Cushing, home to the country's biggest oil storage hub, prompting pledges for an additional tightening of restrictions.
1
2
View Full Article
Generated by readers, the comments included herein do not reflect the views and opinions of Rigzone. All comments are subject to editorial review. Off-topic, inappropriate or insulting comments will be removed.