Middle East, West Africa Crude Oil Exports Hit Record High
|
Friday, November 11, 2016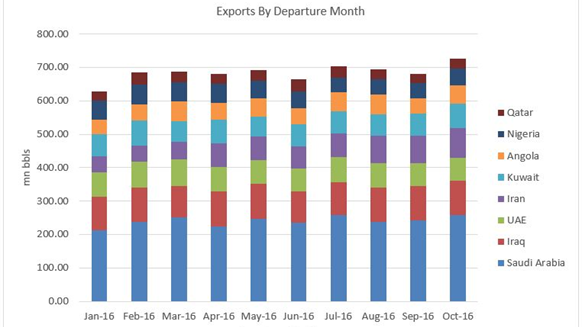 Total crude volumes from Middle Eastern and West African top exporters reach record high in October.
This opinion piece presents the opinions of the author.
It does not necessarily reflect the views of Rigzone
Total crude volumes from Middle Eastern and West African top exporters reached a record high of 23.43 million barrels per day (bpd), or 726.4 million barrels total, in October, which is 1.47 million bpd, or 45.45 million barrels total, higher than the previous month.
In the Middle East, exports increased in Saudi Arabia and Iran, up by 17 million barrels, or 550,000 bpd, and 8.2 million barrels, or 260,000 bpd, respectively. Meanwhile, exports from Iraq remained almost flat over the month at 102.5 million barrels, or 3.31 million bpd.
In West Africa, Nigeria managed to increase its output by 5.8 million barrels, or 180,000 bpd, after struggling with production disruptions in the past few months. Exports from Angola also went up 7.6 million barrels, or 25,000 bpd, due to higher demand from China.
Saudi Arabia
Saudi's crude exports in October furthered a trend seen during recent months with an 11.68 million barrel, or 38,000 bpd, month-on-month increase.
Total flows departed toward China and South Africa increased by 7 million barrels each, followed by flows to Japan which increased by 4.54 million barrels compared to the previous month. In addition, there was a 10 million barrel increase in flows toward the Suez Canal, most of which should make its way to Mediterranean countries.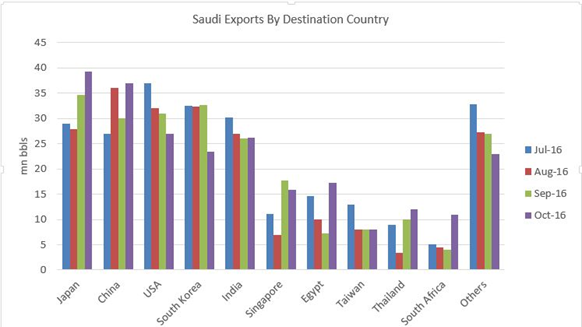 Saudi Exports By Destination Country. Source: Genscape
Iran
Iran's exports have increased since sanctions were lifted earlier this year. Monthly flows from Iran ramped up from 41 million barrels in January to 70.6 million barrels, or 2.35 million bpd, in April, as an immediate effect of the sanction release.
Volumes remained at almost same level through July. In August, exports from the country hit a record high of 81.4 million barrels, or 2.6 million bpd, which remained steady throughout September. Iran's exports during October reached another high at 88.6 million barrels, or 2.85 million bpd, as remaining sanction-related issues in banking and shipping are gradually being resolved.
The extra export supply was absorbed by European and Indian refiners. In particular, French refiners have been increasing purchases from Iran since July. Iran is also expanding its customer base by selling more to refiners on the East Coast of India in Paradip, as well as its traditional buyers in the West Coast of India.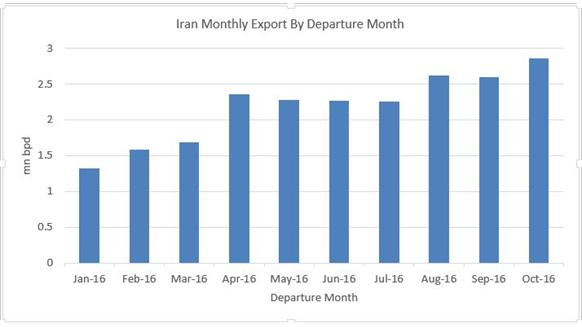 Iran Monthly Export By Departure Month. Source: Genscape
Iraq
Iraq's monthly export has been stagnating between 102 million barrels and 104 million barrels since August. Exports to top buyers, including China, India and the United States significantly decreased in October, while flows to South Korea and other smaller buyers increased.
This helped Iraq's exports to remain at nearly the same levels as previous months, though export destinations were diversified.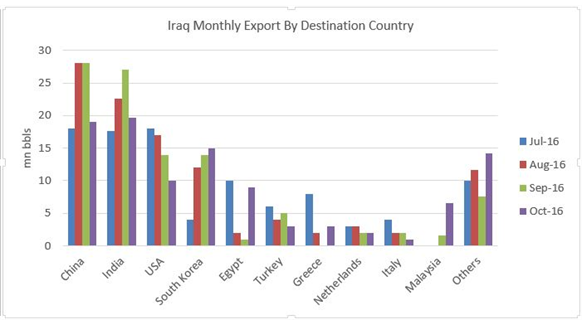 Iraq Monthly Export By Destination Country. Source: Genscape
Nigeria
Nigeria's exports increased by 3.8 million barrels in total, or 12,000 bpd. Export flows toward European, American and East Asian destinations increased by 6.4 million barrels, while exports to Indian refiners continued to decrease in October.
Nigerian Exports By Destination Region. Source: Genscape
Angola
Exports from Angola increased by 7.6 million barrels, or 25,000 bpd, in October. While flows to top buyers in India and America remained almost unchanged, China's intake surged by 10 million barrels after a period of decline during recent months.
This in particular led to higher volume cargoes with Nemba/Cabinda grades departing toward China.
Vessel Fixture Loading Outlooks in Middle East, West Africa
As of November 8, 167 vessels were fixed to load crude oil in the Middle East, which is down by 14 vessels compared to the same day in October. In addition, 72 vessels fixed for November loadings in West Africa, which is also 14 vessels less than same day last month.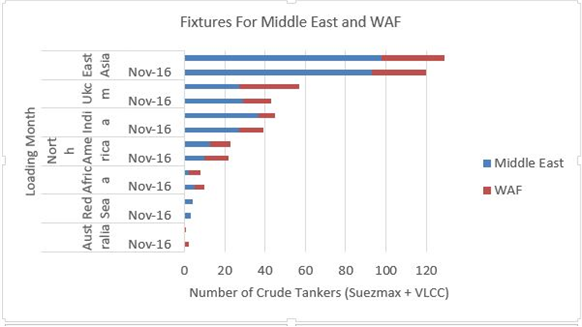 Fixtures For Middle East and West Africa. Source: Genscape
Genscape monitors Middle East and West African Crude exports daily using Genscape Vesseltracker data together with market intelligence sources to identify the load ports of each departing crude tanker and track it through to its final destination. Amir Bornaee is a crude oil analyst at Genscape.
Generated by readers, the comments included herein do not reflect the views and opinions of Rigzone. All comments are subject to editorial review. Off-topic, inappropriate or insulting comments will be removed.