Trump's Surprise Win Leaves Industry Scrambling to Find Meaning
by Deon Daugherty
|
Rigzone Staff
|
Wednesday, November 09, 2016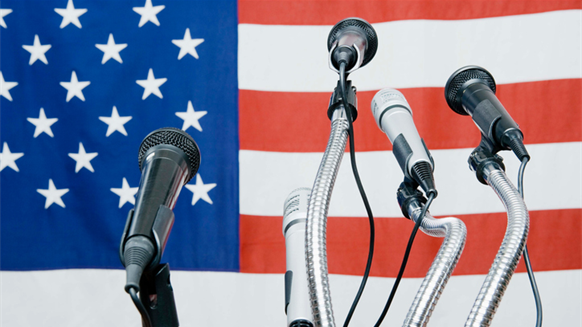 Analysts say Donald Trump's victory over former Secretary of State Hillary Clinton is likely a "net positive" for oil and gas, but with an absent comprehensive energy program, uncertainty remains.
An unknown commodity in the public sector, Manhattan businessman Donald Trump distinguished his presidential campaign with pledges to roll-back environmental regulations, secure the Keystone XL pipeline and shred the Allies' nuclear agreement to lift sanctions on Iran. But even the experts aren't clear about how much of that is policy and how much is hyperbole.
Analysts at Tudor, Pickering, Holt & Co. in Houston say there are some clues, though. This summer, Trump floated Continental Resources' CEO Harold Hamm's name as a possibility for his energy chief. He said the U.S. Environmental Protection Agency is too onerous. And he was aggressive toward Mexico, where burgeoning oil and gas reform is taking shape.
"The surprise Trump win clearly threw the markets an immediate curveball, with Dow futures dropping as much as 800 points versus Tuesday's close. On the commodity side, crude oil and natural gas price reactions have been muted so far," they said. "That said, we see nothing from the election result that alters out view of a tightening global oil market."
Still, as news of Trump's victory set in, markets began to bounce back. At Evercore ISI, researchers said in a conference call Wednesday Trump's leadership may boost business for oilfield services companies. Likewise, R.W. Baird analysts said a Trump presidency is likely a "net positive" for North American oil producers and midstream companies. However, given Trump's statements that he would bring back coal, his policies could hinder natural gas.
"While the overall market response has been negative, a course correction back toward fossil fuel usage likely manifests itself through reduced federal interference across multiple agencies," Baird wrote.
But some experts question if reducing regulations, indirectly incentivizing U.S. exploration and production (E&P) companies to produce more oil would be good for commodities markets – where oil prices hover in the mid-$40s per barrel.
And although Trump's regulatory policies appear more favorable than that of Hillary Clinton, spurring growth during a time of low commodity prices is challenging, said Sam Rines, senior economist and portfolio strategist at Avalon Advisors LLC.
That doesn't mean E&Ps won't take on opportunities to grow, however, Christopher Guith, senior vice president for policy at the U.S. Chamber of Commerce's Institute for 21st Century Energy, said the Obama Administration has "brazenly refused to do lease sales that they are legally obligated to conduct."
The issue is currently in litigation, but Guith said those cases will now likely settle and the sought-after sales will get underway.
But perhaps even more important than what Trump says about regulations, Guith called upon the Ronald Reagan axiom that "personnel is policy" to speculate on the administration's future.
"When we start to see names floated, that will have as much of an impact on regulations and indirectly the market, as perhaps the regulation itself," he said.
Generated by readers, the comments included herein do not reflect the views and opinions of Rigzone. All comments are subject to editorial review. Off-topic, inappropriate or insulting comments will be removed.