European Industry Says Trump Must Define Energy Policy
|
Andreas Exarheas & Jon Mainwaring
|
Wednesday, November 09, 2016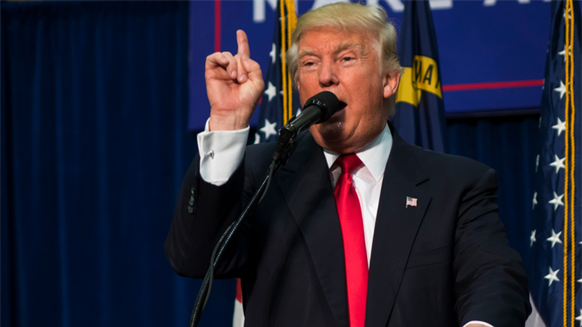 Europe's oil and gas industry is likely to benefit from Trump in the White House, but calls for a clear energy policy framework from the President Elect.
Donald Trump's victory in the U.S. Presidential Election will likely be good for European oil and gas firms that operate in the United States, according to media reaction across the Atlantic. However, the industry itself has begun calls for the President Elect to define a clear energy policy.
European press reaction to Trump's election was broadly positive when it comes to prospects for the oil and gas industry. London's Evening Standard newspaper said that oil companies will be riding high as a result of the news. It suggested that UK energy company BP plc could potentially strengthen ties in the United States (the oil major refused to comment directly) and pointed out that that service companies such as Wood Group and Weir will be helped by a Trump presidency.
A few hours before Trump was officially declared the winner, Spanish news service vozpopuli.com said his victory could, in principle, benefit Spain's Repsol S.A. – which has operations in Alaska – because it means there will be increased support for traditional energy companies.
However, French business website capital.fr took the contrary view that foreign companies operating in the U.S. might lose out, and that those that fly Le Tricolore – such as oil major Total S.A. and oilfield engineer Technip – will be "holding their breath". The site quoted Saxo Bank economist Christopher Dembik, who said: "If Donald Trump favors oil exploration and oil services in the United States, he seeks to favor local operators at the expense of foreign groups, including the French."
Meanwhile, German business weekly WirtschaftsWoche noted that Trump is likely to pursue a turnaround in the United States' energy and climate policy. On its website, the business weekly reported that Trump wants the United States to exit the Paris Agreement, which would relax environmental and emission regulations. It also highlighted the new President's positive view of shale gas power generation.
The industry itself – in the shape of the London-based International Association of Oil & Gas Producers – outlined how important it was for the new U.S. leader to support the oil and gas exploration and production industry.
"Oil and gas will have to meet the demand of a growing world population for decades to come," an IOGP representative told Rigzone.
"All these resources will be needed, which is why it is important for decision makers, all around the world, to politically support exploration and production of oil and gas."
Edinburgh, Scotland-based oil and gas research firm Wood Mackenzie emphasized the importance of a clear energy policy going forward, in order to combat any market uncertainty.
"As a general rule all elections create market uncertainty," a Woodmac spokesman told Rigzone.
"Given the importance of the energy sector to the U.S. and global economy, the next U.S. administration will need to deliver a clear and stable energy policy framework."
Generated by readers, the comments included herein do not reflect the views and opinions of Rigzone. All comments are subject to editorial review. Off-topic, inappropriate or insulting comments will be removed.