Trump's Election Roils World Markets, Commodity Prices
by Deon Daugherty
|
Rigzone Staff
|
Wednesday, November 09, 2016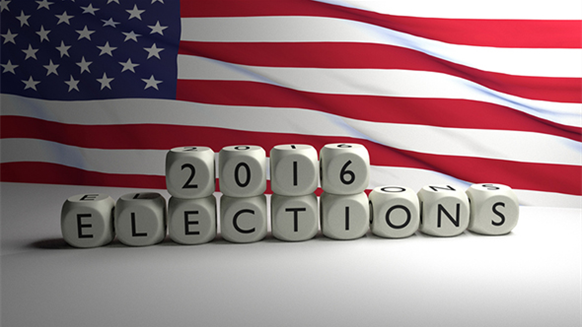 As Donald Trump wins US presidential election, WTI futures tank, Nasdaq declines and the S&P 500 drops so far that trading halts.
Donald Trump's election as U.S. President has rattled world markets and commodity prices. Even as the Republication candidate was piling up electoral votes throughout Tuesday night, the dollar declined dramatically, Nasdaq lost 800 points and the S&P 500 plummeted so much that trading ceased.
The global financial turmoil was a direct reaction to Trump's trade policies, said Sam Rines, senior economist and portfolio strategist at Avalon Advisors LLC in Houston.
Before midnight on Election Day, West Texas Intermediate futures had dropped more than 4 percent to $43.07 a barrel on the New York Mercantile Exchange; Brent crude slid by more than 3 percent to $44.40 on the London-based ICE Futures Europe exchange. However, by 4 a.m. East Coast time, both indices had made up some of the ground lost so that they were trading over $44 per barrel and $45 per barrel respetively.
The U.S. dollar traded down between 1 percent and 2 percent – a significant drop – during the night. The currency was affected because global trade – venturing into unknown territory with Trump's election – is typically measured in dollars.
"From oil to electronics, [prices are] settled in dollars," Rines said. "A candidate running with an opposition to certain trade treaties … that's going to affect the dollar significantly and strengthen the Japanese yen and the Euro."
Declines on Nasdaq and the S&P 500 were also in reaction to Trump's campaign trade policies.
"A majority of the growth for a lot of U.S. companies is not in the U.S., it's global," he said, adding that the U.S. economy is growing at roughly 2 percent while emerging economies have a significantly higher growth rate.
Trump's rhetoric about renegotiating trade policies unnerves those countries engaged in trade treaties. U.S. companies that manufacture or produce goods abroad are looking at potential tariffs imposed by a Trump administration.
"That hits revenue, that hits earnings and that hits value of stocks," Rines said. "And that had not been reflected prior [to the election] at all. The markets had priced in a Hillary [Clinton] victory."
Trade tariffs send a wave of insecurity through countries involved. As Rines explained, when the U.S. slows its trade, world economies grow more slowly – meaning it consumes less oil.
"China is the world's largest importer of oil, but it will grow more slowly if tariffs are imposed to send goods to the U.S. There's damage to demand side," he said. "[Trump policies] are more favorable on regulations, but it will be a difficult time for spurring growth when the [commodities] price is low."
Bloomberg contributed to this report.
Generated by readers, the comments included herein do not reflect the views and opinions of Rigzone. All comments are subject to editorial review. Off-topic, inappropriate or insulting comments will be removed.