New BOP Targets Prevention of Future Deepwater Horizon Incidents
by Karen Boman
|
Rigzone Staff
|
Friday, October 28, 2016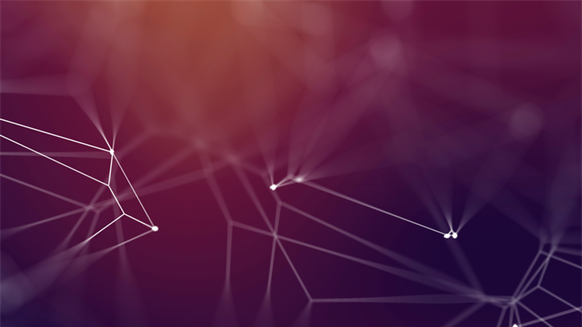 BOP Technologies officials say their BOP design offers a "radical departure" from traditional BOP design.
Officials with BOP Technologies are seeking funds to build a prototype of a shearing blowout preventer (BOP) they say offers a radical departure from traditional BOP design.
A fact that the oil and gas industry doesn't like to talk about is that, about 10 percent of the time, BOPs can't shear a piece of pipe, Mark Alley, CEO of BOP Technologies, told Rigzone. BOP Technologies was founded in 2013 to commercialize a BOP designed by H. Jay Read, who spent more than 30 years working with BOPs at Shaffer, now a subsidiary of National Oilwell Varco, and Cameron International Corporation, now part of Schlumberger Limited.
Read's experience with BOPs gave him insight into how different BOPs work, and instances of when this technology didn't work as well as it could. In some cases, customers were crossing their fingers hoping that the BOPs would work, Read told Rigzone.
The 2010 Deepwater Horizon incident illustrated the fact that existing BOPs at that time were not strong enough to cut, shear and seal against a number of tools such as tubulars being run in a well, Roy Schilling, a consultant with BOP Technologies and currently president of Frontier Deepwater Solutions LLC, told Rizgone.
When the Deepwater Horizon incident occurred, most BOPs only produced a million pounds of shear force. This forced BOP manufacturers to increase the pounds per square inch (psi) capability from 1,500 psi up to 7,500 psi behind the piston. Today, new BOPs manufactured by GE and Cameron produce up to 2 million pounds, Schilling said. Work has been done to make blades and cutters more efficient. Despite these improvements, BOPs still can't fully cut across everything that could be in a BOP during drilling and completion. This leaves the possibility of a blowout occurring.
Another example in which a BOP failed to shear pipe, Schilling said, was the 1979 blowout that occurred in Mexico's Bay of Campeche. In that case, Petroleos Mexicanos' attempt to close the BOP shear rams was thwarted by a drill collar that blocked the rams.
A 2013 well blowout that occurred at South Timbalier Block 22 in the Gulf of Mexico illustrates the dilemma that crews face: if they wait too long to push the button, the BOP won't work, which can be deadly. But if they hit the button and the decision proves unnecessary, they've cost the company money. The crew on board jackup Hercules 265 (250 'MC), which was drilling a well at South Timbalier for Walter Oil & Gas, was blamed for not using a dense enough fluid to control natural gas from the well, and for reacting too slowly when the blowout began.
But making that decision in a chaotic environment isn't easy. Alley believes the solution is not about better training, but better technology to help human workers.
"That's the purpose behind our BOP design," Alley stated. "A BOP that will shear and seal anything."
Smaller Footprint, More Power Behind BOP Design
To address the shortcomings of existing BOP technologies, Read came up with a BOP design that has a smaller footprint, but more power behind it. The company has not yet tested the technology, but officials believe its design should offer more reliability in shearing pipe.
BOP Technologies' design, the CIRBOP [Circular Intensifier RAM Blow Out Preventer], allows power of more than 5 million pounds to the ram block, doubling the capacity offered by today's conventional BOPs. The CIRBOP shearing BOP is designed around an integrated intensifier, onboard failsafe, and quick-change hydraulic and ram modules. It also features a closed internal hydraulic high-pressure loop and requires a lower range of input pressures. The BOP is also trash-friendly for harsher environments where sand blast materials, shavings and other trash can contaminate hydraulic fluid.
A conventional BOP has big doors that swing out and bonnets that slide out. Read's design pulls everything together into a single piston that serves as an intensifier. Fluid intensifiers, or any pressure intensifiers, increase pressure by the ratio of two surface areas on a piston, Alley said.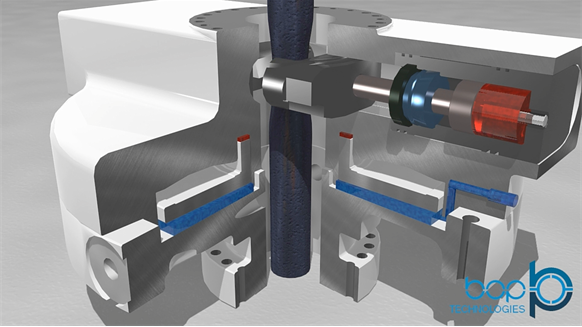 BOP Technologies officials expect their new shear BOP design to be more effective than conventional BOPs. Source: BOP Technologies
"In our case, the large surface area on the bottom side of our big piston counts as one of the two surface areas in the ratio," Alley commented. "The small surface area at the top of that same piston provides the second surface area in the ratio. So if the large surface area is 1,000 square inches and the small surface area is 100 square inches, then the resulting ratio is 10:1. This means that the lower pressure fluid could enter at 3,000 psi and the fluid pressure at the small surface area would be raised to 30,000 psi."
1
2
View Full Article
Generated by readers, the comments included herein do not reflect the views and opinions of Rigzone. All comments are subject to editorial review. Off-topic, inappropriate or insulting comments will be removed.
MORE FROM THIS AUTHOR
Karen Boman
Senior Editor | Rigzone