No Near-Term Recovery For Offshore Rig Market
|
Wednesday, October 19, 2016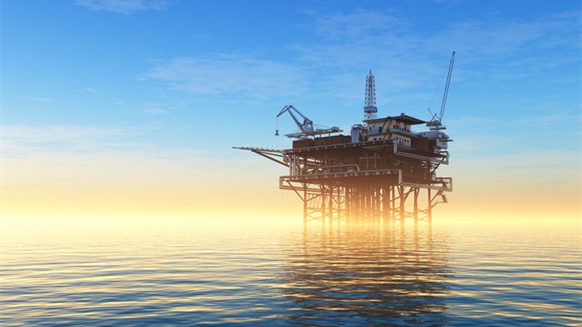 The offshore rig market is currently in its worst slump since the mid-1980s, according to the October 2016 issue of RigOutlook.
Offshore drilling in many parts of the world is dependent on the price of oil; the current price of Brent crude has risen to around $50 after bottoming out at just under $30 a barrel earlier in 2016. The Energy Information Administration (EIA) and others are forecasting oil prices to be around $60 by September 2017, which is generally considered the price necessary to spur an increase in offshore drilling. Whether higher prices can be sustained, however, is another question as energy demand in some parts of the world is declining.
The offshore rig market is currently in its worst slump since the mid-1980s, according to the October 2016 issue of RigOutlook. Since September 2014, when the current downturn began, utilization worldwide has fallen by around 20 percent. Dayrates have followed along, with new fixtures, contract extensions and rate adjustments falling by as much as 50 percent. Early contract terminations have become the norm and over 110 contracts totaling over $20 billion of contract value have ended early during the past two years. Rig attrition, which the entire industry says must occur, has increased some, but nowhere near the pace that most believe is necessary to help rig supply and demand balance.
As for new rig construction, the industry finds itself once again in an overbuilding situation. As of October 2016, there were 143 jackups, semisubmersibles (semis) and drillships on order or under construction (not including the 29 rigs for Brazil's operations) – far more than rig demand can absorb. Construction on many rigs has been completed, but owners have made deals with the shipyards to delay delivery and avoid final balloon payments. Currently, only 17 of the 143 units have contracts in place. During the one-year forecast term, there are still 100 rigs with "official" delivery dates through September 2017, but the report details that only a very small percentage of those units will actually be delivered.
In addition, rig owners have yet to demonstrate they can maintain high attrition rates for any sustained period. In 2016, for instance, 30 rigs retired in the first six months of 2016 – an average of five per month – but between July and September just seven units were removed from service, an average of just 2.3 per month.
Rig owners say they have to space their retirements out due to accounting and other financial consequences, but the bottom line is that many of these older, cold stacked rigs will never return to service and will ultimately be retired. The only question is in what time frame will rig owners take them out? During the one-year RigOutlook forecast period, it is projected that between 50 and 75 rigs will be removed from service. Should rig owners actually undertake the kind of attrition they all say is necessary, those numbers may actually be low; however, as stated, the evidence supporting that level of attrition occurring does not exist.
Rig dayrates have reached or fallen below operating costs for some rig types in a few regions, so Rigzone's Data Service does not anticipate any further deterioration for those rigs. However, there are still many rigs operating at the high rates negotiated in 2011 to 2013 and those will have to be adjusted or the rig owner could face contract termination. In other instances, rigs that have already undergone rate cuts could see further reductions, likely nearing breakeven levels.
Generated by readers, the comments included herein do not reflect the views and opinions of Rigzone. All comments are subject to editorial review. Off-topic, inappropriate or insulting comments will be removed.