Newfield CEO Sees Cautious Approach on Big Oklahoma Oil Find
by Bloomberg
|
Alex Nussbaum
|
Monday, October 17, 2016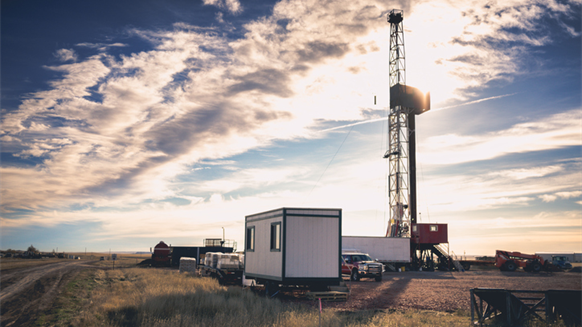 Producers need more exploration time and a higher oil price before they can begin accelerating drilling in the Scoop and Stack oil formation, Lee Boothby says.
(Bloomberg) -- Don't expect a major ramp-up of oil production in Oklahoma's hot new shale plays any time soon, even as companies invest billions of dollars in the region, said Newfield Exploration Co.'s chief executive officer.
Producers need more exploration time and a higher oil price before they can begin accelerating drilling in the Scoop and Stack oil formation, Lee Boothby said in an interview in Oklahoma City Thursday. Newfield may eventually sell its Bakken Shale assets in North Dakota as one way of financing development, he said.
Crude prices hovering around $50 aren't high enough for explorers to start taking on the kind of debt they'd need to significantly speed up, Boothby said. It may be a year or two before companies learn enough about the Scoop and Stack's underground geology to gear up production.
"People that are following the play, the investors, are going to have to be a little bit patient," said Boothby, whose company is devoting most of its $750 million capital budget this year to the Scoop and Stack. "It's such a huge and valuable resource, you want to get it right."
Newfield rose less than 1 percent to $42.65 at 9:45 a.m. in New York. Through the end of last week, the stock had gained 31 percent for the year.
Newfield paid $470 million this year to expand its drilling rights in the central Oklahoma shale fields, part of a flood of investment into one of the few U.S. regions where drilling is still profitable at current prices. Boothby said its multiple layers of oil and natural gas reserves could be a "multi-billion barrel" resource with "thousands of wells to be drilled."
Moving Cautiously
The Woodlands, Texas-based company has five rigs operating in the area now and could quickly double that, according to Boothby. But after two years of pain for the industry caused by low oil prices, Newfield is cautious about moving too quickly, he said.
Oil prices climbed above $50 last week as Russia backed an agreement among members of the Organization of Petroleum Producing Countries to cut production. Industry skeptics are still cautious about whether meaningful cuts will really be executed.
"You'll see an acceleration of drilling as people's cash flow grows in response to higher prices; we know we can go faster," Boothby said. "But we don't feel in a 50-ish environment that that makes sense."
Bakken Sale
One potential source of funding: proceeds from the sale of Newfield's Bakken Shale assets. It's a matter of "when, not if" Newfield sells its drilling rights in the Williston shale basin, Boothby said. Newfield currently holds rights on 85,000 acres in the Williston. No specific deal is on the table right now, he said.
The timing of a sale is tied to how quickly the company accelerates production in Oklahoma, he said. Selling the Bakken could help pay for developing the Scoop and Stack fields.
"Every asset has a lifespan," Boothby said.
Alex Nussbaum in New York at anussbaum1@bloomberg.net To contact the editors responsible for this story: David Marino at dmarino4@bloomberg.net Jim Efstathiou Jr., Susan Warren
Generated by readers, the comments included herein do not reflect the views and opinions of Rigzone. All comments are subject to editorial review. Off-topic, inappropriate or insulting comments will be removed.
RELATED COMPANIES