Operators add DUCs as Service Companies Adapt
by Todd Bush
|
Energent Group
|
Friday, October 07, 2016
Changes in capital budgets from 2014 to 2016 were staggering with an average decline of 57 percent across public E&P (exploration and production) companies. Seven E&Ps have CAPEX spending over $1 billion year-to-date with many spending below $1 billion, as of 2Q 2016 earnings releases.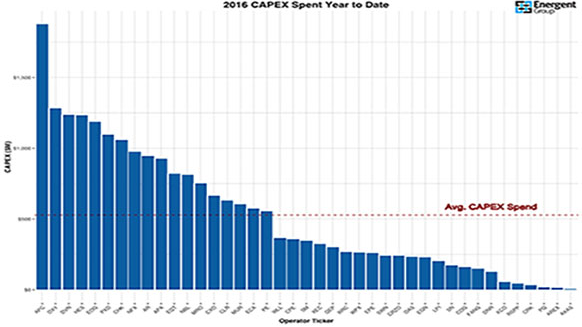 These changes caused a dramatic reduction in the scope of operations for many E&Ps, including:
Rig contracts terminated or expired
Frac crew contracts cancelled
Materials were bid, but not sold
Employees and contractor layoffs
With WTI remaining in the $40s, expect very few operators to increase budgets in 2017. Limited budgets will continue to restrict the drilling and completions activity for key shale operators.
DUC Counts for Major Oil Plays
The Permian, Bakken, Mid-Con, DJ-Niobrara and Eagle Ford hold the majority of uncompleted wells. The uncompleted well count ramped up into 2014 and 2015 hitting almost 6,500 wells within five of the major oil plays alone.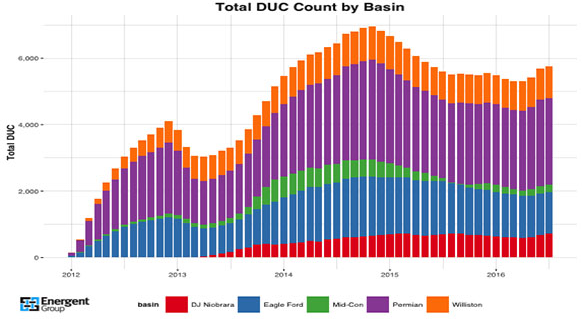 Pressure Pumpers Manage Through a Changing Market
From the perspective of the pressure pumper who is vying to complete the inventory of DUC wells, there will be impacts to pricing. As noted by the ND Industrial Commission (March 2016), there are about 20 frac crews in the state. Based on Energent Group data and conversations with Bakken operators, the active number of frac crews is likely around eight currently. The equipment in some cases is still available; however, the crews have been laid off.
Trican, for example, sold the U.S. pressure pumping business to Keane. Sanjel, once a top pressure pumper in the Bakken, is now bankrupt and sold off their assets to Liberty Oilfield Services. Liberty, like other pressure pumpers, is advancing technology during this downturn to frac wells with reduced budgets and halted drilling programs. Liberty Oilfield Services, the top pressure pumper in the Bakken in 2016, introduced a new "Quiet Fleet" that reduces noise by three times compared to other frac fleets. With fewer frac crews available, pressure pumpers will likely continue to consolidate and find new ways to pump more stages in less time.
DUCs Show Promise to Sand Suppliers
Many operators have optimized their completion designs using higher intensity fracs with longer laterals and higher proppant volumes. The in-basin frac sand suppliers continue to dominate among the sand suppliers.
Sand suppliers will continue to keep a close eye on the DUC inventory, especially with nearby transload and rail facilities in Permian, STACK, SCOOP and Williston.
The longer lateral trends are clear in the Eagle Ford, Permian and Williston. The average lateral length in each basin increased from 2014 to 2015.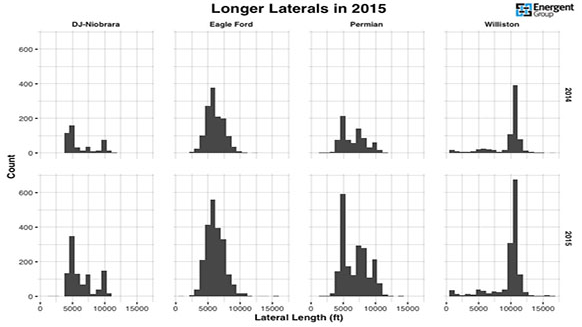 Operators Continue to Add to Uncompleted Backlog
Today, there are few operators continuing to drill and complete wells. Most notably, Pioneer Natural Resources stated a "no backlog" stance in a recent investor call. However, it remains to be seen if this strategy continues while WTI remains in the $40/bbl range for an extended period of time. Several other operators, including Continental Resources, EOG Resources, Oasis Petroleum and Whiting Petroleum have started completing DUCs or expect to as oil returns to $50/bbl.
The increase in the number of DUCs is likely due to the increase in rig count along with the market volatility. As of the Sept. 23 Baker Hughes rig count, horizontal rigs were 82 percent of the total U.S. land rigs. The horizontal rig count reached a low of 307 the week of May 20 this year and as of the latest Baker Hughes rig count, there are 396 active horizontal drilling rigs, a 29 percent increase. The Permian Basin accounts for 50 of the 96 horizontal rigs added during this time.
Just as the Permian has led the drilling activity, expect the DUC inventory reductions to occur first in the Permian.
Todd Bush is Principal at Energent Group where he focuses on oilfield strategy, commercial and market intelligence for leading oil and gas companies. Email Todd at todd.bush@energentgroup.com.
Generated by readers, the comments included herein do not reflect the views and opinions of Rigzone. All comments are subject to editorial review. Off-topic, inappropriate or insulting comments will be removed.