RGU Offers Extended Reach Drilling Course in Aberdeen
by Rigzone Staff
|
Friday, October 07, 2016
Aberdeen's Robert Gordon University and drilling technology firm Merlin ERD have teamed up to launch a new specialist course focused on extended reach drilling.
The three-day intensive course will use Merlin's experience in delivering horizontal, high angle and complex wells and will be carried out at RGU's DART training facilities, located on its Garthdee campus. Extended reach drilling is a technique that enables oil and gas companies to increase hydrocarbon production, helping to make margin fields economic by allowing previously-ignored reservoirs to be produced while reducing the environmental impact of drilling.
Peter Howell, who manages drilling and wells training at RGU's Oil and Gas Institute, commented in a statement:
"Course delegates have the opportunity to apply newly-learned techniques and methods within the safe environment of DART. This practical hands-on approach ensures the effective planning of complex extended reach wells when executing challenging drilling programmes."
The facility makes use of a DrillSIM-6000 simulator, which has a control cabin that offers a realistic drilling experience. It employs up-to-date computer software, four projectors and modern 3D graphics to represent the drilling equipment and processes currently used in the industry.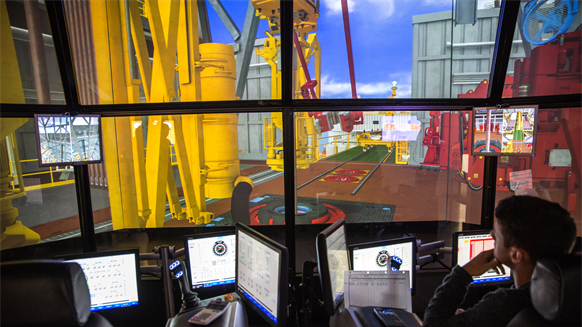 The DART® training facilities at RGU. Source: RGU
Generated by readers, the comments included herein do not reflect the views and opinions of Rigzone. All comments are subject to editorial review. Off-topic, inappropriate or insulting comments will be removed.