Caelus Claims Large-Scale Oil Find on Alaska's North Slope
|
Wednesday, October 05, 2016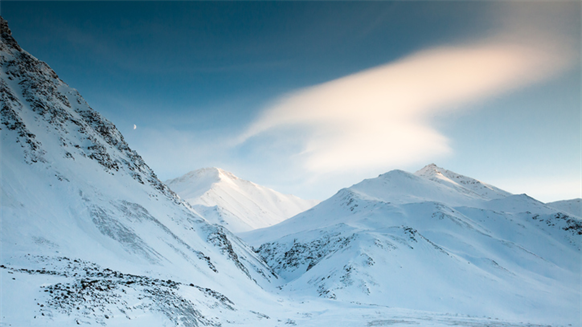 Caelus Energy Alaska makes an oil discovery of 6 billion barrels of oil in place off Alaska's North Slope.
Caelus Energy Alaska LLC reported Tuesday it has made a light oil discovery of 6 billion barrels in place off Alaska's North Slope.
The estimate is based on the results of two wells Caelus drilled earlier this year on its Smith Bay state leases, and 126 square miles of existing 3D seismic data, Caelus said in an Oct. 4 press release. Gross hydrocarbon columns of more than 1,000 feet were encountered in both the Caelus-Tulimaniq No. 1 and step-out Caelus-Tulimaniq No. 2 well, with respective net pay of 183 and 223 feet. Seasonal time constraints prevented the company from flow testing the well, but Caelus said that extensive sidewall coring and subsequent lab analyses confirm the presence of reservoir-quality sandstones containing light oil ranging from 40 to 45 degree API gravity.
The company also estimates the Smith Bay fan complex may contain more than 10 billion barrels of oil in place when adjoining acreage is included. The Smith Bay development could potentially provide 200,000 barrels per day of light, highly mobile oil which would boost Trans-Alaska Pipeline System (TAPS) throughput volumes and reduce the average viscosity of oil in the pipeline, extending its long-term viability, the company said in the release.
Based on the favorable fluids contained in the reservoir, Caelus expects to achieve recovery in the range of 30 to 40 percent. It also reported that additional drilling and seismic should improve oil-in-place estimates via delineation of undrilled fan lobs and channel complexes imaged on the original 3D seismic.
Caelus CEO Jim Musselman said the discovery "has the size and scale to play a meaningful role in sustaining the Alaskan oil business over the next three to four decades." He also stated that the discovery is proof that Alaska's state tax credit programs work, adding that he wasn't sure the company would have explored Alaska without these programs.
Tudor Pickering and Holt analysts were encouraged to see the huge conventional oil discovery in Alaska's shallow waters, but such as discovery remains an exception to the rule, analysts stated in an Oct. 5 research note. The find will focus the market on Armstrong/Repsol's exploration program on the Pikka unit on the North Slope this winter to add to its 1.4 billion barrels discovered so far, which is onshore and much closer to existing North Slope producing infrastructure, analysts added.
Analysts noted that it was "pertinent that this discovery was made by an E&P and not an IOC, and the CEO of Caelus has a strong exploration track record as one of the founders of Kosmos [Energy]."
Caelus is a private, Dallas-based exploration and production (E&P) firm founded in 2011 by Musselman. The company is operator of the Oooguruk Unit on Alaska's North Slope. Caelus is currently planning an appraisal program that will include drilling and the acquisition of new 3D seismic data. The company is also studying and planning the facilities buildout which will process and transport oil to TAPS.
Generated by readers, the comments included herein do not reflect the views and opinions of Rigzone. All comments are subject to editorial review. Off-topic, inappropriate or insulting comments will be removed.