Trump Meets With Energy CEOs Opposed to Fracking Votes He Backs
by Bloomberg
|
Jennifer Jacobs and Jennifer A. Dlouhy
|
Tuesday, October 04, 2016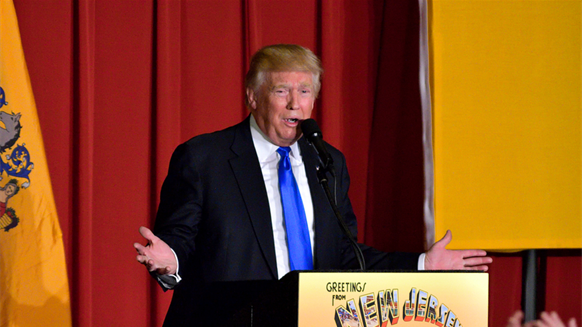 Energy executives in Denver on Tuesday warn Donald Trump, who has said he supports letting local residents vote on fracking bans, that state regulations are thwarting oil and gas development.
(Bloomberg) - Energy executives in Denver on Tuesday warned Donald Trump, who has said he supports letting local residents vote on fracking bans, that state regulations are thwarting oil and gas development.
The Republican presidential nominee's meeting could be designed to assuage industry concerns provoked when he told a Denver television station in July that "if a municipality or state wants to ban fracking, I could understand that," adding that "voters should have a say" in the issue.
During the roughly eight-minute portion of the Tuesday meeting open to journalists, more than a dozen executives didn't push Trump to provide further details about his view of local drilling regulations, but some described state restrictions as one reason they're beginning to look outside Colorado.
"My partner and I pretty much left Colorado for that reason," Scott Stewart, a managing partner of Gilbert-Stewart Operating, said. There's a "little better environment" in Kansas, but "a few more steps and they'll be in the same place."
He said the state-by-state energy regulations are "a mixed kind of a can of worms."
Regulations, Taxes
Colorado has been a major battleground in the fight over fracking as environmentalists and local residents push for limits on the drilling process that has unlocked vast stores of oil and gas across the U.S. but is suspected of endangering water supplies. Colorado activists have sought more distance between drilling and residential communities, in part to keep noise at bay. Environmentalists also have pushed for bans to reduce the risk that fracking fluids can spill or gas can leak out of poorly designed wells and contaminate local water supplies.
Activists tried but failed to get enough signatures to put two measures restricting fracturing on the ballot in Colorado this year, the latest defeat in a years-long crusade to reduce drilling in the oil- and gas-rich state. Colorado's high court struck down two local fracking regulations in May, including a moratorium in Fort Collins and a ban in Longmont.
"The energy business is being decimated," Trump said Tuesday at the roundtable meeting at the Denver offices of K.P. Kauffman Company Inc., an independent oil and gas firm.
"So before we start, let me guess, you're having tremendous problem with regulations," Trump said. "And high taxes are a big problem?"
'Closing Up'
Several executives agreed, but some remained silent.
Trump said he meets with many people in the energy industry "and they're closing up" or getting rid of thousands of employees.
"They can't compete with regulation and they can't compete with foreign," Trump said.
John Harpole, CEO of Mercator Energy, a Littleton, Colorado-based gas broker, stressed that the U.S. "shale revolution" has unlocked domestic energy resources and lowered the the price of natural gas, delivering a multi-billion-dollar annual savings in household electricity bills. Low-income households benefit most because energy is a big share of their family budget, Harpole said, arguing that fracking is an effective anti-poverty program.
"I can't comprehend how this issue didn't come up in the first debate," Harpole said, referring to Trump's Sept. 26 showdown with Democratic nominee Hillary Clinton.
1
2
View Full Article
Generated by readers, the comments included herein do not reflect the views and opinions of Rigzone. All comments are subject to editorial review. Off-topic, inappropriate or insulting comments will be removed.
RELATED COMPANIES
Company: Mercantile International Petroleum, Inc.
more info