BLOG: Oil, Gas Technology and the Power of the PDF
by Karen Boman
|
Rigzone Staff
|
Friday, September 30, 2016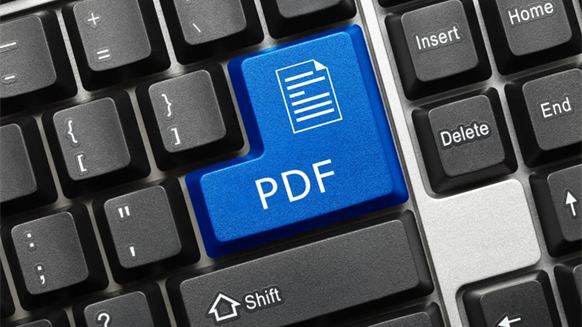 Technology can change all aspects of the workplace, including the value oil and gas industry can derive from pieces of paper.
The oil and gas industry continues to evolve as companies explore technologies such as the Internet of Things (IoT). This evolution is also impacting the oil and gas workplace and the kind of information that can be gathered to answer questions.
Karen Boman
Senior Editor, Rigzone
Maana Inc. – which this week rolled out the newest capabilities for its Maana Knowledge Platform – believes that this evolution should also include getting more value out of handwritten notes and PDFs [portable document formats]. The company has been working with customers such as Chevron Corp., Royal Dutch Shell plc, Maersk Drilling and GE on efforts to optimize assets and business processes. Companies that have invested in Maana include Chevron, ConocoPhillips, GE, Intel, Saudi Aramco and Shell.
The current oil price downturn has not only brought massive layoffs and spending cutbacks, but prompted oil and gas companies to reexamine everything about their operations. This includes a focus on standardization and optimization. Jeff Dalgleish, specialist for Maana's oil and gas solutions division, recently told me that standardization of information is great, it is nearly impossible for major oil and gas companies to standardize everything.
Dalgleish used preventive maintenance for compressors as an example. Many companies use high-frequency analysis to predict failure. This analysis employs a physics-based modelling approach. The real problem is how to approach maintenance from a more personalized perspective for particular assets, such as, the environment in which individual compressor operators can have a major impact on the preventive maintenance regime that is needed. Fires in Malaysia tend to create smoke that can interfere with compressor operations; this may not be the case for compressors operating in other countries, Dalgleish said. Addressing issues to a specific sight requires any data sources that might be relevant, including handwritten notes and PDFs, Dalgleish added.
I know there have been times when I've kicked myself for losing a piece of paper that had an important piece of information. As the oil and gas industry explores technologies such as IoT – as discussed at the recent Internet of Things Oil and Gas Conference – to achieve greater productivity and efficiency, it makes sense for them to explore all avenues. Why not explore how to get more power from your PDF?
Generated by readers, the comments included herein do not reflect the views and opinions of Rigzone. All comments are subject to editorial review. Off-topic, inappropriate or insulting comments will be removed.