Crude Oil Export Trends in the Middle East
|
Friday, September 23, 2016
This opinion piece presents the opinions of the author.
It does not necessarily reflect the views of Rigzone.
Crude exports from Iran and Iraq reached the highest monthly amount in at least two years during August, while volumes sent from Saudi Arabia dropped sharply. The movements exemplified a shift within the landscape of Middle East exports in August, when significant changes in recent exporter and importer patterns emerged.
During August, total crude exports from the Persian Gulf were 608.5 million barrels, or 19.6 million barrels per day (bpd), just 2 million barrels less than in July.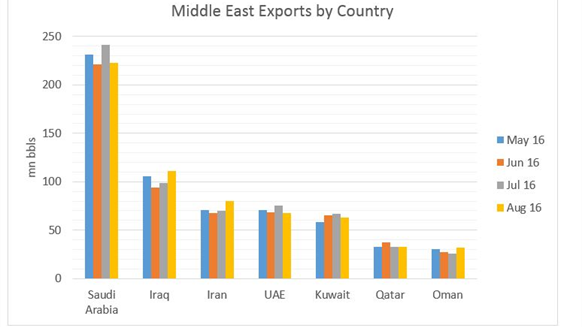 Iraq Expands Export Market Share
Iraq has expanded its market share during the last few months and reached a new export record high of 3.6 million bpd, totaling 111.2 million barrels, in August. This was a month-on-month gain of 471,000 bpd or 14.6 million barrels. The biggest monthly increase was seen in flows heading to East Asian destinations, which were up 29 million barrels, and the second largest gain was in flows to Indian refiners, which was up 7 million barrels month over month. Exports to the Mediterranean fell by 16 million barrels and flows to North America fell 6 million barrels compared to July.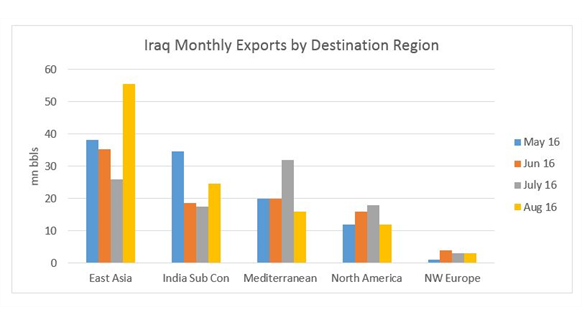 Iran Exports At Record High Since Sanctions Lifted
Iran's exports reached a record high in August, following the lifting of sanctions against the country in January. Total exports from Iran reached 2.6 million bpd, or a total of 79.8 million barrels, in August, which is 320,000 bpd, or 10 million barrels, more than the previous month. The additional supply was mainly absorbed by East Asian and Mediterranean refiners.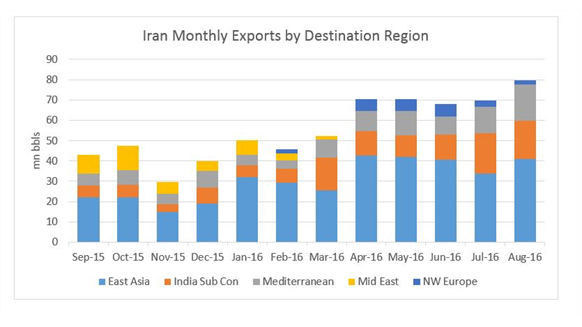 Saudi Arabia Exports Fall During August
On the other hand, Saudi exports fell month-on-month by 600,000 bpd, or 18.6 million barrels, returning close to June levels at 7.18 million bpd, or 222.6 million barrels, after a spike in July. The main decrease was seen in exports to North America which dropped 11 million barrels month over month. The next largest drop was in exports to Mediterranean destinations, which fell 4 million barrels.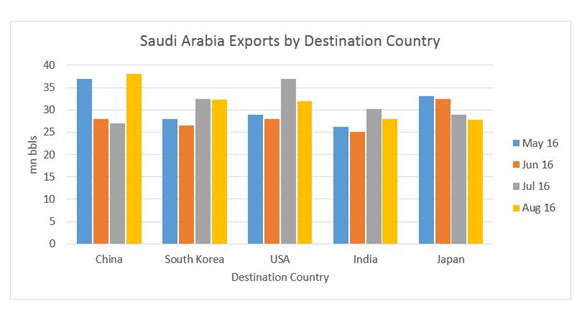 1
2
View Full Article
Generated by readers, the comments included herein do not reflect the views and opinions of Rigzone. All comments are subject to editorial review. Off-topic, inappropriate or insulting comments will be removed.