BLOG: McDermott Workforce Factor in Altamira Facility's Bright Outlook
by Karen Boman
|
Rigzone Staff
|
Friday, September 23, 2016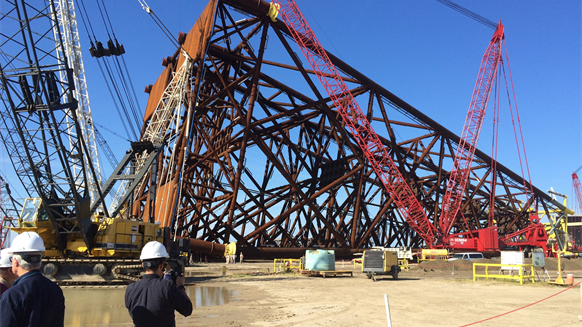 McDermott International official says Altamira facility workers a "revelation" and part of facility's success.
The sun was shining bright during my recent visit to McDermott International's fabrication facility in Altamira, Mexico. (It was so bright, I got a tan.)
Karen Boman
Senior Editor, Rigzone
During my visit, I witnessed the first steel cut for McDermott's Abkatun-A2 contract with Mexico's state energy firm Petroleos Mexicanos. I also got to see the Ayatsil-C jacket, which McDermott was preparing to load onto a barge for sailout to the Gulf of Mexico.
Even after covering oil and gas for so many years, it's always a treat to go onsite and see the engineering marvels that the oil and gas industry creates. These visits provide a richness to my understanding of the oil and gas industry that just isn't possible with press releases alone. Getting to speak with workers, and seeing them in action, adds perspective.
What really stood out to me on this visit was what one McDermott official had to say about the company's workers. George Stapleton, director for fabrication operations with McDermott, said that the workforce at Altamira has been a 'revelation' to him. Stapleton, who has worked at most of McDermott's facilities, described Altamira's workers as dedicated, capable and hardworking. He had heard horror stories about other facilities in Mexico, but at Altamira, he has not found this to be true.
One thing that is unique about Altamira's workforce is that its superintendents have engineering degrees. Stapleton believes that the yard has benefited from engineering students graduating from local state universities and not finding jobs available. So these workers started in roles as welders or other crafts and worked their way up.
The model used at the Altamira facility of promoting workers from crafts to superintendent roles differs from the model used at McDermott's former Morgan City, La., facility, where workers were promoted from tools to superintendent roles. While the Morgan City model did work, the Altamira model has allowed Stapleton the chance to talk with the superintendents on a different level, Stapleton told me.
Another difference that Stapleton sees in Altamira's workers is that the workers are not afraid to talk about their ideas. Stapleton has seen more give and take with workers versus other regions. This relationship has enabled Stapleton and McDermott officials to arrive at good solutions in their work with Altamira employees.
Training conducted by McDermott's expatriate superintendents also has paid off. As a result, the Ayatsil-C jacket was constructed entirely by local workers, Stapleton commented.
While touring the facility, I got the chance to talk with a couple of the superintendents. It was obvious in our conversations that they take a lot of pride in their work. McDermott officials on the tour also spoke of Altamira with pride, citing the facility's capabilities for delivering world-class, quality products safely and on time.
Stapleton noted that the facility is open for business for more than just Mexico. Hopefully, the sun not only will keep shining on the facility itself, but its future.
Generated by readers, the comments included herein do not reflect the views and opinions of Rigzone. All comments are subject to editorial review. Off-topic, inappropriate or insulting comments will be removed.