At $500 Million A Pop, It's An Oil Gamble That Has No Precedent
|
Monday, September 19, 2016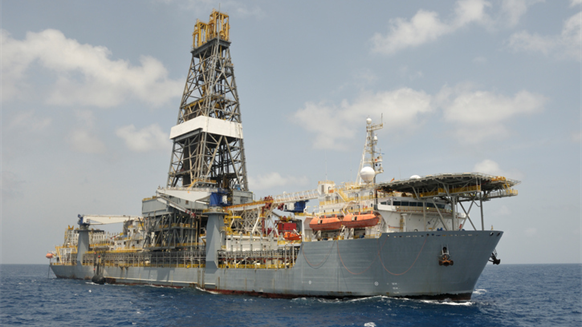 In a far corner of the Caribbean Sea, one of those idyllic spots touched most days by little more than a fisherman chasing blue marlin, billions of dollars worth of the world's finest oil equipment bobs quietly in the water.
(Bloomberg) -- In a far corner of the Caribbean Sea, one of those idyllic spots touched most days by little more than a fisherman chasing blue marlin, billions of dollars worth of the world's finest oil equipment bobs quietly in the water.
They are high-tech, deepwater drillships -- big, hulking things with giant rigs that tower high above the deck. They're packed tight in a cluster, nine of them in all. The engines are off. The 20-ton anchors are down. The crews are gone. For months now, they've been parked here, 12 miles off the coast of Trinidad & Tobago, waiting for the global oil market to recover.
The ships are owned by a company called Transocean Ltd., the biggest offshore-rig operator in the world. And while the decision to idle a chunk of its fleet would seem logical enough given the collapse in oil drilling activity, Transocean is in truth taking an enormous, and unprecedented, risk. No one, it turns out, had ever shut off these ships before. In the two decades since the newest models hit the market, there never had really been a need to. And no one can tell you, with any certainty or precision, what will happen when they flip the switch back on.
It's a gamble that Transocean, and a couple smaller rig operators, felt compelled to take after having shelled out millions of dollars to keep the motors running on ships not in use. That technique is called warm-stacking. Parked in a safe harbor and manned by a skeleton crew, it typically costs about $40,000 a day. Cold-stacking -- when the engines are cut -- costs as little as $15,000 a day. Huge savings, yes, but the angst runs high.
"These drillships were not designed to sit idle," said Willard Duffey Jr., an electrician who spent two decades with Transocean. The Deepwater Pathfinder, a ship he had served on for four years, was among the first to be parked off the Trinidad coast. The ship made the voyage there from the Gulf of Mexico about a year ago. Duffey was one of the last men aboard before the engines were turned off. He fretted constantly -- "did I do everything I could?" -- as he flew back home to Ore City, Texas. "To get the Pathfinder back up would be very difficult to guess actually," he said.
These rigs, once famously labeled the "new Ferraris" of the oil world, are no ordinary ships. Carrying a price tag of about $500 million a piece, they are loaded bow to stern with sophisticated, and very heavy, gadgetry.
Below the water line sit a half-dozen Rolls-Royce thrusters, coordinated by satellite to push against each other and keep the rig hovering on top of wells lying as much as two miles underwater. Up on deck, there's a robot that can be launched to work a screwdriver or a wrench under water pressures on the seabed that no human could survive. And the 220-foot tall, dual-activity oil-drilling derrick is capable of simultaneously lifting and lowering gear down to the seafloor, including a diamond-studded drill bit, a five-story-tall blowout preventer and a heavy-drill pipe. The derrick can handle as much as 5 million pounds of gear -- equal to the weight of some 20 adult blue whales -- going up and down at one time.
All of these fancy elements, though, are what make turning the ships back on so daunting. Chip Keener, whose rig-storage consulting firm advises Transocean, compares it to what would happen if you left a high-tech new car parked in the garage for months. The battery would be dead, sure, but then there'd also be a slew of pre-sets to reprogram. On a drillship, there are thousands and thousands of pre-sets. And unlike your car, those on a ship are essential to its proper functioning. "It's a big deal," says Keener.
For now, cold-stacking has been a huge success for Transocean, a long-time Texas powerhouse that's based today in Switzerland. (It owned the offshore rig that BP Plc was operating in the 2010 Gulf of Mexico disaster.) The company reported a profit of $77 million in the second quarter, surprising investors who had been bracing for a loss. Its stock price jumped 8.5 percent in minutes the next morning in New York.
"I don't think a simple congrats on this quarter's cost beat is really sufficient," one stunned analyst, Scott Gruber at Citigroup, told Transocean executives on a conference call. "A big kudos to all of you."
Still, there are any number of deepwater rig operators unwilling to turn the engines off: Noble Corp., Rowan Cos. and Pacific Drilling, to name a few. They're paying anywhere from $30,000 to $50,000 a day to store their out-of-work ships. Chris Beckett, the CEO of Pacific Drilling, said the unknowns of cold-stacking are just too great and the cost to keep the ships running too manageable -- about $10 million a year -- to turn them off. He likes the peace of mind that comes with this approach. "We don't worry about how you start them again," Beckett said in an interview in the company's Houston headquarters.
The cold-stack versus warm-stack dilemma doesn't figure to go away anytime soon.
Nearly half of the world's available floating rigs are out of work today, and most observers expect that number will climb further. Not only are the drillship operators' customers -- the likes of ConocoPhillips and Total SA -- slashing spending in high-cost offshore areas and canceling work contracts early, but new rigs that were ordered in recent years keep rolling out of shipyards. Bloomberg Intelligence estimates as much as $56 billion worth of offshore rigs, capable of drilling in everything from shallow water to oceans more than two miles deep, are still under construction.
It's a far different mood than a couple years ago, when crude was hovering around $100 a barrel and just about every single deepwater rig on the planet was in use. Transocean's Pathfinder was in many ways the symbol of those go-go days. In mid-2014, just as oil prices were peaking, Eni SpA agreed to pay Transocean $681,000 a day to lease the ship. It was one of the richest drilling contracts ever, an amount that's about triple the rate a deal signed today would fetch. By the end of that year, with oil in freefall, Eni canceled the contract four months before it was due to expire.
1
2
View Full Article
Generated by readers, the comments included herein do not reflect the views and opinions of Rigzone. All comments are subject to editorial review. Off-topic, inappropriate or insulting comments will be removed.