HELP to Boost Indian Exploration, Production Sector
by Ranveer Karan
|
Rigzone Contributor
|
Wednesday, September 14, 2016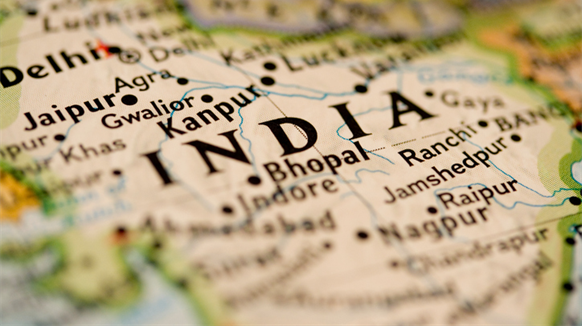 Investments and technology are likely to rank high as the Indian Government introduces the country's new Hydrocarbon Exploration and Licensing Production (HELP) policy.
India is seeking technology, innovation and investments to invigorate its domestic exploration and production (E&P) sector, starting with Hydrocarbon Exploration and Licensing Policy (HELP) this year.
"Investment and technology are the two buzzwords in [the] energy sector," Minister for Petroleum and Natural Gas Dharmendra Pradhan said Sept. 9 at a roadshow in Singapore inviting bids for 67 discovered small fields (DSF) in India.
"Why should India be left out of the innovation and technology era? We want to bring in more entrepreneurial ventures into the E&P sector."
"We strongly believe that [a] sustainable increase in the domestic production of oil and gas will not only counter the energy constraints that we face, but also make us self-sufficient in meeting our energy needs," Pradhan said.
India plans to cut oil imports by 10 percent by 2022. The country now imports 70 to 75 percent of its crude oil requirements, Pradhan added.
Discovered Small Fields Roadshow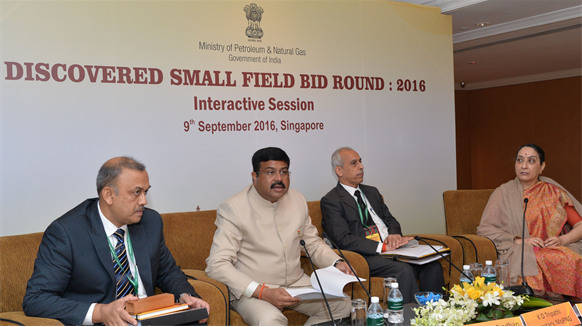 Key Indian delegates at the DSF Roadshow in Singapore (left to right: Atanu Chakraborty, Director General in the Directorate General of Hydrocarbons; Minister Pradhan; K.D. Tripathi, Secretary in the Ministry of Petroleum and Natural Gas; Vijay Thakur Singh, High Commissioner of India to Singapore) Source: Rigzone
Pradhan disclosed that several international firms have collected data packages for the DSFs for analyzing. The fields are grouped into 46 clusters: 26 onshore, 18 shallow water and 2 deepwater.
He addressed industry concerns about small and uneconomic reserves in some of these fields by assuring investors that they would be allowed to aggregate such resources with exploration concession acquired under the Open Acreage Licensing Policy (OLAP).
Under HELP terms, the Oct. 31 deadline for bid submissions is final and licenses will be awarded by Dec. 31. Production from the DSFs will be profitable at $45 per barrel, as benchmarked by calculating production costs.
Existing oil and gas field infrastructure – owned by Oil and Natural Gas Corp. Ltd. (ONGC) and Oil India Ltd. (OIL) – will be made available for transporting hydrocarbon liquids to India at lowest toll charges, Pradhan assured investors.
The 67 discoveries now owned by ONGC and OIL will be transferred to successful bidders by end of this year to accelerate production.
HELP Offers Incentives
According to the Minister, there is a paradigm shift with the introduction of HELP by the new government as compared to the previous New Exploration Licensing Policy (NELP) and he highlighted four main incentives for industry players:
Pricing and marketing freedom, which allows investors to sell hydrocarbon liquid from DSF independently
Only a single license is needed to continue exploration for conventional and unconventional resources; HELP allows investors to undertake exploration during the entire contract period within the leased acreage
No oil cess and exemption from customs duty for imports of machinery and materials for developing the fields
HELP levies low royalty of 7.5 percent for shallow water oil and gas; for deepwater production, it will be 5 percent after exemption for the first 7 years, while that for ultra-deepwater is pegged at 2 percent
The exploration period will be extended from 7 to 8 years for onshore and shallow water blocks, while the timeframe for deepwater exploration will rise from 8 to 10 years.
"We have simplified [the] E&P policy for deepwater, ultra-deepwater and high temperature and high pressure fields to increase domestic production.
1
2
View Full Article
Generated by readers, the comments included herein do not reflect the views and opinions of Rigzone. All comments are subject to editorial review. Off-topic, inappropriate or insulting comments will be removed.