India, Russia Explore Building of 'Energy Bridge' for Russian Gas Supply
|
Tuesday, September 13, 2016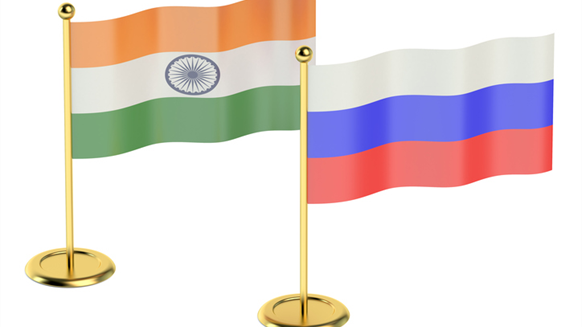 India and Russia launch a working group to explore the potential of building pipelines to transport Russian gas supply to the South Asian country.
India's Ministry of External Affairs (MEA) announced Tuesday that the country and Russia have agreed during the 22nd Session of the India-Russia Inter-Government Commission on Trade, Economic, Scientific, Technological and Cultural Cooperation (IRIGC-TEC) to launch an industry level Working Group to create an "energy bridge" -- or pipelines -- for potential Russian gas supplies to be transported to the energy deficient South Asian country.
The IRIGC-TEC, chaired by Minister for External Affairs Sushma Swaraj and Russia's Deputy Prime Minister Dmitry Rogozin, noted that "there has been substantial progress with expanding cooperation in oil and gas sphere", as reported by the MEA.
It aimed to finalize "concrete outcomes" in key areas of trade and investment before the Oct. 15 India-Russia Annual Summit between Prime Minister Narendra Modi and President Vladimir Putin in Goa.
"Both sides launched an industry level Working Group -- led by Gazprom, biggest Russian gas company, and a consortium of Indian oil and gas companies -- for creating an 'energy bridge' between the two countries through possible gas pipelines for direct gas delivery from Russia to India," MEA said in the press release.
Strong growth in domestic energy demand together with inadequate supply from local oil and gas fields have led India to depend on foreign petroleum supplies, including Russia.
According to BP Statistical Review of World Energy, India consumed 4.159 million barrels per day of crude oil in 2015, while domestic production stood at 876,000 barrels per day, with imports providing around 78.9 percent of the country's oil demand.
Like oil, India depended on gas imports to bridge the supply gap. Data from the BP report indicated that India's gas production stood at around 1.03 trillion cubic feet (Tcf) or 29.2 billion cubic meters (Bcm), while its demand was around 1.79 Tcf (50.6 Bcm).
In a related development, sustained economic growth in India is expected to raise oil demand in the world's third largest petroleum consumer by 11 percent this year, according to Minister for Petroleum and Natural Resources Dharmendra Pradhan.
"The primary prediction for oil trajectory (last year) was 7 to 8 percent but we ended up with 11 percent. This year I am much more hopeful ... (that India's oil demand) will break all the records and prediction and we are prepared," Pradhan said, as quoted Monday in local daily the Economic Times (ET).
He added that the growth in India's oil consumption will be driven by better monsoon rains and an acceleration of economic activity.
Generated by readers, the comments included herein do not reflect the views and opinions of Rigzone. All comments are subject to editorial review. Off-topic, inappropriate or insulting comments will be removed.