Asia Oil, Gas Layoffs Mount as Industry Recovery Stays Elusive
by Chee Yew Cheang
|
Rigzone Staff
|
Thursday, September 08, 2016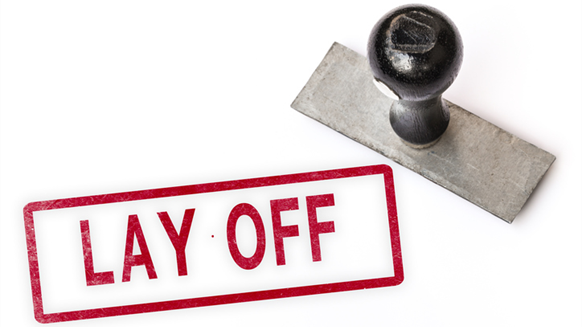 The industry downturn continues to weigh on Asian oil and gas workers as redundancies continue to rise with no recovery in sight.
Staff layoffs continue to rise for most Asian companies – including shipyards in Singapore, Malaysia and South Korea – operating in the sector, in line with falling revenues caused by a dearth of fresh contracts due to cutbacks in capital spending.
In Asia, job losses are particularly glaring in the region's offshore sector as major shipyards accounted for a large part of the world's construction of newbuild rigs, floating production systems, offshore structures and offshore support vessels (OSV).
With many international oil and gas firms as well as national oil companies trimming capital expenditures for two consecutive years, thousands of workers employed by major Asian shipyards have been made redundant.
"2015 saw roles in upstream [sector] disappeared or gone quiet. There was a lack of investments and a reduction in drilling regionally and globally," Mike Wilkshire, Hays' plc Singapore-based Business Director for Construction & Property, Oil & Gas and Life Sciences told Rigzone.
"While operational rigs continued [with their contracts], drilling contracts on completion are not renewed or renewed for short term only or mothballed," he added.
Singapore Yards Right-Size Offshore Workforce
In Singapore, the drying up of offshore, particularly rig, construction orders has led to layoffs at Keppel Offshore & Marine Ltd. (Keppel O&M) and Sembcorp Marine Ltd., the world's most prominent builders of jackups.
"Since 2015, we have been taking active steps to manage costs and right-size our operations," Keppel Corp. Ltd. CEO Loh Chin Hua said July 21 when releasing the firm's second quarter financial results.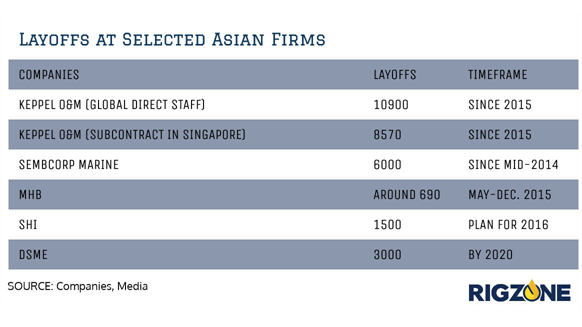 Keppel slashed its global direct workforce by 10,900, or 30.9 percent, of the 35,300 employed by the company at the beginning of 2015. Of these, 6,000 were laid off last year, figures from Keppel's 2015 annual report showed, while another 4,900, equivalent to 17 percent, of the remaining workforce were released in the first half of 2016.
Keppel's subcontract workforce declined too, tracking job losses experienced by permanent staff.
According to its 2015 annual report, Keppel downsized its subcontract headcount by 7,900 last year, which made up 24 percent of the 32,917 that had worked indirectly for the company before the cuts were implemented. Another 670 subcontract staff were made redundant in the first half of this year, a development that underscored the continuing absence of new orders, bringing the total that were retrenched to 8,600 since January 2015.
"Beyond natural attrition, we will look at ways to reorganize and streamline our yards and resources to become leaner and more efficient. For example, we can look into integrating our engineering resources across the different units in the Division. If necessary, we may also mothball yards with low work volumes," Loh said as he elaborate on Keppel's plan to ride out the storm.
Unlike Keppel, local rival Sembcorp Marine did not provide any data on job cuts. The company declined to respond to Rigzone's query on the size of the layoffs as well as the types or roles that had been made redundant. Singapore's Business Times (BT), however, reported July 29 that the shipyard has trimmed its headcount by 6,000 since mid-2014.
Speaking during the release of Sembcorp Marine's second quarter financial results July 29, CEO Wong Weng Sung said the company would continue "to rigorously optimize its manpower requirements."
Sembcorp Marine would reallocate headcounts from the drilling segment to the non-drilling segments to support its large projects, where production activities remain high, he added. Wong also revealed that the firm would continue to allow natural attrition and removal of less efficient subcontractors to help optimize Sembcorp Marine's workforce needs.
The downturn also adversely impacted offshore services provider. Singapore-based offshore construction and support services provider Swiber Holdings Ltd. was reported to be planning to retrench part of its 2,700 staff worldwide in August, just before being placed under interim judicial management after plunging into severe financial difficulties.
According to BT's July 20 report, Swiber had claimed that 80 of its staff will be laid off in a retrenchment exercise at its Singapore headquarters as part of an ongoing cost-restructuring measures planned to commence in mid-August. But industry sources said the number to be laid off in the next 1 to 3 months was closer to 30 percent (or about 300) of Swiber's local staff.
BT added that most of the affected Swiber staff are believed to be involved in onshore project management and engineering – the core group engaged in the execution of the company's engineering, procurement, installation and construction (EPIC) contracts. Despite the layoffs, Swiber had indicated that it has sufficient resources to execute current and new projects in a timely, cost efficient manner.
Malaysia Marine and Heavy Engineering Holdings Berhad (MHB), like neighboring yards in Singapore, also cut its workforce in the downturn. According to MHB's 2015 Annual Report, its staff size shrank just over 18 percent to 3,112 as of Dec. 31, 2015, compared to 3,800 in May 2015.
Going Forward
Market sources said manpower demand hinges on the industry pulling itself out of the current doldrums in the global oil markets. Higher oil prices are required and more importantly hold at those levels for investment confidence to return.
"It's not a pretty picture. A lot of deepwater and inaccessible offshore fields are not going to be developed [at current prices]. You need $60 or more for such projects to be economical," Hays' Wilkshire said, adding that "field developments are not looking rosy now [although they may] pick up in 12 to 18 months' time."
Meanwhile, offshore services companies like Singapore-based Ezra Holdings Ltd. – whose revenues have been similarly hit by the downturn – is looking ahead to the market recovery. The firm is aware that it needs to have staff with the appropriate skills when business picks up.
"In market down-cycles, our retention strategy has involved matching key competencies to available opportunities, whether they are cross-border or cross-functional, based on medium-term business needs and increased support on commercial work such as securing tenders and business development. In the normal course of business, internal employee transfers are also considered based on individual areas of competence and interest," the Ezra spokesperson said.
Generated by readers, the comments included herein do not reflect the views and opinions of Rigzone. All comments are subject to editorial review. Off-topic, inappropriate or insulting comments will be removed.
MORE FROM THIS AUTHOR
Chee Yew Cheang
APAC Editor | Rigzone