INSTEP: Transforming the Landscape of Technical Learning, Certification
by Chandramohan Saminathan
|
PTTSB
|
Monday, September 05, 2016
Institut Teknologi Petroleum PETRONAS (INSTEP) is a state-of-the-art technical training institute owned by PETRONAS Technical Training Sdn Bhd (PTTSB). Established in 1981, INSTEP was set-up with the aim to accelerate human capital development to support the growth of PETRONAS as well as Malaysia's oil & gas industry. Currently, the training institute also serves international clients from more than 15 countries as part of its aspiration to be "A Leading Partner of Choice in Oil and Gas Technical Learning and Certification".
INSTEP's learning experience and module offerings have since transformed with the launch of the integrated Upstream Downstream Training Plant (UDTP) on March 27, 2014, making a phenomenal shift in learning. Unlike a commercial plant, the UDTP, first of its kind in the world, simulates real plant scenario to enhance the competency of learners through hands-on training and experiential learning for safe, efficient and responsible exploitation of hydrocarbon resources.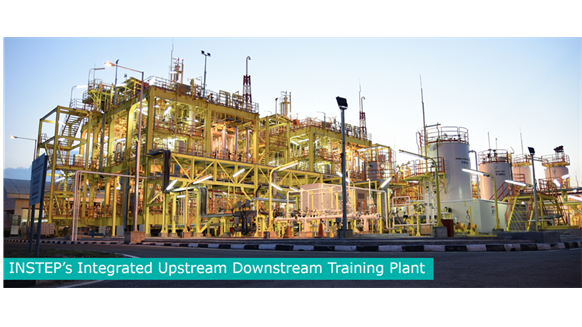 INSTEP's Integrated Upstream Downstream Training Plant SOURCE: INSTEP
The UDTP is supported by six academies (Exploration & Production, Electrical, Mechanical & Inspection, Instrumentation, Process & Analytical and Health Safety & Environment) complete with practical workshops and advanced equipment. Among the advanced equipment is the 393.7 foot (120-meter) Pigging Test Loop, the first of its kind in the world, which allows for intelligent pigging operations and simulation of stuck pig scenarios. Another is the Liquid Metering Training Skid, which enables different types of measurements for importation and exportation of liquids. There is also a Drilling Academy with a land rig and a drilling simulator which enhances INSTEP's capability as an integrated oil and gas training center.
With comprehensive support facilities for learners which include classrooms, residences, resource center, multi-purpose halls, auditorium, cafeterias, mosque and excellent sports facilities, INSTEP provides a wholesome experience to its learners.
One of INSTEP's strengths lies in the customization of learning programs according to clients' needs. Its flagship program, Petroleum Technology Program-1, has accreditations from BTEC and OPITO, making INSTEP graduates globally marketable. The instructors are also BTEC certified assessors and verifiers. INSTEP also offers Bridging, Professional Development and Competency Based Assessment & Certification programs.
INSTEP is proud to have won four international awards, namely the Global Getenergy 2016 Award as Education & Training Provider of the Year, OPITO Employers Award 2015 in committing to a safe and competent workforce, Pearson Centre of Excellence 2015 and BTEC Outstanding Centre of Excellence 2015. INSTEP's accomplishments in May 2016 are conferment of IECEx 12th Recognized Training Provider in the world and obtaining ISO9001:2008 certification. INSTEP also won the Human Resource Minister Award 2014 as Best Training Provider in Malaysia.
Generated by readers, the comments included herein do not reflect the views and opinions of Rigzone. All comments are subject to editorial review. Off-topic, inappropriate or insulting comments will be removed.
RELATED COMPANIES