A Day in the Life of ... Brian Davidson, Fishing Tool Supervisor
by Valerie Jones
|
Rigzone Staff
|
Friday, September 02, 2016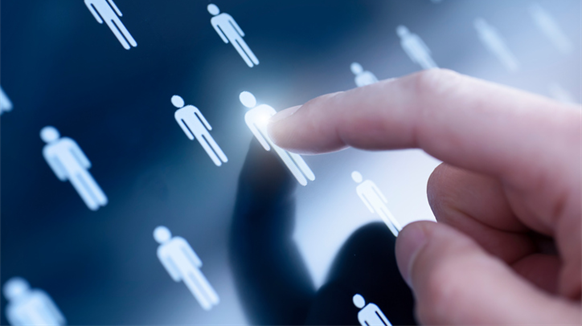 Brian Davidson shares what it's like to work as a fishing tool supervisor overseas.
Originally from Aberdeen, Scotland, Brian Davidson has spent the last 16 years of his life living and working overseas as an offshore fishing tool supervisor. The most recent nine years have been in Oman, Abu Dhabi, Western Australia and South Africa.
My family "decided to leave the UK in 2000 for a new adventure, a chance to lead a life not otherwise possible in the UK due to the high living costs," Davidson told Rigzone. "The opportunity to live and work overseas as a tax free expat was an opportunity not to be missed, plus it meant we didn't have to suffer the eight-month-long Scottish winter."
As a fishing tool supervisor in George – a city in South Africa's Western Cape Province, Davidson's job involves both planned and unplanned operations, onshore and offshore.
Brian Davidson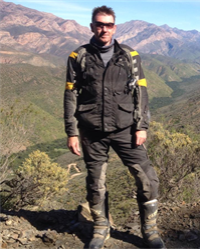 Fishing Tool Supervisor
He described common planned operations as sidetracking, using whipstocks and underreaming – hole enlarging and workover of old wells. Unplanned operations include freeing drill pipe that is stuck, backing off drill pipe and fishing lost and/or dropped equipment.
Unplanned operations, such as a 'stuck in the hole' fishing job, are ones in which the rig is shut down and waiting for you, so getting the job done – unplugging the hole – quickly and efficiently is the priority, said Davidson. Planned jobs, in which the steps of the operation are mapped out weeks in advance, can take anywhere from two to 15 days or longer depending on how many steps there are and how well things go.
People don't often get the full picture of how exhausting a fishing job can be, Davidson said. Often times, you've been awake for 27 hours, working the whole night after traveling all day. So we grab sleep when we can.
"Not everybody can do this job. You need a calm, level head and equipment knowledge, but to me, patience is number one," he said. "The fish will come, it just needs time to find the correct approach and method to get it out the hole."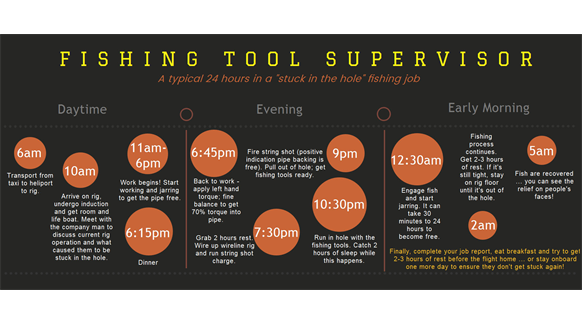 Back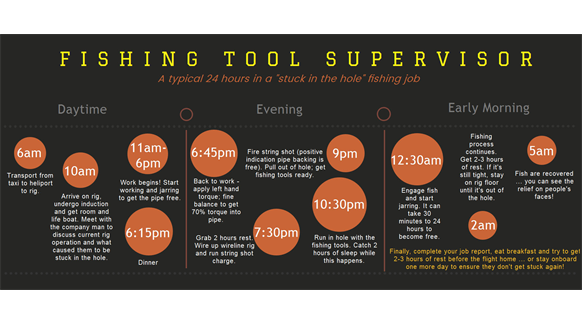 "In 2010, we moved to South Africa and I was lucky enough to be based in the Garden Route, which is a tourist area that experiences far less crime," he said. "We all immediately fell in love with the place. People were so friendly and interested to hear why we were there and offered help whenever we needed it."
Last year, Davidson bought a house and applied for residency as he and his family plan to settle in South Africa.
Davidson said living and working abroad has been a great experience, especially since he felt the media portrayed some of the countries in a negative light. He described Oman as a beautiful country that retains its traditional culture and has stunning scenery; Abu Dhabi as vibrant with many malls, restaurants and golf courses; Australia as having a wonderful outdoors way of life; and New Zealand as having some of the best people he's ever met.
"The downturn has affected me, but in a different way than most, as I have never been so busy," he said. "This is partly due to cutbacks, meaning less experienced people to do the job, and I'm now covering a larger area. I'm more in demand, but the rig count is reducing in Africa, so I may get more time off."
Davidson said he also lost some benefits and was taken off expat contract, in which all of his expenses were paid and he was on call 24/7, and put onto a rotation contract, in which he worked five weeks straight and had five weeks off. On the positive side, it allowed him time to buy a house and enjoy some time off.
"I keep an eye on what jobs are out there, but right now, there is nothing," he said. "But it will come back. I can see one more slump to the low $30s, then a slow, steady climb back to $60-$65. This is the third slump in my career and hopefully my last."
Generated by readers, the comments included herein do not reflect the views and opinions of Rigzone. All comments are subject to editorial review. Off-topic, inappropriate or insulting comments will be removed.