Norway Offshore Oil Seen Luring Smaller Fry as Big Fish Retreat
by Bloomberg
|
Mikael Holter
|
Thursday, September 01, 2016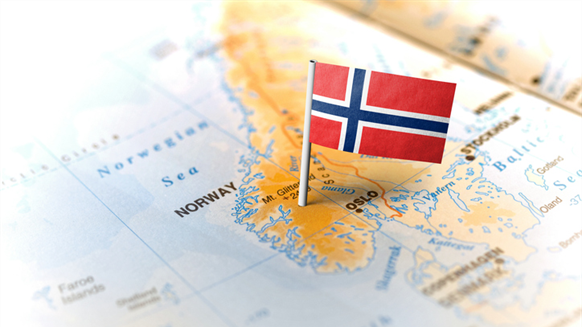 Norway's offshore oil industry, the largest in western Europe, has long been dominated by international companies and state champion Statoil.
(Bloomberg) -- Norway's offshore oil industry, the largest in western Europe, has long been dominated by international companies and state champion Statoil ASA. With the two-year collapse in crude prices, there are signs that will change.
Smaller producers and private-equity investors are snapping up North Sea assets as oil majors reduce their exposure to the high-cost region. Det Norske Oljeselskap ASA's acquisition in June of fields from BP Plc -- a company almost 40 times its size -- is a case in point.
The $1.3 billion deal was "the first sign of a large restructuring on the Norwegian continental shelf," said Arne Trondsen, a senior partner at HitecVision AS, a private-equity investor that's set up a number of oil companies in recent years. "More will come."
Large producers such as BP, Royal Dutch Shell Plc and Total SA have cut spending and sold assets as they strive to maintain dividends amid dwindling income. Most have trimmed investment in exploration, limiting new projects off Norway, while a cost-refund program introduced in 2005 has dramatically increased the number of smaller companies searching for resources there.
"It doesn't mean all the majors are leaving," Trondsen said in an interview at the ONS oil conference in Stavanger, Norway, this week. But some "won't see the North Sea as a growth area."
Lundin Growth
Sweden's Lundin Petroleum AB, an eighth the size of Statoil, was last year just as big an explorer in Norway as the state giant. With the start of its Edvard Grieg field in the central North Sea in 2015, Lundin is on course to more than double output this year.
Norway, which has seen crude production drop by half since 2000, has sought to attract more companies to compete with Statoil, which operates about 70 percent of the Nordic nation's petroleum output. While the country has had some success in bringing in explorers, it's now seeking more investment in development and production, a more capital-intensive industry.
Aker BP ASA -- the new business created by the BP-Det Norske deal -- plans to increase oil and gas production to more than 250,000 barrels of oil equivalent a day by 2023. BP will retain 30 percent of the venture.
Different Models
"We will see more of this in the coming period," Statoil's head of business development John Knight said at the conference, referring to the deal. "The next period will also be about different business models, based on different ownership structures."
The increase in companies interested in Norway intensifies the competition for assets, according to Det Norske Chief Executive Officer Karl Johnny Hersvik, who said he's looking for more acquisitions. "The nature of these buyers seems to be changing," he said at the summit, adding that more are backed by private equity.
CapeOmega AS, an oil company set up by HitecVision, bought an interest in the North Sea's Enoch license from Norwegian Energy Co. last year. It also purchased stakes in Norway's offshore gas-pipeline network from ConocoPhillips and Dong Energy A/S.
"Patterns of ownership are changing" in Norway's offshore industry, John Browne, executive chairman of Russian billionaire Mikhail Fridman's investment vehicle L1 Energy, said at the conference. L1 has been swift to enter Norway, buying the local oil units of RWE AG and EON SE last year.
While mergers and acquisitions have declined globally during the oil slump as buyers and sellers failed to agree on valuations, both sides are now getting nearer on price, according to Hersvik and Statoil's head of M&A, Russel Alton. Acquisitions worldwide have picked up in recent months, with $11 billion of oil and gas deals in July, Wood Mackenzie Ltd. data show.
To contact the reporter on this story: Mikael Holter in Oslo at mholter2@bloomberg.net To contact the editors responsible for this story: James Herron at jherron9@bloomberg.net Amanda Jordan, John Deane.
Generated by readers, the comments included herein do not reflect the views and opinions of Rigzone. All comments are subject to editorial review. Off-topic, inappropriate or insulting comments will be removed.