Upstream Oil, Gas Companies Keep Exploring Benefits of UAVs
by Karen Boman
|
Rigzone Staff
|
Wednesday, August 31, 2016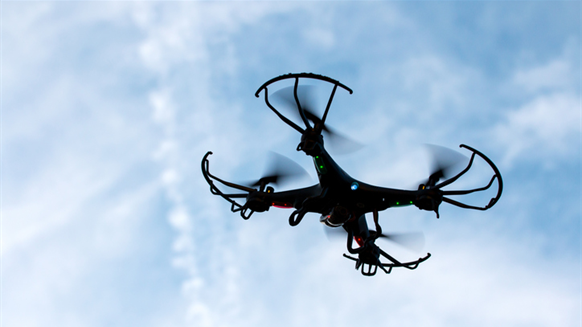 Oil and gas companies continue to explore the potential benefits of using drones in their upstream operations.
Gibbens and other industry insiders see great potential for emerging technologies such as machines learning to allow upstream oil and gas companies to gain greater insight from data gathered by UAVs, said Gibbens, whose company is developing such technology.
UAVs, capable of collecting data that can later be analyzed using machine-learning algorithms, can enable upstream oil and gas companies to use data for analytics-based inspection, Fargo told Rigzone.
In terms of future applications, DataWing expects to see more projects focused on solving problems associated with fugitive emissions and optimizing facility mechanics. Drones with optical gas imaging sensors or other thermal cameras can help in environmental or industrial inspection requirements, Fargo told Rigzone.
Both Fargo and Gibbens see methane sensing as one of the biggest emerging use cases for drones. Methane emission monitoring is one area where UAVs could eventually be instrumental in assisting upstream operators with environmental and regulatory compliance. This will be particularly useful as the U.S. Environmental Protection Agency and Bureau of Land Management continue to tighten the reporting and inspection requirements, Fargo explained.
Trumbull Unmanned is working with NASA JPL to fly UAV-mounted sensors to identify and quantify methane sources, Gibbens said. Earlier this year, the company flew controlled releases on a Lockheed Martin Indago around California. Currently, the company is working on transitioning from controlled tests to operating flights. Within the next few years, Trumbull Unmanned intends to fly UAV-mounted sensors in swarms in order to isolate methane sources, leading to the eventual use of this technology as a tool to measure carbon and sell or exchange carbon credits, Gibbens noted. Much of this will be driven by regulations as we learn what they require and what type of technology is practical and approved for monitoring.
Gibbens said that the upstream oil and gas industry is on the cusp of this disruptive innovation. Drones could eventually have physical jobs, like robots in the air.
"As we continue to move towards autonomous operations, swarms and four dimensional freedom for all, we want to be involved in each phase as engineers, UAV operators and pilots," Gibbens noted.
Last year, Cyberhawk launched an internal inspection solution after undertaking an inspection of an internal oil cargo tank on board a Maersk floating production, storage and offloading vessel (FPSO), Buchan stated. This type of inspection usually is conducted by rope access technicians suspended on ropes to inspect tank structures. Using drones to conduct this type of inspection dramatically reduces the safety risk to personnel.
The launch of this internal inspection service has further opened up the application of UAVs for FPSOs, onshore oil tanks and inside chimneys and boilers.
"Our next aim is to develop a system which allows our pilots to fly a UAV into a confined space from outside without any human interaction," Buchan stated.
Right now, the pilot must be inside the space to fly the drone. This inspection technique is currently under development. Judging by early testing in chimneys and other confined spaces, Cyberhawk knows that the launch of this service will be another major step forward to the application of drones in upstream oil and gas.
"There are some developments to technology required, but a large part is developing the operational procedures so that this type of work can be completed safely and repeatedly," Buchan said.
1
2
View Full Article
Generated by readers, the comments included herein do not reflect the views and opinions of Rigzone. All comments are subject to editorial review. Off-topic, inappropriate or insulting comments will be removed.