Upstream Oil, Gas Companies Keep Exploring Benefits of UAVs
by Karen Boman
|
Rigzone Staff
|
Wednesday, August 31, 2016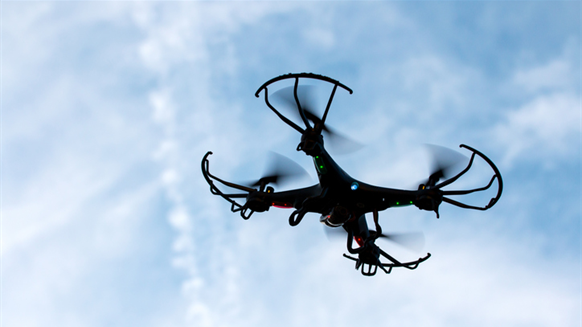 Oil and gas companies continue to explore the potential benefits of using drones in their upstream operations.
Exxon Mobil Corp.'s recent use of drones, or unmanned aerial vehicles (UAV), to help monitor the impact of their offshore operations on whales is one example of how upstream oil and gas companies are continuing to explore the potential that drones hold for upstream operations.
In March, ExxonMobil conducted a two-week research program offshore Santa Barbara, California in which it utilized UAVs with shore-based cameras and satellites to scout for whales. By testing these advanced remote detection technologies, ExxonMobil aims to improve upon current detection systems for identifying marine mammals, company spokesperson Ashley Smith Alemayehu told Rigzone.
Oil and gas companies have been using drones for nearly six years now, embracing the health and safety advantages of drones versus traditional inspection methods, Philip Buchan, commercial director at UK-based Cyberhawk Innovations Limited, told Rigzone.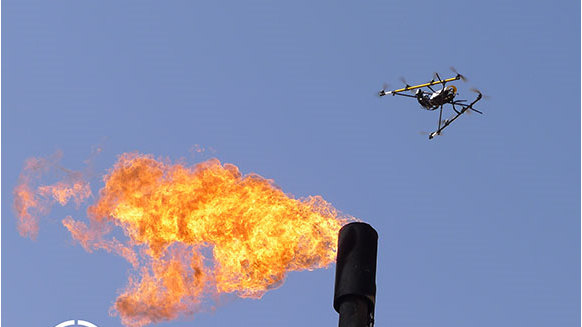 Drones have been used to inspect infrastructure at heights, keeping workers out of harm's way. Source: Cyberhawk Innovations Ltd.
Shrinking operating expenditure budgets mean drones continue to be more widely used in upstream oil and gas. The ability to inspect an asset, such as a flare while it is live, means that production can continue, saving up to millions of dollars per day, Buchan said. By using drones, one Cyberhawk client was able to save $11 million one a multi-scope project.
Using drones avoids the need for personnel to work at height, in confined spaces, in hazardous areas or for extensive periods of time, Buchan explained.
"It is not possible for a human to inspect a flare while operational due to the extreme heat generated," Buchan explained. "Drones don't replace workers. Instead, they conduct the first sweep in asset inspection so workers only have to work in high live or difficult-to-access positions if physical maintenance is required."
Oil, Gas Industry Exploring New Use Cases, Technology for UAVs
Drones are primarily used for inspection activities in upstream oil and gas, including flare stacks, underdecks, vents, drilling derricks and exhausts, Buchan stated.
Dyan Gibbens, CEO of Trumbull Unmanned, told Rigzone that her company's upstream oil and gas clients are focused on using drones in three areas:
mapping, or using drones to create 2D, 3D and thermal maps of oil fields, rock outcroppings and facilities
responding to oil spills and other incidents and emergencies
inspecting tanks, infrastructures and plants
Gibbens' company worked with ExxonMobil for its whale scouting program. Trumbull Unmanned also has worked with Chevron Corp. to use UAVs to create thermal maps of its operations in California's San Joaquin Valley.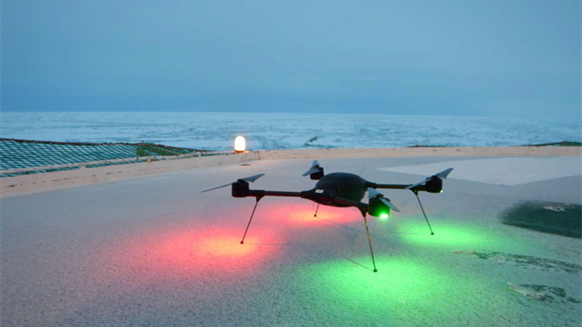 Drones can be used to monitor for and detect offshore oil spills. Source: Trumbull Unmanned
"UAVs are unique in that they can collect a lot of data rapidly, which leads to companies having the information they need to make quick decisions," Steven Fargo, president of DataWing Aerial Analytics, told Rigzone. "Identifying abnormalities and measuring changes will proactively help operators by assisting them with preventive maintenance decisions."
The repeated use of UAV-based data collection can also provide a timeline of information showing trends that can be used to predict future events, and alert decision-makers when a potential threat to an asset is determined, Fargo said. Examples of this application in the oilfield include inspecting tank batteries and exposed pipe, among other equipment.
Future Applications for Drone Technology
Gibbens told Rigzone that the oil and gas industry is continuing to find additional business cases for disruptive innovation in drone technology. According to Gibbens, Tudor, Pickering, Holt & Co. is currently evaluating the use of drones and drone footage in the valuation and sale of upstream, midstream and potentially oilfield service assets.
1
2
View Full Article
Generated by readers, the comments included herein do not reflect the views and opinions of Rigzone. All comments are subject to editorial review. Off-topic, inappropriate or insulting comments will be removed.