Impact of Regulations, Technology on Drone Use in Oil, Gas
by Karen Boman
|
Rigzone Staff
|
Tuesday, August 30, 2016
Industry experts discuss potential challenges to the expanded use of drones in upstream oil and gas operations.
Regulations and technology are two areas that must be addressed to create further opportunities for the use of drones in upstream oil and gas.
New U.S. Federal Aviation Administration (FAA) rules governing drones took effect Aug. 29. The new rules represent a major step by the FAA to implement a series of rules that opens the door a bit, but not all the way, Steven Fargo, president of DataWing Aerial Analytics, told Rigzone.
In the United States, unmanned aerial vehicles (UAV) operators had been required by law to stay within visual line-of-sight. To honor the spirit of the law while flying further than visual line of sight, companies have had to use drones in a daisy chain manner, Dyan Gibbens, CEO of Trumbull Unmanned, told Rigzone. This sometimes can create inefficiencies in operations. By allowing drones to fly beyond line-of-sight, the full extent of the operational and cost efficiencies will be realized, Fargo explained.
Part 107 makes the UAV commercial market more accessible as a whole, but Jason Forte, vice president of operations with Sky-Futures, told Rigzone he thinks the rule will have little effect on the niche market of oil and gas.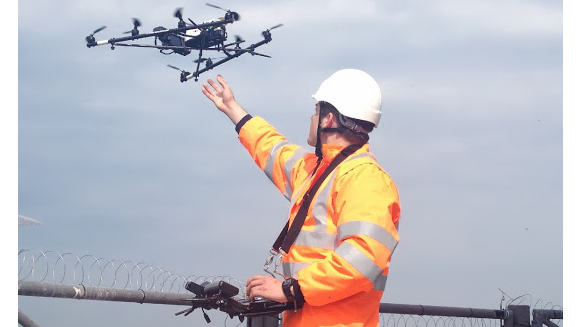 According to Jason Forte, VP operations with Sky-Futures, new FAA regulations governing drone use will have little impact on the niche market of oil and gas. Source: Sky-Futures
He commended the FAA's hands-off approach with a low barrier to entry for using drones. For example, a person would only have to be 16 years old and pass an online test to get paid for a UAVs delivered service. As a result, he expects to see thousands of photography and real estate companies start to use drones. But he believes that the barriers to entry into the oil and gas industry will remain high – as they should – and only a small percentage of companies that understand the industry's safety standard will make it into the fold.
"They want each industry to determine their own operational standards," Forte said to Rigzone about the FAA's approach to the new rules. "They want each industry to determine what training is required and what level of UAV sophistication is required for a particular job. I think we will find that many of the super majors will insist that their UAVs pilots maintain a private pilot's license and adhere to some sort of structured training and flight currency standard."
DataWing is seeking to overcome the policy hurdles that suppress growth in drone use through its co-founding this year and work through the Commercial Drone Alliance. According to the group's website, the Commercial Drone Alliance seeks to support commercial enterprise and users and assist them with adopting drone technology into their businesses, reducing barriers to entry, addressing public perception issues, and merging policy with innovation to create relevant rules for operations.
As part of the first-ever workshop on drones and the future of aviation, hosted by the United States' Office of Science and Technology Policy, the Commercial Drone Alliance launched three new initiatives:
Encourage more women to participate in the drone industry through mentoring programs
Establish best practices, along with other groups, to help guide organizations as they protect individuals' privacy while operating drones
Further the acceptance of autonomy and drone technology across the United States
Future of UAVs Comes Down to Technology, Experts Say
UAVs come in different types, ranging from a GoPro attached to a quadcopter to more sophisticated UAVs that feature hyperspectral cameras and near-infrared or LIDAR, Dr. Ian Cowling, technical director of UK-based Blue Bear, part of Lloyd's Register, told Rigzone. The firm sees great potential for digital data, sensing technologies, unmanned systems and robotics to transform the offshore and maritime sectors.
The future of UAVs comes down to how light the technology can be made, Cowling said to Rigzone.
"The ability for collision avoidance equipment to be incorporated into an UAV takes away part of the useful load otherwise dedicated to batteries, cameras and sensors," Cowling stated. "Creating an intrinsically-safe UAV would allow inspection into confined spaces where hazardous materials are known to exist. As superlight weight technology is developed in any of these areas, a more useful tool the UAV they will become."
The capability of drones to fly longer and carry more can help enhance the efficiency and further the use of drones, Fargo said to Rigzone. DataWing currently is working with Top Flight Technologies, a company focused on advancing hybrid propulsion systems, to address these capabilities. Integrating better sensors onto UAVs also will expand the capabilities of these machines, Fargo noted.
"Optical gas imaging cameras, laser-based gas detection scanners, and atmospheric monitoring sensors are all being developed and improved as we speak by a variety of manufacturers," said Fargo. The technology behind these systems has been in existence for some time, but the ability to integrate this technology with drones has only recently started to show up.
"This year we have seen some systems advertised and I am sure it's only a matter of time," Fargo stated.
1
2
View Full Article
Generated by readers, the comments included herein do not reflect the views and opinions of Rigzone. All comments are subject to editorial review. Off-topic, inappropriate or insulting comments will be removed.